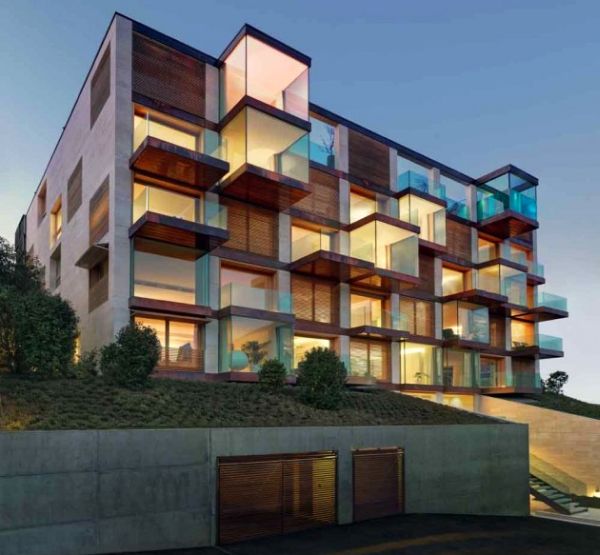 Italian studio MPA Architetti has designed a luxurious building for construction entrepreneur Alessandro Lo Monacco in Lugano, Switzerland. The innovative travertine and copper façade beautifully bridges the gap between interior and exterior spaces of the house by flaunting several balconies and sunrooms in form of cantilevered glass cubes. These glass cubes are extended outwards from façade of the building, overlooking magnificent views of Lake Lugano.
The excusive building includes 12 luxury apartments on five levels of the building, each apartment features sunroom and balcony. These sunrooms and balconies offer 270 degree views of the Lugano delta surrounded by three lakes i.e. Lake Lugano, Lake Maggiore and Lake Como. Interior of each apartment has very sophisticated designs with contemporary furnishing and décor objects.
Lomocubes also has a spacious penthouse covering about 450-square meter of area, including an infinity swimming pool, a spa, a wellness area and a large terrace boasting stunning sights of the entire city. The building is fully equipped with artistic and innovative technologies for providing both ecological and residential comfort to residents along with high living standards. Architects have created a refreshing architectural design within the entire region, which actually includes similar looking residential buildings.
Via: Contemporist