French personal care brand L'Oreal took to CES 2023 to unveil Hapta, a motorized lipstick applicator designed primarily for women with limited mobility. This ergonomic device is the first computerized applicator with which L'Oreal – as an industry trendsetter – wants to push boundaries and make cosmetics more inclusive.
Alongside, the beauty giant also introduced an augmented reality integrated Brow Magic. This atypical device allows customers to achieve precise eyebrows in seconds at the convenience of their homes. The L'Oreal tools tap artificial intelligence and augmented reality technologies to improve its beauty offerings and give women with restricted motor skills the independence to style up.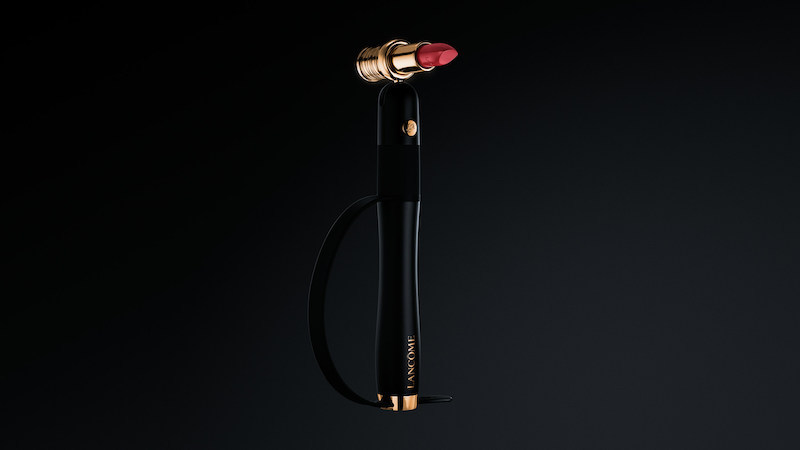 Hapta is a 360-degree rotatable and 180-degree flexible lipstick applicator. It understands motion controls and comes with customizable attachments to lock it in place. Once the lipstick applicator is stable and leveled up to user preference, it can be commanded to come closer to the mouth to apply the lipstick steadily.
Hapta is developed in collaboration with Verily Life Sciences, which uses this Hapta-style technique in eating utensils in its Liftware line-up. For user convenience, L'Oreal's motorized lipstick applicator is battery-operated and allows users to conveniently save preferred settings for future use.
Brow Magic on the other hand is made in partnership with Prinker, a tech company that specializes in printing non-permanent tattoos, L'Oreal has created this eyebrow applicator to help users achieve desired eyebrow shape as per their facial features and natural brow. This device comes integrated with 2,400 tiny nozzles and printing technology with around 1,200 drops per inch (dpi) printing resolution.
Also Read: Movano Brings Health-Monitoring Smart Ring for Women to CES
With L'Oreal's ModiFace AR integration, Brow Magic can easily scan the user's face via an app and suggest micro-shading, microblading, or filler effects. Makeup lovers and women with some hope from L'Oreal's beauty innovation can expect the Hapta and Brow Magic to launch sometime later this year.