Hailing from Slovenia, EU, Lotti Gostič is an emerging furniture designer who focuses on the transformation of spaces with designs that go beyond functionality. With a background in Interior Architecture, Gostič weaves extensive research and story development into her every project.
We got in touch with the budding designer before her debut at Salone del Mobile 2023 to understand her design methodology and the anticipation of the biggest furniture fair. Let's acquaint ourselves with what the Slovenia-based designer and the founder of Lotti Gostič Studio had to say.
Homecrux: Tell us about your design inspirations. Where did it all begin?
Lotti Gostič: In general, I'm a curious person. By observing things around me, being critical, a bit cynical and constantly looking for opportunities for improvement, changes, or challenges I find inspirations that I can apply to my designs.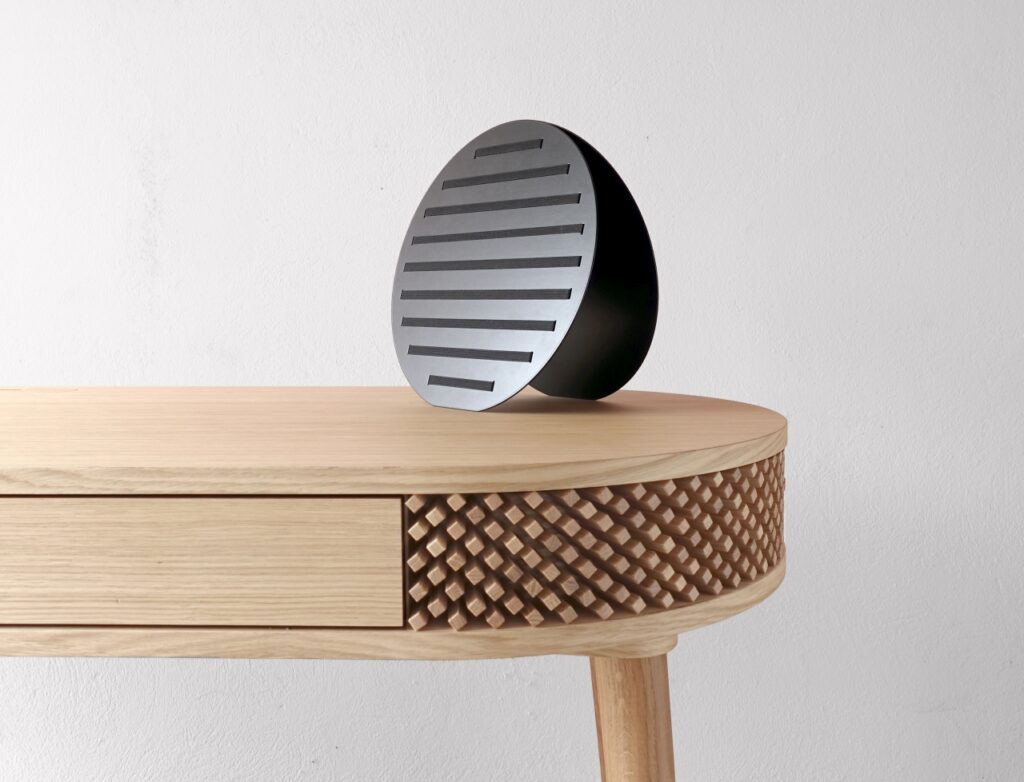 For example, Strip was designed by having problems with resourcing raw materials and increasing prices for them in the last year; Knurly elements are a part of the Fortuity collection that explores unexpected failures in the design process. Those are both based on events that happened to me that inspired me to look for solutions or development.
Homecrux: How and when did Lotti Design Studio come to be?
Lotti Gostič: I started my studio last year in 2022. During my studies, I worked mostly as a freelancer so having my studio just came naturally.
Homecrux: How does your background in interior architecture help with the design process?
Lotti Gostič: My background is an assembly of various creative directions, at the beginning, I studied photography, after interior design and finally did my masters in interior architecture. While studying I attended programs in different countries; Slovenia, Scotland, and the Netherlands. This gave me the ability to explore different approaches and views people have on the design process, I adopted what worked for me and created my approach to the design process.
In the relationship between interior architecture and furniture collections, I always like to think of what kind of space would my furniture be well excepted in. When I'm designing I'm also imagining how people would interact with it and how would that make them feel.
Homecrux: How do you strategize the extensive research, story development, and design of the final product?
Lotti Gostič: I usually design a new approach/method for each project I work on. I first look at what I have, perhaps a problem or a challenge I research it, while I develop new methods to help me do so and then I design solutions or proposals, after that, I make prototypes, test them, go back to research and repeat the process until I'm happy with the result.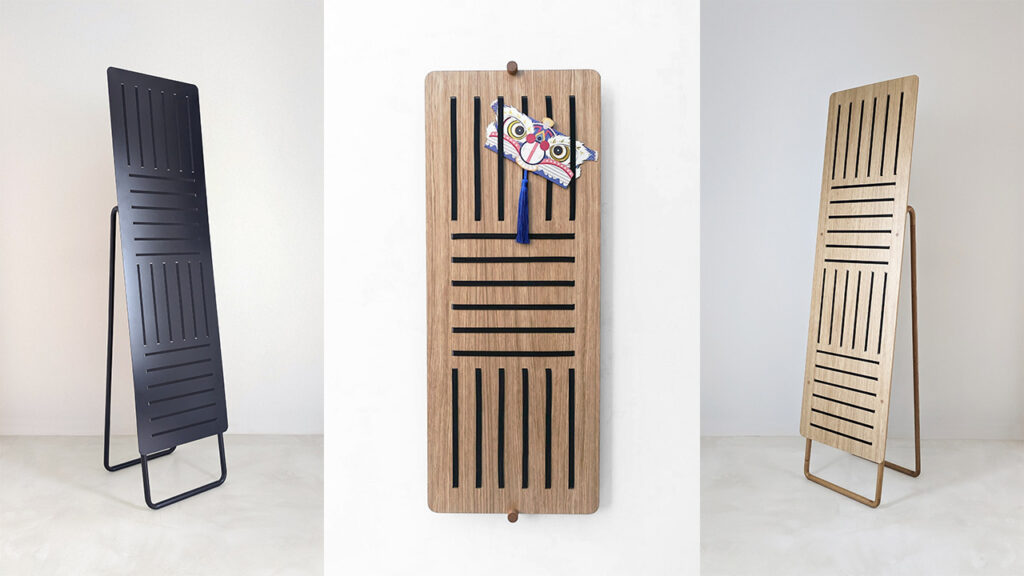 A good example could be Shine – a sentimental shelving system. For this project, I researched relationships between people and the objects they own. I conducted interviews with them about their sentimental objects. They shared their stories with me, and explained who gave them the objects, what they mean to them, and why are they holding on to them. After that, I designed the shelves especially to hold those objects. The design of the shelving system is minimal, with clear and clean shapes in order not to take attention from the products displayed.
Homecrux: What kind of materials work best for your designs?
Lotti Gostič: It depends on the project, I like to experiment with new materials as much as I can.
For Knurly tables and desks, I decided to go with oak wood because I wanted to use a material that's warm to the touch. The biggest challenge here was that each stick of the Knurly elements is hand milled, sanded, and dowelled into the base, for the Knurly table 45 means 1980 individual pieces of wood.
On the other side, for Strip, the whole design and the material selection were a starting point of the design process as the project tackled a growing problem of resourcing raw materials. Therefore all the pieces are stripped down to the bare minimum quantity of raw material needed to produce a functional element, thus the slim shape of Strip elements.
Homecrux: What's your clientele base currently? Do you take up custom projects as well?
Lotti Gostič: The furniture pieces I designed are currently meant for individual clients and are made to order. I do take on custom projects as well.
Homecrux: Salone participation this year is going to be exciting, we're sure. Elaborate a bit about the products you'll be exhibiting and how they stand out from other designs.
Lotti Gostič: Yes, we're looking forward to it. At SaloneSatellite we'll be launching our Strip and Knurly elements.
Strip elements are a part of the Sentimental Collection and are designed as displays featuring elastic strips for presenting flat sentimental objects. The strip's grid-primarily acts as a divider to create smaller spaces for objects to stand out on their own. Furthermore, they add a graphical and aesthetic quality to the element.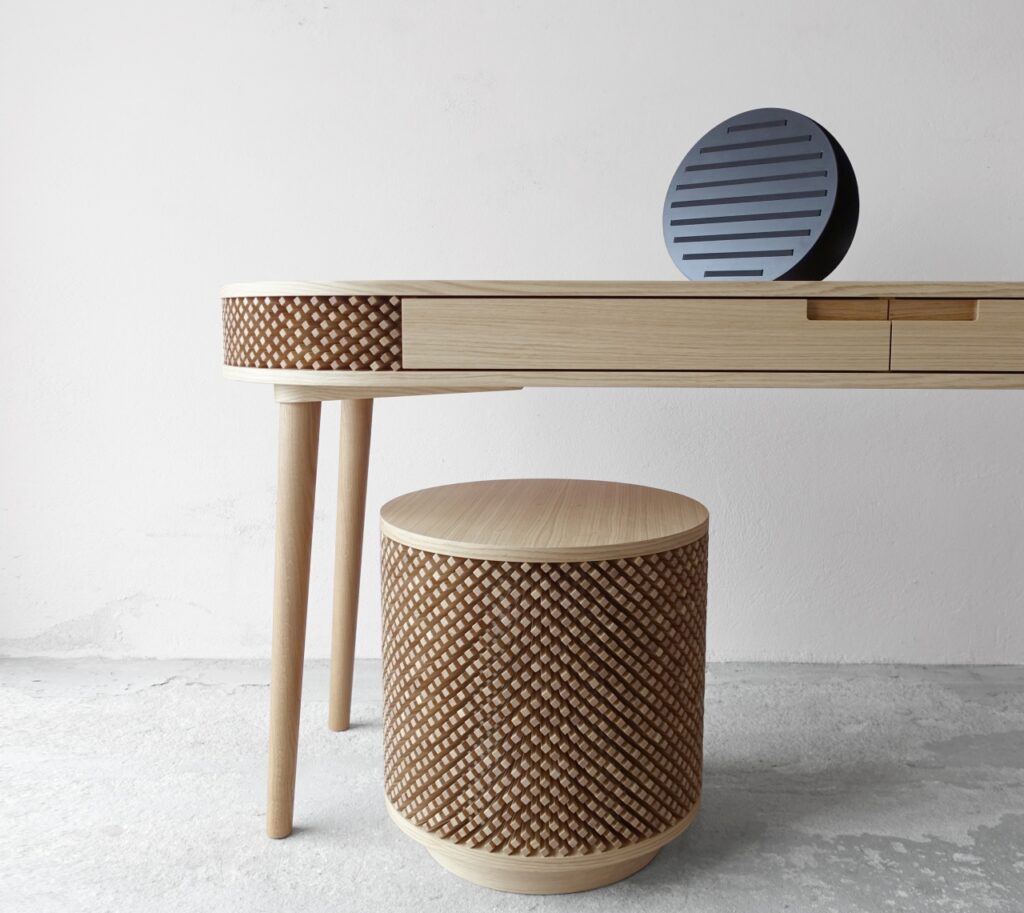 Knurly elements are reshaping what used to be a function-based surface treatment with the extrusion of the positive and negative space of the knurling process. Pushing the process to its limits reveals a new perception of the knurly shape. The resembling form is, therefore, a transformation of scale and material.
Homecrux: How do events like Salone del Mobile help shape a brighter future for budding designers?
Lotti Gostič: It's my first time exhibiting at SaloneSatellite. In my view, it gives designers some kind of exposure. A chance to present our products and ourselves to other colleagues, media, designers, buyers, and producers… in person, create relationships and future opportunities.
Homecrux: Any word of advice for young aspirants following Homecrux?
Lotti Gostič: Design for others not just for yourself and try to incorporate some answers to real-world problems with your work.
We thank Lotti Gostič for answering our queries and wish her the very best for her future endeavors and Salone del Mobile!