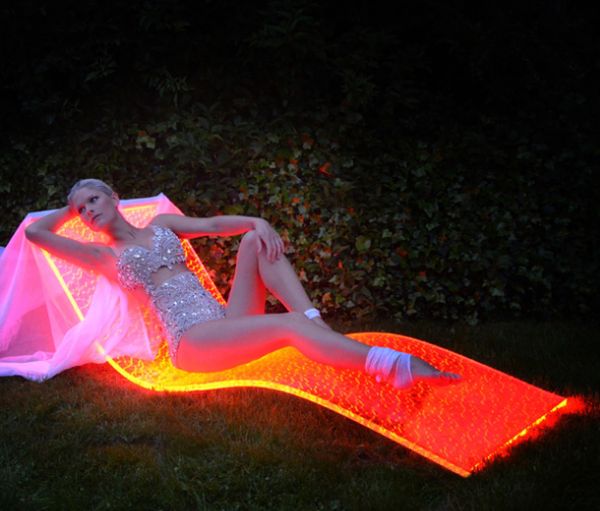 We have had our fair share of lounge chair experience, ranging from the gorgeous sculptural contrivances to the stylish minimalist specimens. The LumiLuxe from BeMOSS traverses all of these by treading the path of light! Described as an 'intelligent, modern and stylish Lounger', the piece de resistance of the conception would surely be its impressive lighting features. The ethereal form of the lounge chair has been kept pretty simple with the application of curvature that is normally associated with this type of furniture. However, the force of the unconventional scope starts with the laser engraved acrylic glass structure that has been tailored to maintain the ambiance of internal LED lights.
The working nature of the LumiLuxe is pretty straightforward; the internal LED array is battery charged. And, when they are illuminated, a beam of a flat stature is emanated from the translucent structure.
As for the usability of the LumiLuxe, we are not too sure about the comfort level of the lounge chair because of the obvious rigidness of the acrylic glass structure. However, the intrinsic vibrancy of the chair surely counts for something, especially during those night long sessions of lawn parties and beach get-togethers.
Via: BeMOSS