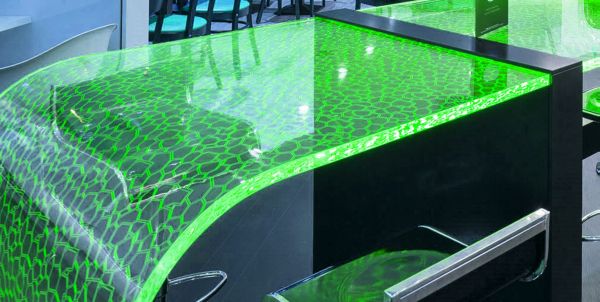 Previously, we conducted an interview with Sharon Brach – co-founder and co-developer of BeMOSS, a Germany based company, for the stylish LumiLuxE acrylic glass lounge chair with built-in LEDs. Now, she has created the LumiLuxE  table for the shop-fitting company Schrutka-Peukert GmbH, who required something unique for their clients. The LumiLuxE table is made of 20mm thick acrylic glass which is laser engraved with an array of internal LED for illumination. The table looks so gorgeous while illuminating that it steals all attention of people present around.
It measures around 157.4 x 39 x 37.4-inches and weighs 360 kg, which makes it a perfect fit for commercial places like restaurants and bars. The frame of the table is made of powder coated aluminum which can be customized according to customers' demands. The programmable lighting delivers the entire light spectrum, i.e. millions of colors, which customers can control using a remote control. In an area with WLAN network, however, users can control the table's brightness and colors the way they like using their Android or iOS devices via the available app.
The bright LED light used within the acrylic glass run on 220 volts. Stylish design and illuminating ability makes this table stand out from the rest. You can contact manufacturer of this fantastic LumiLuxE table here to know the pricing.
Via: BeMOSS