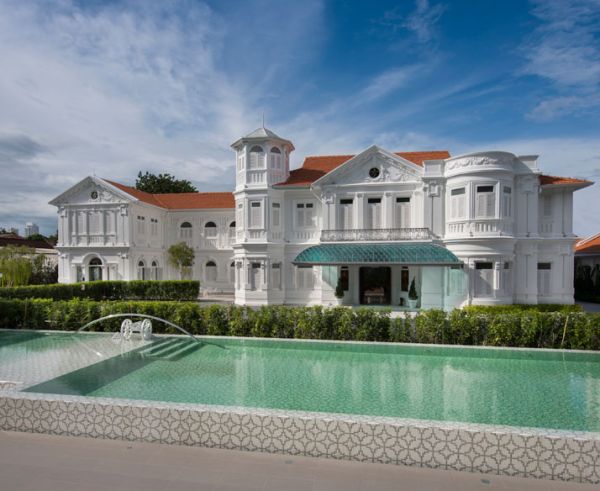 Have you ever imagined a building that would provide you with a dream-like sequence of art as you journey through it? Well, the Macalister Mansion boutique hotel in Penang, Malaysia belongs to that exclusive category, where everything from its rooms, decor to architectural style pose as definitive works of fusion art. The 'fusion' we are talking about is the amalgamation of old and new. In this regard, the colonial mansion showcases a whimsical side to artistic translation with both abstractness and traditionalism; the scope of which is reminiscent of Victorian British style meeting vernacular Asian styles (like Malaysian, Chinese and Indian).
This fascinating architecture was borne out of the renovation project recently undertaken by the hotel's owners and studio Ministry of Design. The 'path to art' is strikingly exhibited by an outdoor 8 ft tall fiber-glass fractal bust sculpture of Sir Norman Macalister (one of the early British governors of Penang; and who's name the hotel takes) adorning the driveway. And, once we move into the building, we are greeted by a copper studded reception desk, highly akin to the Art Deco style of early 20th century.
Coming to the 'hospitality' zone of the Macalister Mansion, the hotel has only 8 rooms, each with its individualistic style of art and decor. For example, in one room wall we see a hanging fabric collage of the front elevation of Macalister Mansion, while another room's study is bedecked with a privately commissioned textile piece. All of these aesthetic elements are complemented by glorious arrangements of Victorian columns, staircases and archways.
Finally, the boutique hotel also has something for the food and wine connoisseurs. In this regard, the establishment has two restaurants , one of which has a unique theme of Alice in Wonderland. The adjacent bars are also decorated with a novel ambiance, with special attention being given to their lighting and flooring patterns.
Via: Yatzer