Baptiste & Bottle at Conrad Chicago gets its fair share of guests from the world over, and the classy restaurant/ hotel bar is always looking to enhance the experience with new innovations. Michael Fawthrop, Director of the restaurant has come up with the unique idea of taking the guests on a journey in virtual reality as they enjoy their glass of cocktail.
The idea is to amalgamate cocktail drinking experience with virtual reality as guests ordering the $98 USD and get ready to take a dive into the unknown. Dubbed as The Macallan Rare Journey cocktail, the drink is made from The Macallan Rare Cask which is made from casks of the top 1% of them maturing at The Macallan distillery, and Bodegas Tradicion 30 year Olorso Sherry.
Alright then, coming on to the VR experience, the cocktail is accompanied by a VR box which tells them the Macallan story. To begin, the waiter pours a taste of sherry and its history is explained. This details about the seasoning (which takes six years) of Macallan casks which provides 80% of the flavor and 100% of color.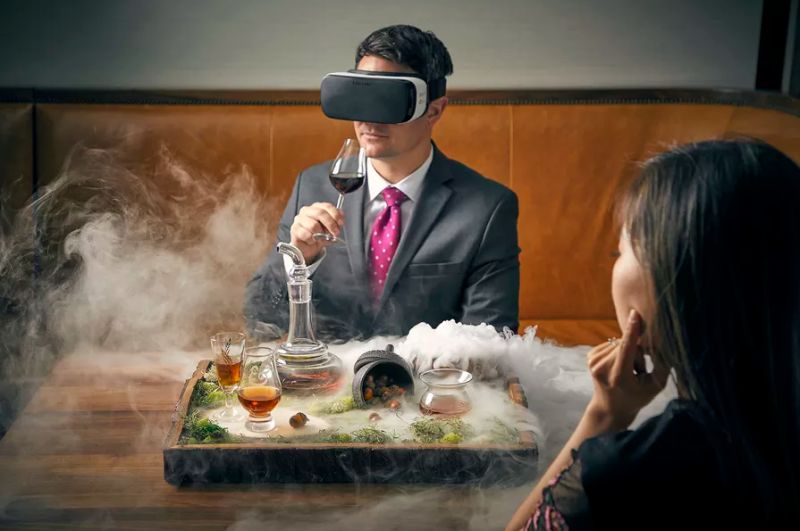 Then Macallan Rare Cask is poured as the distillation process is explained. The guests take a dive into the oak forests and cooperage, flying through the vineyards to the sherry bodegas and landing at the Macallan distillery and Easter Elchies house. Yes, the same house appearing on Macallan bottles.
The cocktail is poured into special glasses which heighten the experience of drinking this cocktail. To complete the experience, Sherry and Rare Cask can be sipped alongside.
So basically it is a cocktail of Macallan Rare Cask, Sherry and Virtual Reality. This gives the guests an unforgettable experience which they'll savor for the rest of their lives.
Via: Chicago.Eater/Forbes