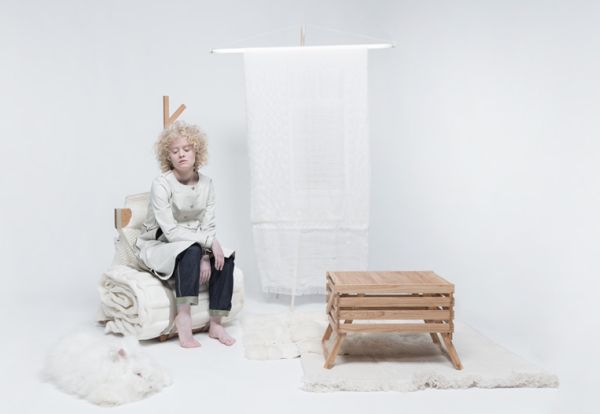 Each piece of furniture had its own individuality until a decade back, unconventional furniture however has no individuality (it has two or three independent functions) yet it is unique in its own way. With the objective to let you carry your furniture along wherever you go, Dutch firm Studio Makkink & Bey has created lightweight, expandable and foldable eccentric furniture you can travel with. Dubbed Conceptroom Huisraad, the collection of items includes a backpack that converts into a sofa bed, a carrycot that can be used as a table and lastly a walking cane which transforms into an illuminated screen, allowing you to tow interiors along when you venture out on nomadic chores.
The furniture designed to depict a scenario where people will travel light and stay comfortable even away from home is put on display at the TextielMuseum in Tilburg, Netherlands. The three autonomous furniture items in the Makkink & Bey collection are made of animal fibers and other natural materials, which makes them sturdy and durable for multiple use.
The collection:
1. VouwPlaats (translate: fold place)
This is a knitted chair and mattress that can be carried around like a backpack. It has attached woolen jacket and wooden frame. The user wears the jacket (to carry VouwPlaats as backpack) with the attached frame. When placed on the floor, the mattress in rolled up positions acts as a seat and the frame functions as the backrest. When unstrapped, the mattress rolls out to become a bed.
2. WarmteWeefsels (translated: heat tissues)
This is a carrycot which becomes a table. As a carrycot, it has a pair of adjustable handles and comes stuffed with a blanket. In order to transform it into a table, you can simple twist it upside down, slide the handles to the widest setting (to form the tables legs) and use the blanket as a table cloth or rug.
3. VensterLicht (translated: window light)
This is basically a walking cane, which converts into an illuminated full length screen that can double as a room divider made of silk.
Via: Dezeen