Winter is the time when families venture out with their children to make eye-popping things out of snow. We've brought you a few mind-blowing snow creations earlier, and once again we are back with another one made by Karl Mehler in front of his parents' home in Crooked River, Saskatchewan, CA. He spent about 120 hours over the months of November and December to build a giant 11-foot snow castle featuring three rooms and turret. Just one room has the required height to accommodate an adult person, whereas another has ordinate arches.
The idea of making a snow fort came to mind when he noticed his father shoveling snow from the long big driveway and big turnaround area of their home. It has 3 doors and 4 inches of light packed snow as windows. Mehler dug truckloads of snow from his backyard and also made large blocks of ice in shortage of ice supply. In addition, he hauled over 100 five gallon pails of water required to keep the snow castle solid together with his parents.
Also Read: Take a look Inside the Stunning 'Games of Thrones' Ice Hotel in Finland
Along with three rooms and turret, the snow castle also has a staircase and slide that's attracting a lot of neighboring kids. So, when you've got bored sipping coffee inside the castle, it's time to enjoy some fun time sliding on ice.
Mehler shares photos of his beautiful creations through Crooked River Snow Castle Café FB page.
https://www.facebook.com/2024898984459070/videos/2027083024240666/
https://www.facebook.com/2024898984459070/videos/2027276850887950/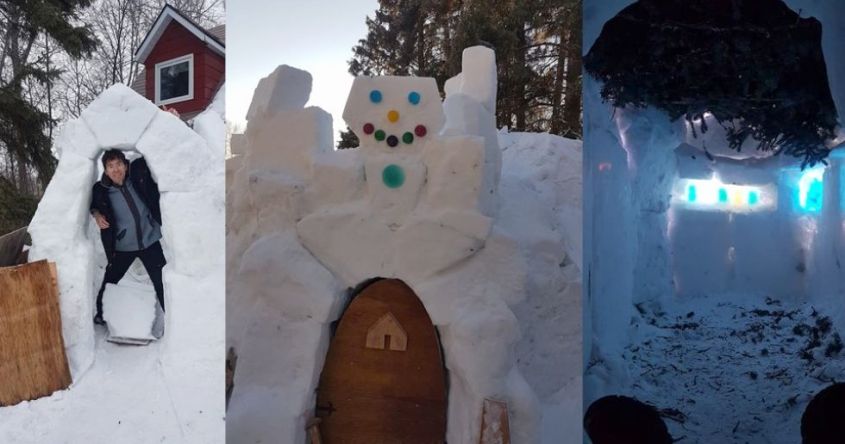 Via: ParkLandReview