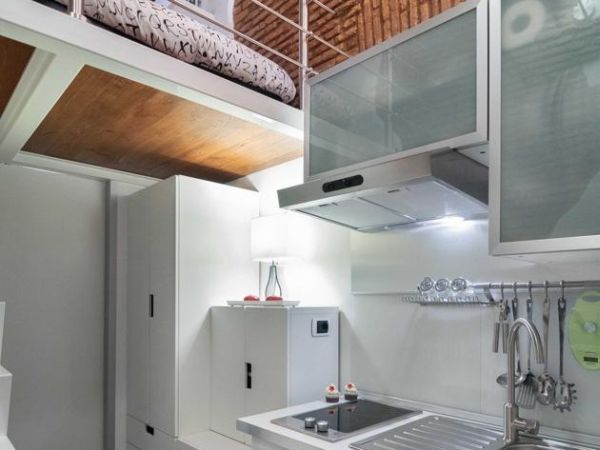 Compact housing units are not really novel when it comes to the realm of contemporary architecture. However, the housing scope becomes unique and more importantly practical, only when the spatial features rise above their gimmicky credentials to pose as real solutions. Fortunately, that is the case with the above pictured project from Italian designer Marco Pierazzi. Touted as the tinniest house in all of Italy, the 75 sq ft living unit was ingeniously refurbished from just a one-room alleyway shelter. Quite ironically, the best feature of this diminutive home is its plot, which in spite of its small size is situated very close to famous Roman landmarks like the Pantheon and Saint Peter's Square.
The main advantage of this compact house is the integration of verticality. The floor area might allude to smaller dimensions; but it is the height that was utilized to 'house' the different user oriented zones inside the residence. For example, we can see an entire loft bed above the kitchen/living area (accessible via stairs), while there is also a separate bathroom area at the rear end of the vertical space.
Even in terms of practicality, the usage pattern of the tiny house aptly proves its credibility. In this regard, the house was not just created as a showpiece to demonstrate modern day spatial efficiency; it was rather built as a real living unit for Marco Pierazzi and his family. The designer has now shifted to a bigger place, with the compact house being rented to visitors and friends.
Via: Yahoo