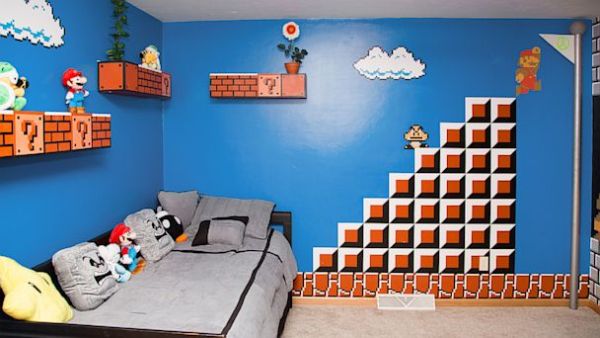 Geeky or adorable? We think it is both! 38 year old Dustin Carpenter has refurbished an entire bedroom with Super Mario Bros theme. And, for whom has he achieved this 70-hour labor of love? Well, the answer is his 13-year old daughter A.J who loves playing Mario in an old Nintendo console. The renovation of the room entailed a great many modifications, including a complete painting of the walls with a blue base color (which was done by professional painters). Carpenter then proceeded to hand paint various iconic stuff from the Mario universe, including the Boo, brick platforms, the clouds, the Piranha Plant and its residence – the ominous pipe. Mario, Bowser and the Goomba on the other hand are just vinyl decals that are placed strategically on the scenery.
The essence of Mario doesn't just stop with the paint jobs. As we can see from the images, the walls also have those projecting 'sky suspended' brick platforms with plush dolls and plants, complemented by Mario themed bed, pillows, window blinds and even the flag pole that heralded the end of a level.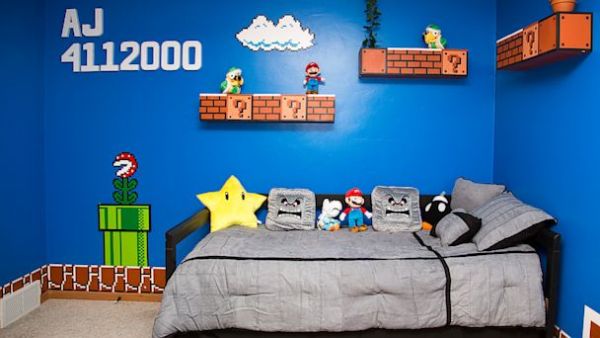 However, the best part about the entire bedroom are the sounds that accompany the sights. There are push buttons dotted around the space that play familiar sounds from the video game, like the exhilarating '1 Up' when Mario gains an extra life and the depressing 'dum dum dum' when Mario falls down a pipe hole.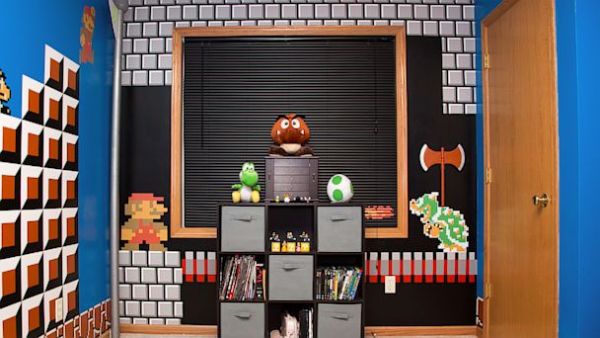 So, at the end of the day, the Mario themed bedroom is pretty awesome. And, it is not just because of the larger sweeps of paint brush, but also due to all the finer 'attention to details' that make the Mario world come alive.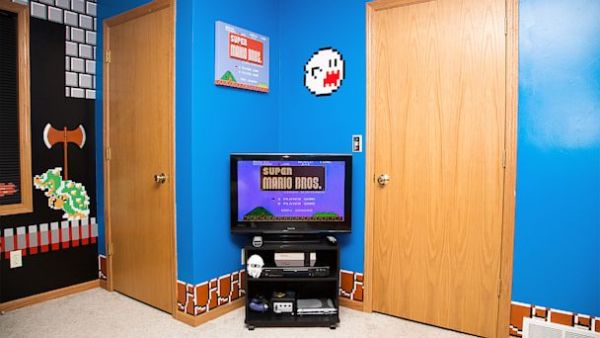 All images are courtesy of Dustin Carpenter.
Via: ABCNews