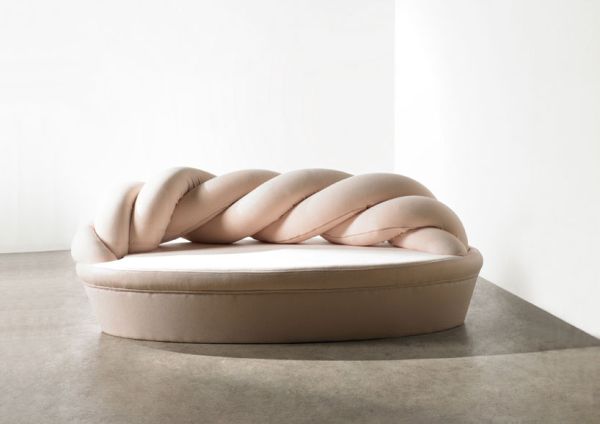 The Marshmallow Sofa is sure to add a delectable essence to your home with its unique style. South Korean studio, Kamkam designed this candy-styled furniture piece. Taking inspiration from the intertwined structure of a skein, which is a length of yarn wound on a reel, the designers have created this exceptional sofa that brings about memories of a squishy marshmallow.
Although the neatly braided  backrest with its informing outlines of the Marshmallow Sofa provides a unique and visually pleasing style, this twisted structure of the couch also offers increased structural support, which in turn enhances the strength of the couch and also makes it last for a long time. The curved backrest made by twisting soft and squishy yarn blends smoothly into the solid yet comfortable seat, thus uniting the two parts together and resulting into a couch with aesthetic charming values.
Lastly, the comfort level of the Marshmallow Sofa is defined by incorporating soft wool finishing that gives the couch a soft and squishy, marshmallow like comfy quality. This exceptional sofa entices people with its gleeful essence and also invites them to melt into its ultra comfortable seat or lean back on it. Check out the video below for more:-

kamkam_marshmallow sofa from kamkam on Vimeo.
Via: Roomed
Credit: Designboom