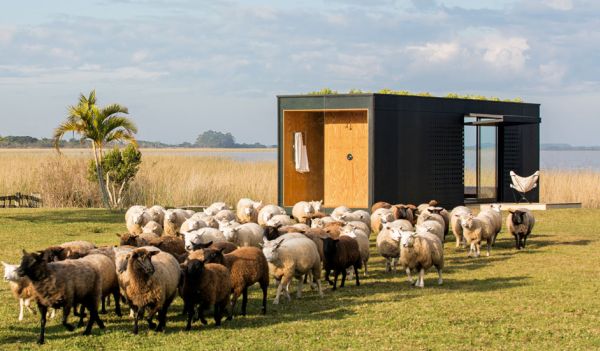 Prefabricated homes are high in demand, and ones with sustainable features are really selling like hot cakes, so to say. A rectangular box-shaped Minimod (short for Minimal modular) by Brazil and Uruguay-based MAPA Architects may not be designed to survive off grid (particularly), but is surely designed with flexibility of housing in mind. The 27 sq m (290 sq ft) prototype home made from lightweight steel, plywood and lots of glass, comprises of a bedroom, kitchen & dining area, living room and a bathroom. Interestingly, you can customize the home to your needs, being modular, the prefab home is easily expandable.
The Minimod may not be fitted with solar panels but it certainly has a  rain harvesting system in place, and it comes preloaded with basic items of utility like a wardrobe mini fridge, mini oven, air conditioner and LED bulbs. The Minimod features large windows and well-ventilated façade, and it has been raised off the ground on stilts to avoid moisture, all of which makes the prefab home appropriate for summers and shallow monsoons.
The Minimod is still in the development stage, but according to MAPA Architects the Minimod will be available for purchase in a few months for about $1,000 per sq m i.e. $27,000 for the prototype (pictured here). The Minimod, which can be built in factory in 45 days, will be transported via truck to customers, it will not include foundation and will be installed using a crane.
Via: MAPAArchitects/Gizmag