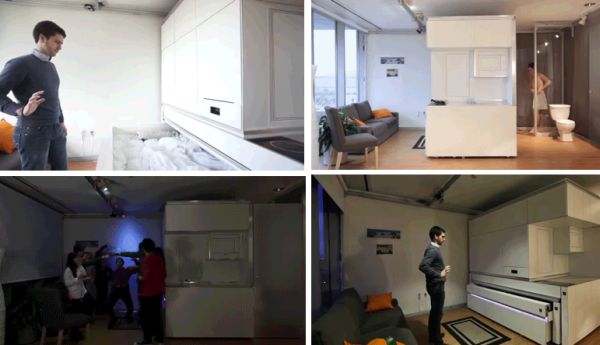 Changing Places group of MIT Media Labs in United States has created a small CityHome that comes with a perfect amalgamation of hardware and software for personal space customization. Whole house is formed within a small box of 200-square feet, which makes you feel like you are living in a three times bigger apartment. This small CityHome is about size of a closet and includes a bed, dining table, kitchen surface with a cooking range and also has a multipurpose storage drawers, all in one. Each mentioned element can be used and controlled by your voice, touch and hand movements.
There are sensors and internal motors within this small closet-like apartment which lets each element to function smoothly on your hand gestures or voice instructions. If you want to sleep then move your hands in front of the big drawer so that it brings out your comfortable bedding to sleep. After use, it can be hand gestured again to retract back inside. Similarly, the dining table, kitchen area, etc. can also be extended.
If you want to use bathroom, which is at its backside, then move this whole box to left side and after use move it back to its original position. You can also voice control brightness of the lightings of the house. During house parties, these lights can be transformed into disco lights just by your voice commands.
This easily transformable architectural design allows its owner to live larger even in a tiny space. The CityHome can also be shifted to any tiny room to live comfortably with all necessary facilities. This space-saving home is designed to listen, understand and follow instructions and gestures of its owner just like a magic in real life.
Via: FastCoDesign