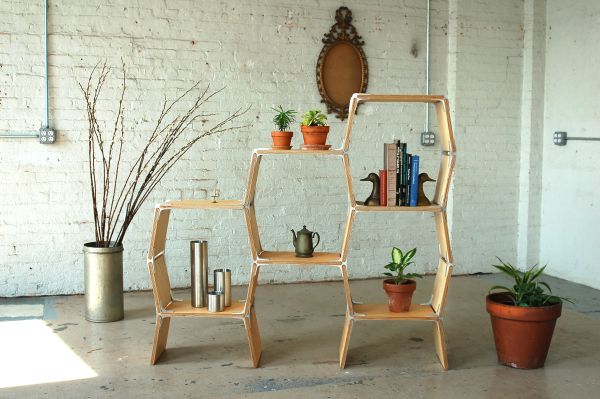 If you happen to be a frequent traveler, then you will certainly require furniture units that offer ease with transfer, assemble, change, disassemble and rebuild. The Modos system of modular furniture deals with these elements of nomadism. This includes a simple set of wooden boards and aluminum connectors that can be assembled to form tables, shelves, stools and more. This sustainable design is an innovation by Brooklyn based designers, EcoSystems.
Modos is a modern and tool-free furniture system that makes use of good quality and durable wooden boards that can be easily assembled with help of connectors to form different functional furniture pieces. The wooden boards are made out of sustainably harvested, FSC certified furniture grade plywood, while the connectors that strongly hold the wooden boards together are made of aluminium. The furniture assembly is hassle free and is easily done by inserting the ¾" thick board into the aluminum connector, which snugs the board.
The most prominent advantage of Modos modular furniture system is that while connecting the wooden boards together using aluminum connectors to form a furniture unit, there is no need of any hardware tool. Secondly, you can easily reconfigure the furniture piece to form something new according to your needs. Thirdly, the solid birch and alder veneer cores along with anodized aluminum connectors offers superior strength and durability to the furniture unit.And last but not the least, a green factor is added to your home as the components of the modular system, i.e. the wooden boards are made from a sustainable source and the aluminum connectors can be recycled.
The Modos is yet a prototype and seeking for funds at Kickstarter to go for mass production. If you are impressed with the product and want to purchase a set for yourself, then hurry and visit their page. Don't forget to watch the videos below to see how different furniture items can be formed using the modular system.
Via: Treehugger