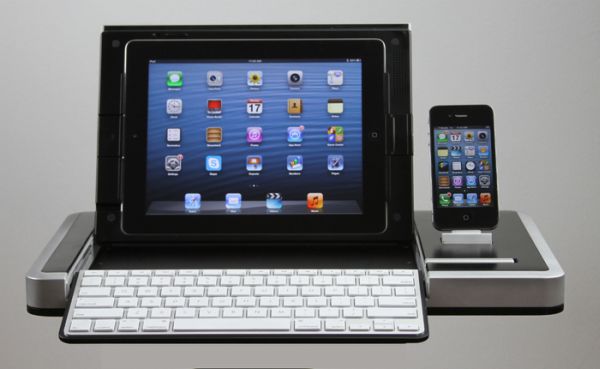 An interesting statistical figure suggests that around a whopping 46.7 percent iPad users use the device as their primary computer. The creators of Modus III have certainly taken this estimation with commercial seriousness. And the result is a Kickstarter funded electronic set-up that is touted as the world's very first iPad workstation. Envisaged as our 'personal high tech headquarters', the Modus III combines a few components that cater to a comfortable scope for your desk work. These core materials used for the 2.4 lbs machine include a sturdy polycarbonate body accompanied by aircraft grade aluminum frame. The myriad of features on the other hand include – a Bluetooth keyboard (laptop sized), smartphone docking station, cord storage compartment, enhanced front-facing speaker sound and a detachable protective case.
According to the creators, the Modus III has been designed in a specific manner so as to organize and improve our productivity in work. The aforementioned features conform to this design direction, while also alluding to the essence of versatility and convenience of usage. Moreover, it is portable and ergonomic with touted attributes of 180 degrees viewing angle, Ergotrak's custom keyboard positioning and easily adjustable typing angle (with 12-degrees range).
For us the great thing about the Modus III is that it is not only exclusive to iPads. In fact, the launch model is compatible with all iPhones and micro USB Android phones (along with iPads 2 to 5). As for pricing, the pledging offers range from $169 to $999 (for more details, please check out the product's Kickstarter page).
Via: Kickstarter