In the previous post we talked about how air conditioning has finally got smart with utilization of technology and cloud based attributes. And, now it is time for water purifiers to be in the limelight for their user convenient 'intelligence'. In this regard, the Moneual by Magic Smart Water Purifier (Model – MMG1000) has made its debut in this year's CES. Touted with unique features like sensors, remote access and emergency detection, it is possibly the most advanced water purification system in the world.
Comprising of a carbon draped, chamfered rectangular form, the true nature of its progressive attributes can comprehended from a closer look at the inconspicuous LED display on its front facade. This hidden display is used for exhibiting all the user-oriented info relating to Moneual's numerous sensors and detectors.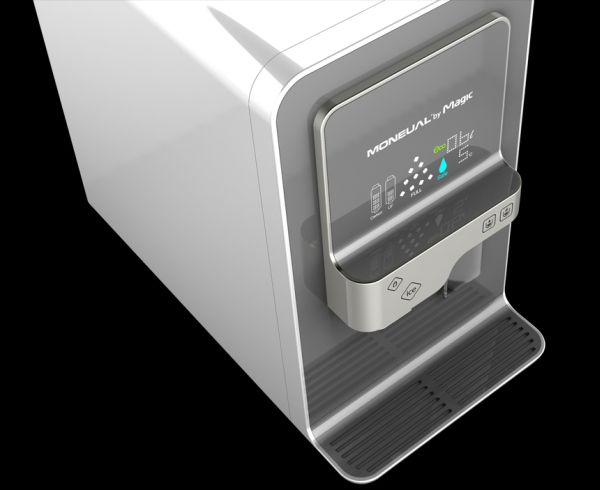 These built-in sensors come with some specialized functions. For example, there is a Smart Water Quality sensor which signals (to the user) attributes like filter condition, oxygen levels in water and even the date for filter replacement. Another Smart 'Life Guard' sensor detects heat and gas leaks in cases of emergency.
Finally, the Moneual integrates cloud based features which allows its owner to remotely access the water purifier via a home network server. Moreover, the filter statuses and maintenance patterns can also be monitored remotely from the service centers, thus making it convenient for the service people to cater on the warranty credentials.