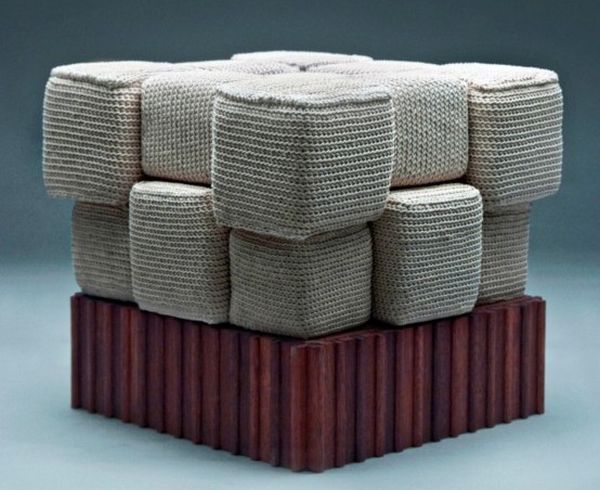 When it comes to interior designing, use of textile is profoundly important Whether it is a curtain, carpet or rug, each of these objects give a soft as well as smooth finish to any interior decor. If textile décor gives an elegant and classy touch to the interior décor of a home, then why not create something functional out of it. This similar thing came to the mind of designer duo Monika and Kasia Gwiazdowska, and after an inspiration trip to Venice, Italy, they decided to create a furniture range made out of knitted and crocheted textile. Each of the furniture pieces in their Monomoka furniture collection is a unique work of art.
We cannot display this gallery
The twin sisters, who are also the founders of Monomoka art and design studio based in Poland, while studying architecture also learned the skill of sewing, knitting and crocheting. They actually master these skills and we can say that after taking a look at the furniture pieces in the gallery, which includes chairs, ottomans, stools, tables and more. They have employed these craft skills to make individual parts which are then neatly sewn together to create an individual unit. You can get these furniture pieces in various colors and designs but one thing is the same offered by each and that is coziness.
Their Monomoka furniture collection includes 13 versatile furniture objects. Their ambiguous shapes give them a distinctive character which is somehow not like the usual furniture pieces. Each single unit is one of its kind with a unique puzzle like design adding a certain inexplicable something to a home.
Via: Detail-online