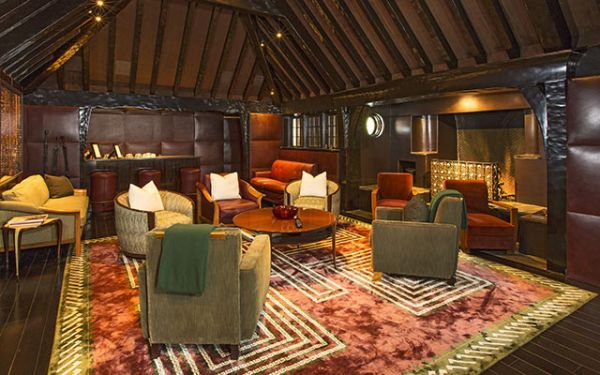 On looking at the picture one can tell that the room is fully equipped with all luxuries like cozy couches, leather-upholstered walls and a bar to enjoy with family and friends over drinks. But that is not all, the Motorized Media Room also hides a 12-feet Stewart Filmscreen screen that rises from beneath the floor on command from a Crestron remote, which transforms the whole room into a high-end home theater within seconds. The screen is covered in a metal casing attached to three JBL Synthesis speakers and dual subwoofers for creating an exact theatrical sound.
Behind the bar of this room, the leathered wall panel hides a hidden Motorized commercial-grade Barco D-Cinema projector which project images in cinema-style on the huge screen through a glass pane. Homeowners hired highly skilled custom electronics professionals from VIA International in Los Angeles for building this fully automated electronically triggered wall panels.
Professionals also added the Crestron automation system behind panels of these walls to make it a fully automatic room. The automation technology magically transforms the room into a luxurious theater in seconds when the owner wants to see any movie with family or friends.
It also hides the home theater back into the walls recreating room's original environment on pressing a button on its remote control. This remote-controlled Motorized Media Room combines comfort, style, luxury and entertainment all in one single room.
Via: ElectronicHouse