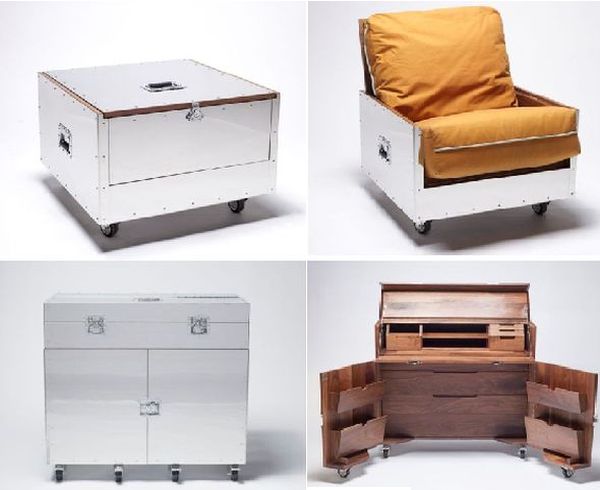 Naihan Li from Beijing, China is a product designer who keeps moving from one place to another. She has to travel a lot due to her work. Her travel experience is somehow reflected in her designs which we can see in one of her latest moveable furniture collections that can be carried along while travelling. She designed stainless steel crates which look like normal steel boxes from outside but include many useful household furniture items like a tea table, writing desk, a bookshelf, a chair, a kitchenette, etc. inside its steel covering.
She created three to four steel crates of different sizes including distinct household furniture. These steel crates also have wheels at bottom to move them easily from one place to another. First square cube-like steel crate becomes a chair with comfortable cushions on unlocking. Second crate is a bit rectangular in shape that reveal a kitchenette with all necessary spices and kitchen accessories when unfolded. It can also be used as a coffee table.
The third steel crate on opening becomes a writing desk with small drawers to keep your stuff. Fourth crate includes a comfy sofa for you and your guests, you can also use it as a bed. The collection comprises a bookshelf and a chest boasting multiple drawers as well. These crates have all the necessary furniture units that one needs in his/her home.
The materials used in creating these furniture items are mainly stainless steel for its outer covering and walnut wood for the furniture inside. These movable furniture items are best for an urban dweller who keeps shifting from one place to another due to work. It becomes difficult for him/her to buy furniture items every time they shift. So, these folding furniture boxes offer an easy portability to move their stuff from one place to another without any damage.
Via: Gessato