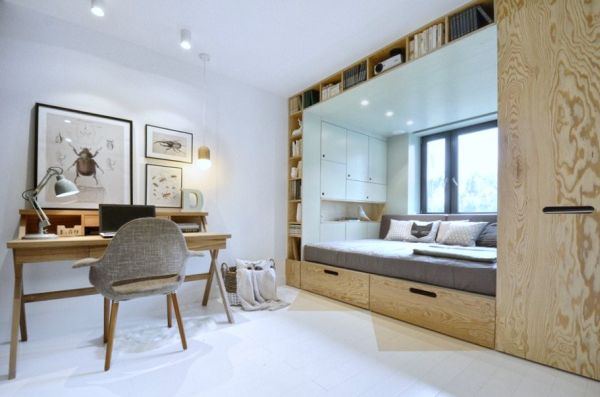 Russian architects, INT2 Architecture, has managed to create and accommodate a sleeping, lounging, studying, storage and media space all in a 14m2 room located in Moscow, Russia. Before they started working, the small room was entirely covered with many freestanding objects including a wardrobe, a working desk, single bed, book shelves and drawers for storing things. All of these things cluttered the small living space making it look crowded. So, getting the place organised, while having plenty of storage in the room was the main objective of the architects. Therefore they decided to integrate a Multipurpose Storage Box in the room, which could separate the leisure and working area and offering a lot of storage compartments to keep the things neatly organized.
The Multipurpose Storage Box is designed to function as a storage space along with a space divider. The storage spaces are integrated around a central cavity where the single bed along with sofa is placed. A wardrobe and bed linen cupboard, book shelves, drawers for holding small objects, a chest of drawers for larger things and a shelf to keep a projector are included in the storage. This large box incorporated the entire storage on one side of the room while liberating the rest of area for other things. The minimal aesthetic of the room was further enhanced by large triangular graphics on the floor and the walls of the room.
The architects have broadened the space virtually by creating the Storage Box. Moreover, they have made use of plywood as the furnishing material to keep the cost minimal. The freestanding desk, that was initially in the room is still included in the final design and instead of adding clutter to the room, it becomes an interesting furniture piece, which is enhanced by a bug art over it. The wall opposite to the Storage Box includes a full size mirror on one side and a bulletin board on the other side. A sliding panel conceals the mirror while exposing the black board and vice versa. It also functions as a projector screen area for watching movies or presentations or slideshows. The room is now fun, spacious and well organized.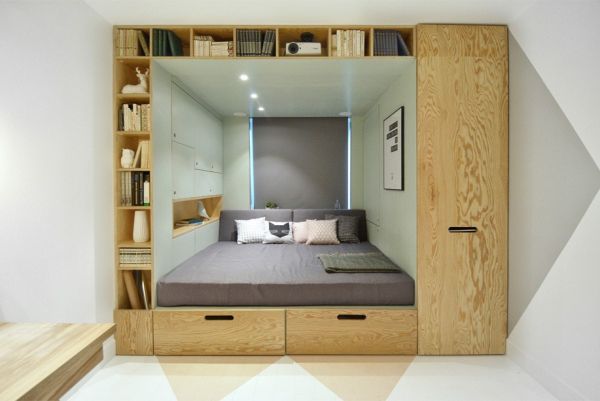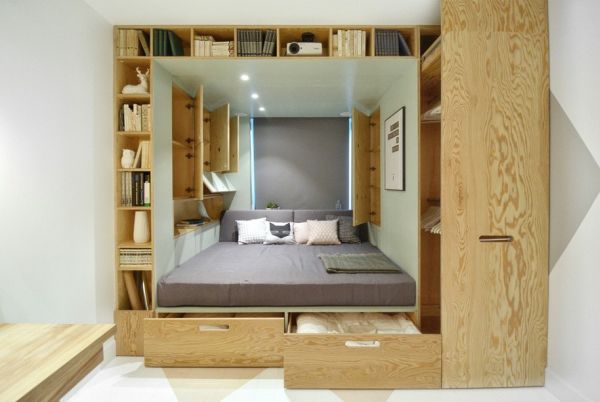 Via: Trendir