The concept of customizable, multifunctional furniture is really catching up these days, as they prove very useful in smaller living spaces. More and more designers are coming up with their innovative furniture designs, particularly for kids and teenagers because of their tendency to discover new things.
A renowned furniture manufacturer JJP in collaboration with the Spanish designer Carlos Tiscar, has created a stunning, multifunctional single bed called 'Nook'. This all-in-one bed can not only be used during childhood but also in the years to come.
Nook is a classic yet contemporary metal-framed canopy bed incorporated with a number of add-on accessories that increase its functionality without compromising on style. It is a perfect example of transformable furniture that features cabinets, drawers, desks, curtains, LED lighting, and even a bike rack. You can always add side rails to it for children's safety.
One of its unique features, other than the bike holder is the LED Monitor, where your kids can play their favorite video games or watch their desired cartoon shows. A trundle bed underneath it makes it comfortable enough to accommodate two kids simultaneously.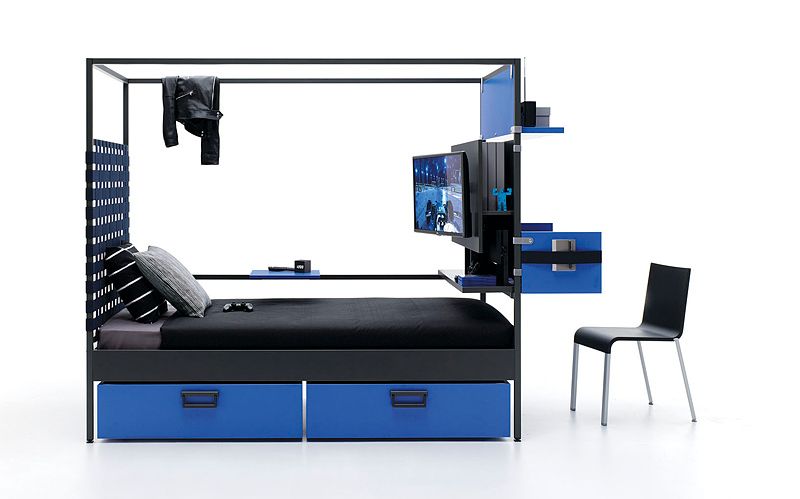 The canopy and curtains convert Nook bed into a private den offering users maximum privacy, which is always a matter of concern in small living spaces. With its exceptional design, it's fit to match any décor and is very easy to assemble; you just need an Allen Key to configure it.
Ways to Incorporate Nook Multifunctional Bed into Your Home
Living in a small pod or a studio apartment? Such a multipurpose, space-saving bed can transform your life for good. With this one bed, you can give a new dimension to your living area, as the unit makes space for your bike, storage, snooze, and entertainment.
By investing in a multifunctional bed, you can make your studio apartment feel more open and spacious for other uses. It could also be a great option for your kids' room to make it easier to transition their beds to study or for entertainment.
The rods on the top can be used for hanging curtains or your clothes/bags/scarves. This means that the furniture unit can also double up as an open wardrobe in a small room, leaving kids with more room for other activities, such as playing, exercising etc.
Besides the kids' room, this multipurpose bed is also a great solution for the guest room, outhouse, or backyard cabin to maximize the available space functionally.
We personally loved this versatile bed design for a bachelor's apartment. It enables you to easily go from an open concept living space to a modern master bedroom in seconds.