Mmcité1a, a design studio based in Prague, Czech Republic has been in the field of manufacturing outdoor furniture, from the past 20 years. This time around it's come up with a new prototype dubbed Woody solar bench. The furniture piece is designed by David Karásek, who apparently is the co-owner of the Mmcité1 design studio.
In this era of modern technology where internet and electronic devices have become the basic need of everyone out there, this solar-powered bench will help people to relax, charge their devices and stay updated with the current climate in that area.
Read More: Solar-powered 'Soofa' bench
Woody solar bench is sturdy and looks beautiful in the outdoors, and it's more than just a place to sit on. Made from steel and tropical wood, solar bench is capable of charging four devices at the same time. It has built-in Wi-Fi router that transmit strong signals to the users nearby. The solar-powered bench not only keeps you connected and charge your devices, but it also has Co2 meter, humidity meter and noise level meter to check noise level in the environment.
Overall design of the woody solar bench is made from the woody bench line, which is inspired by the aesthetics of stored lumber and the idea of nature as a principle.
The bench has solar roof that doubles as shade in the day time, and it also comes with two accessories LED lighting and steel tables. Its studio's prototype sits in the park of Prague that is the part of smart Prague project, which is completed by the aid of Prague city hall and Operator ICT. This amazing public bench is the part of broader range of public furniture which will debut in the market in 2018. For more update you can check its official page.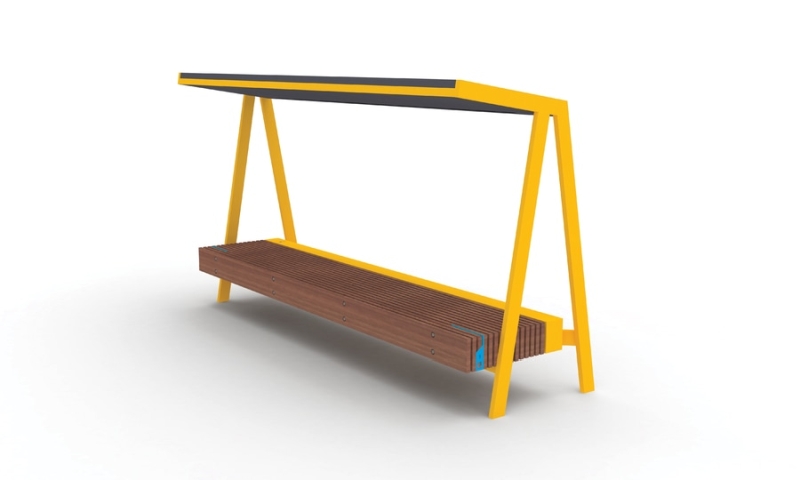 Via: Archiexpo