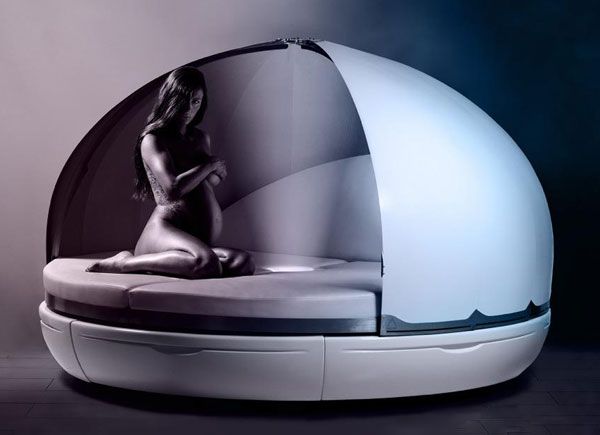 We rarely find beds that offer privacy. But that doesn't mean we won't ever find one. Created by Jorge Goval for Fanstudio, the Zero daybed is ideally made to offer customers protection and privacy in an enclosed space that's compatible with iPhone/iPad and features a 2.1 audio system. Designed after plants, which adapt to the environment by opening and closing their petals or by moving naturally to capture sunlight or avoid rain, wind etc., the unique Zero Collection is meant for much more than just chilling out.
Made exclusively in aluminum anodized, stainless steel, glass or carbon fiber, Zero daybed engulfs the user in an aroma, which is protective and private. Enclosed by a cover made from fiberglass or carbon fiber, the daybed protect from sun and wind and rotates 360° to adapt to the changing need of the user.
Zero daybed has a lovely backlit champagneria hiding under the mattress in the middle of the bed. The champagneria lights up elegantly to become a makeshift lamp for both indoors and outdoors. Zero therefore, with all the benefits, is just a perfect place to relax and enjoy in the day or at night, alone or in company.