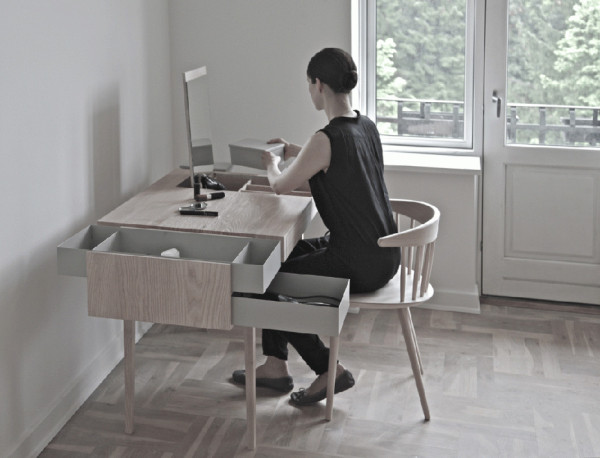 The constricting modern lifestyle of today has lead to the popularity of multipurpose furniture, and therefore, designers from all around the world are trying to construct different types of such furniture units that can adapt themselves to the ever changing situations. This multipurpose desk made by a Denmark-based designer combines a working desk and dressing table along with many other storage compartments. Dubbed Private Desk, it is a dazzling furniture unit made out of wood and metal. The minimalist design of this furniture unit is perfect for the busy working women, who do not get enough time to get ready in front of the mirror, while providing enough storage space for storing money, important files, documents, jewelry and other valuable possessions.
Theresa Arns, an architect & furniture designer from Copenhagen has created the Private Desk, by keeping in mind, the need of storage spaces and multi-functionality in a contemporary style. She has made use of white oiled ash wood and grey powder coated steel to create this multi-purpose furniture piece for a modern decor. The central portion forms the working space, wide enough to work on a laptop comfortably. One side of this portion also contains a lid with an integrated mirror, which opens up to reveal many storage containers for your beauty products. Underneath this surface is a drawer, where you can you can store your laptop and many other work- related things, and keep them out of sight when not working.
The right end of the Private Desk has a wooden construction with a metal tray that holds three metal boxes, each of which can be carried wherever needed. These boxes can be used to store your jewelry, wallet and other accessories, while the left end of the desk offers storage space for big items. Two large metal drawers are attached to the table and you can put seldom used objects in the lower drawer, while the upper one can hold the more frequently used objects.
The clever thing about this multi-purpose furniture unit is that it does not take up too much space, but provides more than enough storage space where you can easily organize your personal belongings and get free space for working comfortably. With a simple method of construction, this work desk adapts to different living situations without any hassles.
Via: Fubiz