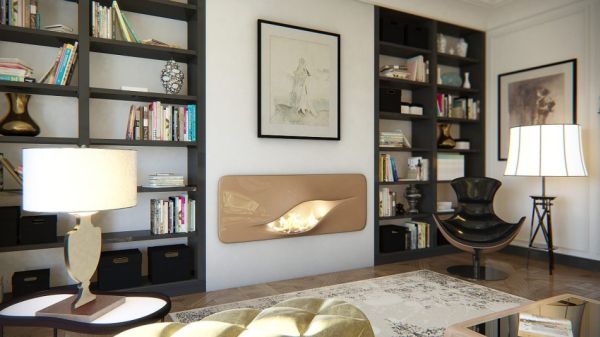 A home wouldn't be complete without a stunning fireplace to enhance your living room, bringing warmth and elegance to your home. Moreover, many family gatherings take place around the flickering flames of a fireplace. While enjoyable, the reality of maintaining a wood-burning fireplace can be quite a bit of work. Fortunately, there are a variety of electric alternatives to these, which provide the same warm and cozy feeling without worrying about the maintenance. If you are looking for a contemporary fireplace that besides providing the necessary warmth in winters, also look charismatic, then Mvtikka by Nuvist is one such product.
Mvtikka is an interesting fireplace by the Istanbul based studio, which reflects the remarkable fluid-shapes of the studio.  This stunning piece provides the homeowners with a futuristic addition to their home interiors. Although looking unique, it does not compromise with the comfort at all. The designers were inspired by the fire flames to create the curved lines in the design of this awe-inspiring fireplace.
Available in a choice of colors, the fireplace adds the warmth and also enhances the interiors. Mvtikka fireplace is suitable for a modern as well as a classic décor. You can add it to your bedroom to create a cozy and romantic atmosphere or as a charming centerpiece in your living room.
Via: Freshhome