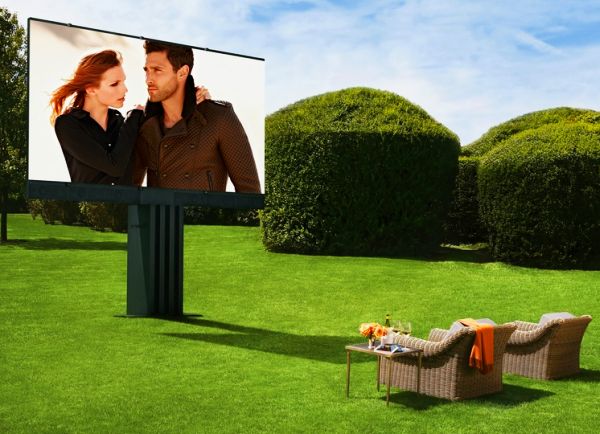 The celebratory time of the year has arrived for high-end department store Neiman Marcus's Christmas Book 2013 release. Basically a ritzy gift guide for the uber rich among us, there is a special 'fantasy list' of gift items within the guide that boast of astronomical figures as their price tags. The 2013 version of Christmas Book's fantasy gift list comprises of the $1.5 million Ultimate Outdoor Entertainment System with its host of outlandish features. Why outlandish – you ask? Well, the entertainment system starts off with the C Seed 201-inch LED screen, which already has its claim to fame by exhibiting the world's biggest outdoor television screen. And, if the thought of a gargantuan TV in your garden bothers you, well the set is completely waterproof and has underground housing. So, you would just need to press a button to activate and bring forth the TV contraption back to the ground level.
Complementing the massive television set is an assortment of other audio and multimedia components, including speakers with surround sound, Direc TV coverage, two iPad mini controllers and a whopping 300 movies built-in to the entertainment system. And, even after all of these accessories, if you pockets still go deeper, you can always opt for two humongous speakers that would take the price up to a total of $2.64 million.
On the brighter side (that is if you are concerned), the mammoth pricing does cover the entire ambit ranging from the delivery, installation to the systems. And, lest we forget, there is also a conscientious side to the opulent affair, with donation of $10,000 to The Heart of Neiman Marcus Foundation with every sale of Ultimate Outdoor Entertainment System.
Via: NeimanMarcus