Everything from home architecture to household gadgets have changed over the past few years, but the drab and boring design of home doors remains the same. To add some life to these tedious door layouts, the Japanese design studio Nendo has recently created a collection dubbed Seven Doors for the 70th anniversary of Abe Kogyo, a legendary manufacturer of wooden doors.
The collection includes Lamp, Baby, Slide, Hang, Kumiko, Wall and Corner; all of these are created to revamp our entryways in our routine life. Minimalist pale timber is used to make frames and panels of each of the door designs. Each door is of standard size along with different patterns that add playful character to any home interior.
Therefore, seven doors are multi-purpose portals carrying various routine accessories from lighting fixtures to decor objects. Head over here, to find out more details about these unique door styles.
Lamp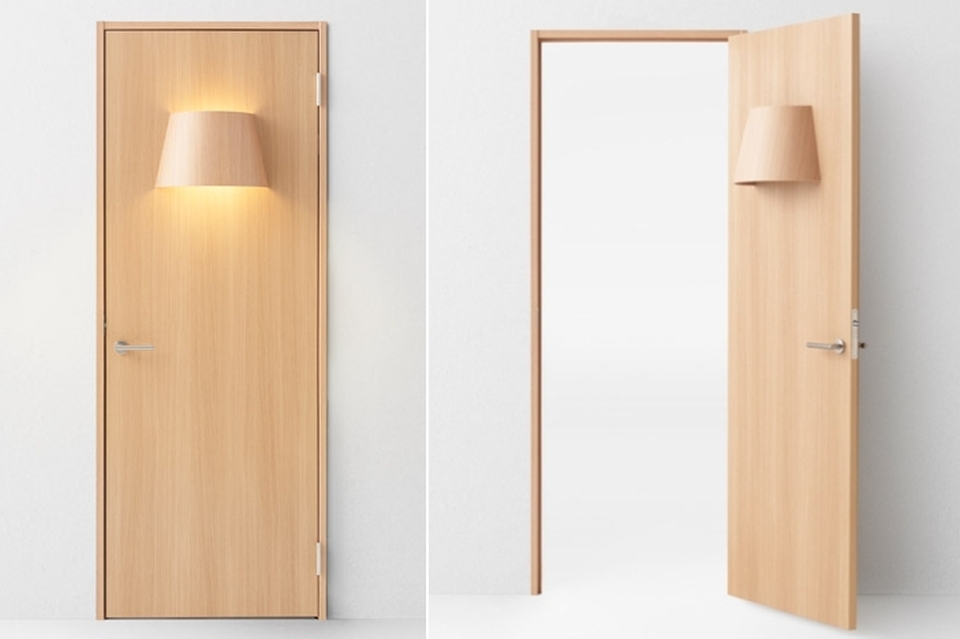 This door boasts a simple lighting fixture that illuminates the entryway with soothing ambiance of light. It is powered by the same wiring techniques as used in electronic locks. The door will light up your home entrance, adding playful touch to its minimal layout.
Baby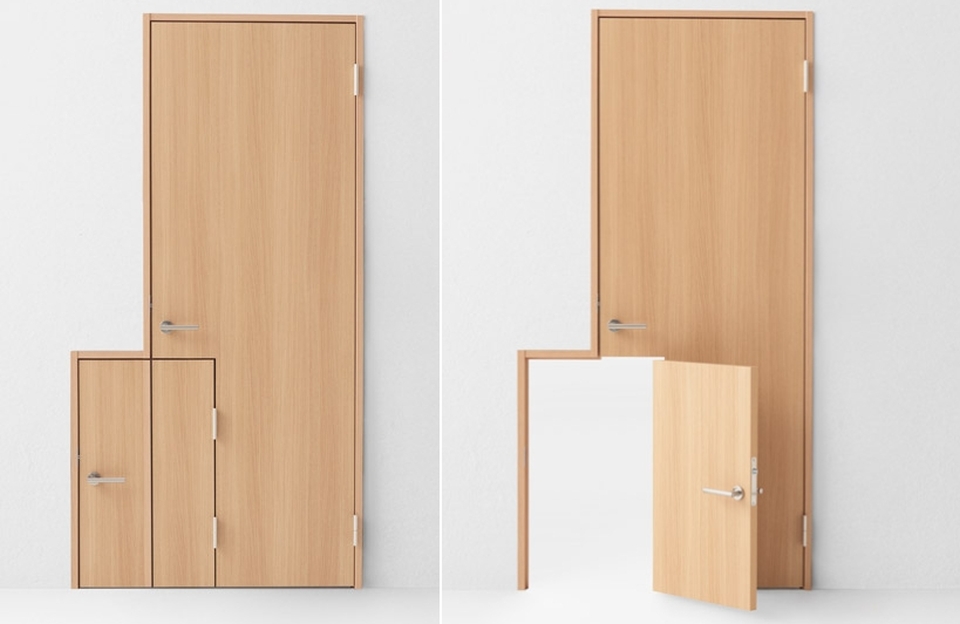 If you have kids in your house, you can provide them with a separate entryway- all thanks to the 'Baby' door. One corner of the door is cut into a small section, providing separate entry for kids. So they don't have to suffer from lockouts when you're not present at home to open or close the door.
Slide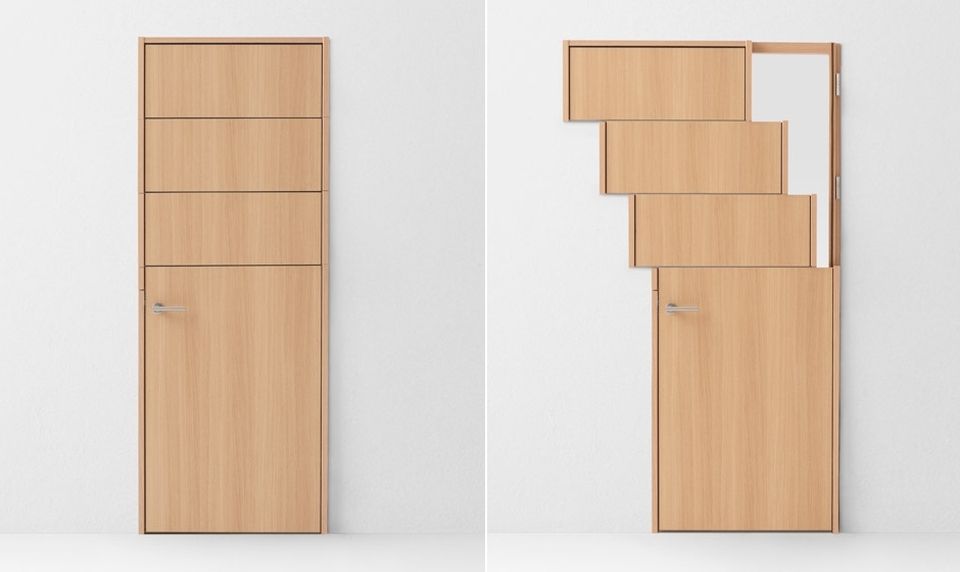 This door is designed like window blinds along with various wooden panels that can be slid out of the way. On sliding the wooden panels, you'll be able to identify anyone ringing your doorbell and also allow extra ventilation into your living area.
Hang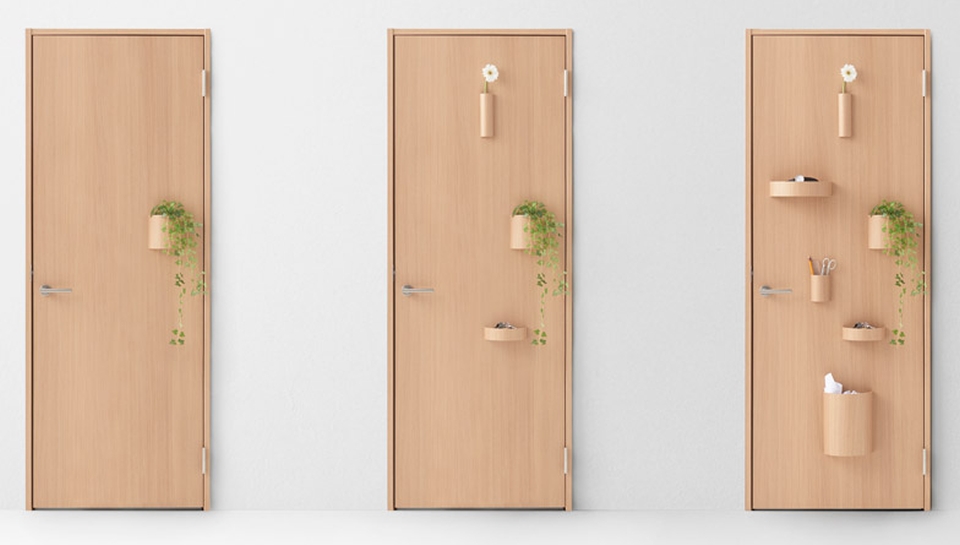 The door comes with built-in magnetic sheet that allows you to attach different accessories such as trays, dust bins, flower pots, vases, and other containers. With these hanging accessories, the door becomes sleek and elegant storage space. Moreover, on adding few decorative pieces onto the shelves it will enhance look of your interior as well.
Kumiko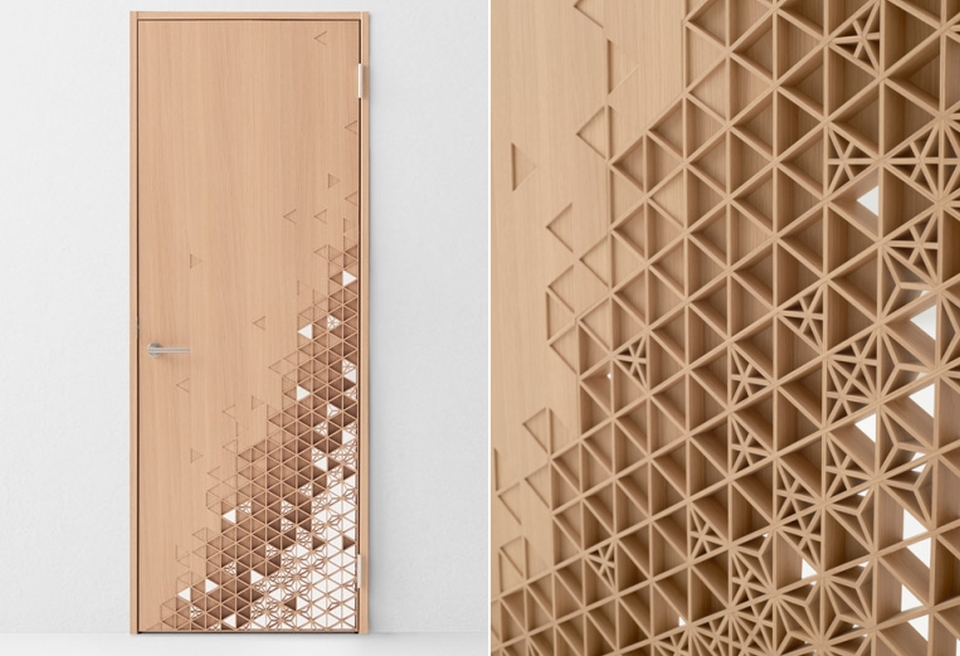 The door is named after the Japanese technique of assembling wooden lattices without nails. This decorative door is designed from the lower-right corner upwards into a smooth, uninterrupted surface. It is an attractive portal for any contemporary home with stylish tessellated patterns.
Wall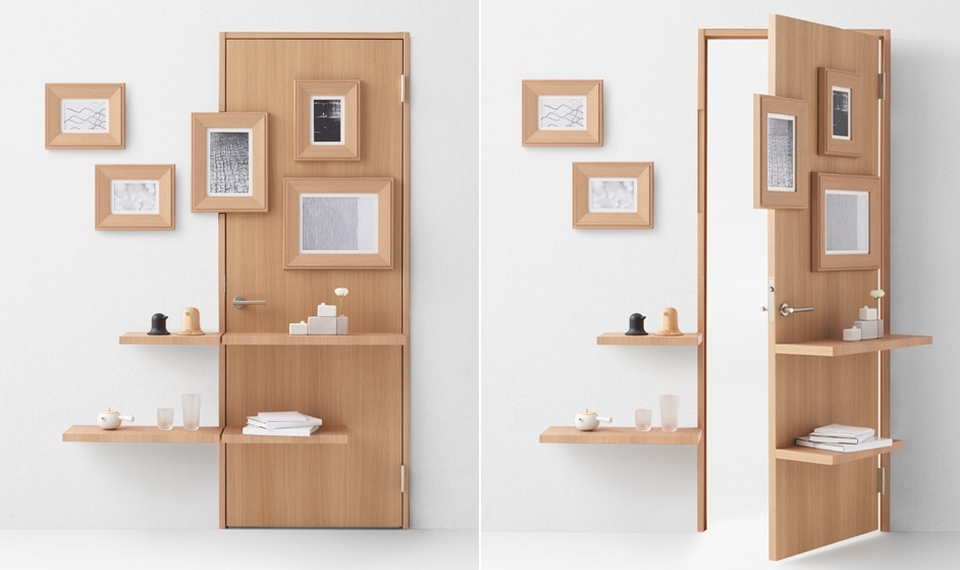 It is covered with few shelves and picture frames, like conventional household walls. The door has been carefully designed for smooth opening/closing, although shelves and frames overlap the jamb. It not only allows one to enter or leave the house, but also becomes decorative part of your interior.
Corner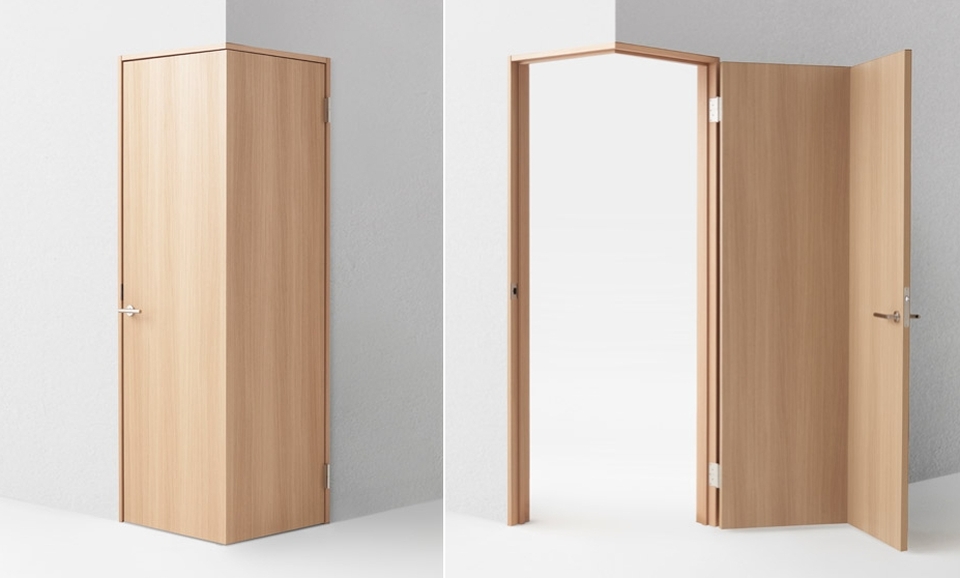 This is a unique door that has been built right into a corner. The clever entry will not only make use of the left-out corner space of any house, but also makes it easier for wheelchair users to conveniently enter or leave the house.
Even though the designs are attractive and useful, but none of these doors are available for sale yet. These eye-catching door designs were displayed at Milan Furniture Fair 2015 and were highly appreciated by the visitors. Hopefully, we'll be able to see these bizarre functional doors commercially in coming years.
Via: Mocoloco