Funded through Indiegogo crowd-funding campaign, Nepsu Triangle is a compact and wireless hi-fi speaker designed to match your preferences for home décor. It is tetrahedral shaped space-efficient home speaker that perfectly suits with the unused corners of your home. As per your choice, you can set the Triangle at any unused corner, display it on any flat surface as a centerpiece or mount it on any wall of your home. Despite its position, the speaker delivers clear and pleasant sound.
It is made with light-weight and eco-friendly natural fiber composite having wood and plastic casing in equal proportions. Additionally, a wide selection of its customizable magnetized aluminum color plates easily matches with your modern home décor. It comes with 5000mAh lithium-ion renewable battery having 10 hours capacity, which ensures non-stop entertainment for a long duration of time.
Corner loading feature of the Triangle delivers ambiophonic sound, and also makes your home interior look clutter-free. The walls of a room amplifies sound of the triangle naturally, to further enhance the overall listening experience. It is also loaded with multi-room audio feature to connect them all simultaneously at a time.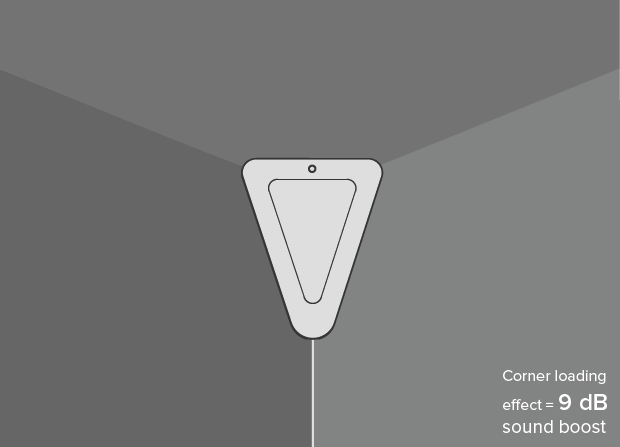 Christopher A. Dion, a professional audio mastering engineer has recognized the Triangle as an impressive sound system featured with low distortion rates, smooth and extended frequency response, and a small tweeter sufficient for a hi-fi music enthusiast.
Multiple connectivity options of the Triangle such as Aux-in, Bluetooth, and Wi-Fi allow pairing with devices like smartphones, tablets, consoles, music players, smartwatches etc. A number of online music serving apps or the official Nepsu app can be used to stream your favorite songs through the speaker.
The Nepsu Triangle is also integrated with a highly-sensitive microphone to answer phone calls without using your hands. You can also use the Triangle with wall decals to make your own piece-of-art.
Its compact shape, sustainability, uniqueness, and quality output make it a viable product for your homes. The Triangle is available for pre-orders at Indiegogo, and will be delivered by October month of this year.