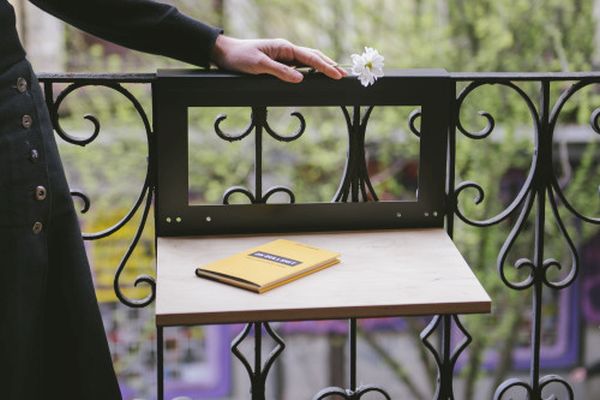 You may not be able to take a whole day off from work, but you can calmly relax while sipping your coffee with Manuela Table designed by Madrid-based studio Nimio. It is a tiny balcony table without legs, which can be installed onto railing of a balcony by mounting its frame on railing without requiring any additional tools. Its frame is made of folded steel and the tabletop comprises of wood or sleek hydraulic tile. The delicate and modest design of this table makes it an adorable piece for you balcony or patio.
For installation all you have to do is, mount the steel frame of this table onto any railing or tie it to any outer space of your home. After installation, you can use it to enjoy a cup of coffee every morning or evening while looking out of the balcony. Due to its compact size, the table can be placed on to your balcony throughout the year without cluttering any space.
Manuela Table is available in two different sizes i.e. normal and extra-large, and comes in three colors- brown red, patina green and anthracite grey. You can purchase any this balcony table for € 79 (approx. US $108) from its official website to add grace to your balcony.
Via: ShoeboxDwelling