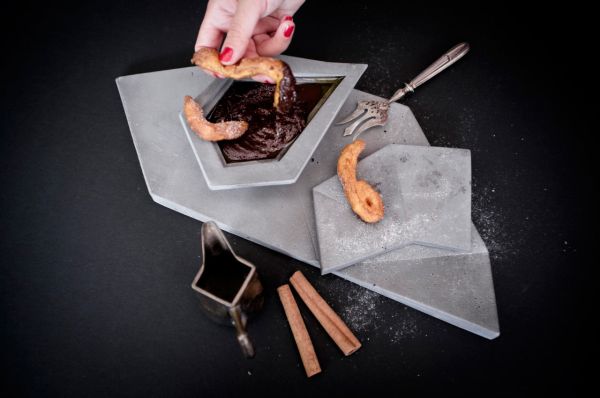 If you might think for a second, in our daily lives we are surrounded by concrete more than anything else. From our houses, offices, schools and streets, the one thing that we can't run from is probably the concrete (unless you live in a jungle). We are so used to concrete that designers, companies and individuals around the globe got their inspiration from it and thought of creating household products using concrete that can serve as attractive accessory for our homes. There are lots of cool products and decorative stuff that has been crafted from concrete. Here is a list of nine best concrete tabletop accessories that you'll love to have at your home.
# Concrete Simple Tray White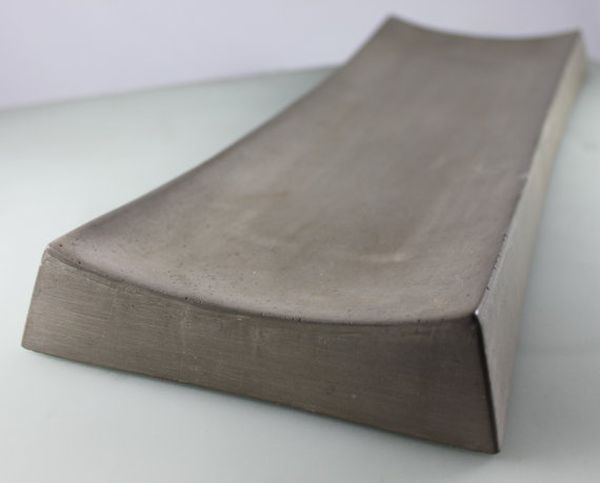 Manufactured by Culinarium, Concrete Simple Tray White is a perfect accessory for your living room. Sculpted by hand from clay and then cast into concrete from the resulting mold, the tray is covered with natural carnauba wax and has cork bumps that protects the table surface on which it is placed. All the items are incredibly strong, smooth and get better with age, developing rich character and patina.
# Concrete Beer Coaster Set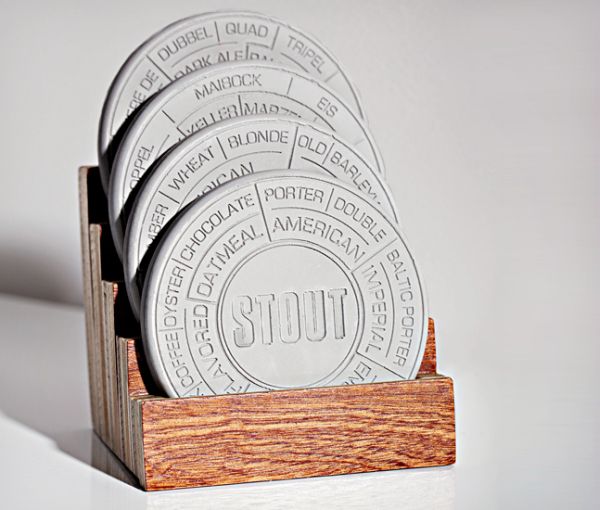 Supporting your favorite beer, Concrete Beer Coasters comes with cork padding at the bottom and storage stand made from mahogany ply. Made by Pop Chart Lab, each coaster talks about the style of beer – Stout, German Lager, Pale Ale, and Belgian Ale. Casted by hand, each piece comes with unique variations in coloring and detailing.
# 4th Dimension Desk Clock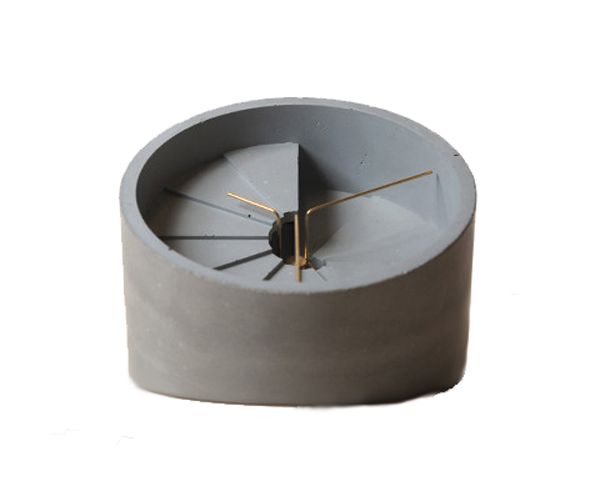 Designed by Sean Yu & Yiting Chen, the clock is a kinetic sculpture that helps us in understanding the concept of time. The designers have crafted a staircase that showcases hours, minutes and seconds which we climb in our daily life. Made from stainless steel and high density concrete, the 4th Dimension Desk Clock is having dimensions of 5.9-inches x 0.33-inch and is priced at $145.
#  Concrete Desk Set by Areaware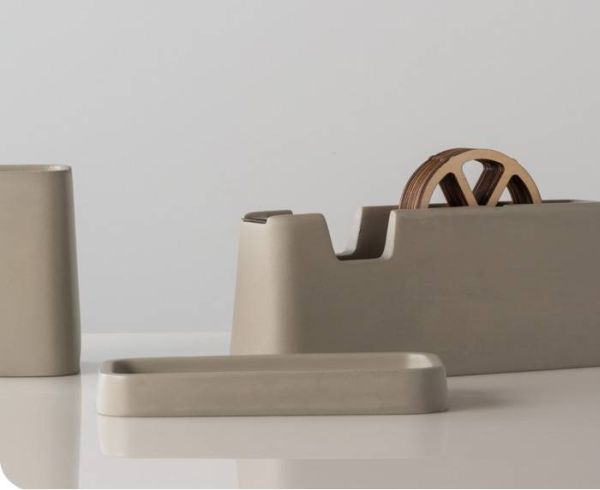 Featuring a polished texture and eye pleasing grey tone, the concrete desk set includes pencil holder, tape dispenser and a small tray. Manufactured by New York-based Areaware and designed by Magnus Pettersen, the Concrete Desk Set is a unique accessory for one's office table. The concrete desk set by Areaware will set you back $60.
#  iPhone 5 Docking Station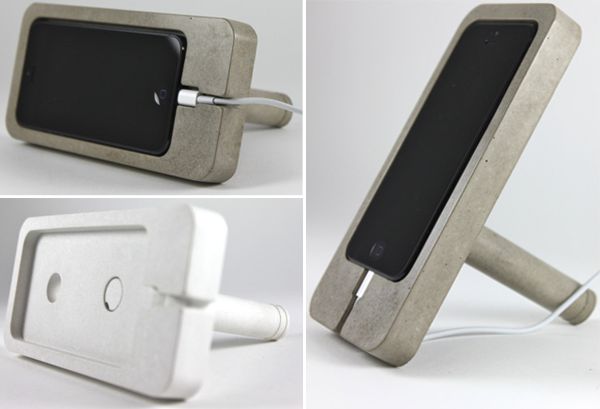 The concrete docking station is a perfect accessory for your iPhone that can surely win you respect from your friends. Manufactured by Massachusetts-based Zeitgeist factory, the concrete iPhone 5 Docking station is completely handmade and is made with a blend of cement and recycled stone dust. The station can be used in vertical or horizontal orientations with the help of a concrete peg which fits easily in place via a pair of silicone o-rings.
# Gray Business Card Holder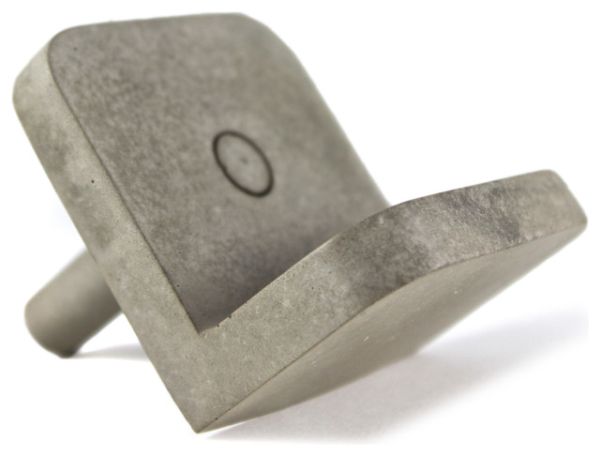 Another handcrafted product by Zeitgeist Factory made from a blend of cement and recycled stone dust, Gray Business Card Holder is designed to hold cards both vertically and horizontally. The card comes with a concrete peg designed to fit the business card holder via silicone o-rings. Weighing 5lbs, this modern office accessory is priced at $29.
# Concrete LED Lamp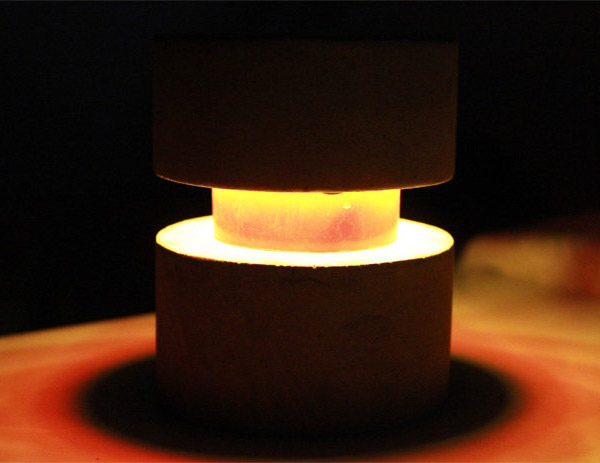 The O-Lite Concrete LED Lamp is an indestructible piece of accessory that you won't be afraid of          it falling off the table. Designed by CFabStudios, it is a compact lamp carved out of discs of concrete. The Concrete LED lamp gets its power from a single nine-volt battery that can keep its LED bulb glowing for up to 20 hours. Priced at $20, the lamp is a value for money accessory for your bedside table.
# Concrete Tableware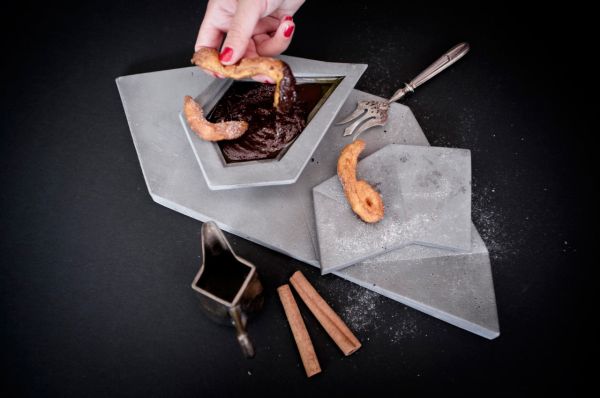 Created by architect and designer Vido Nori, the concrete tableware is one the most creative things that has been made from concrete. Each piece of the collection is worth having in your kitchen and unique geometric design and origami shape adds another twist to the tableware collection. The tableware includes bent trays and striking creased bowls which as the good part are machine washable. The concrete tableware ranges between $20 and $80 depending on the size of the order.
# P.A.C.O Concrete Speaker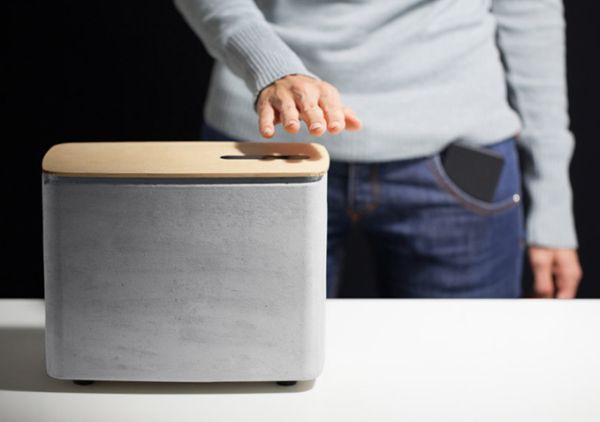 Designed by Italian design studio digital habit(s), P.A.C.O open-source concrete speaker is a Bluetooth speaker made by using concrete and wood. The wooden cover is embedded with gestural sensors that works on gestural commands to manage music tracks and volume controls. One has to swipe his hand to change a track or hold his hand over the P.A.C.O's sensor to raise or lower the volume. The P.A.C.O open-source concrete speaker measures 26-x19-x14cm and weighs about 5kgs.