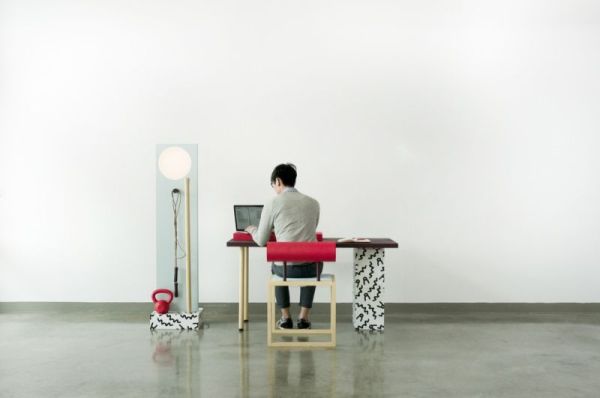 Exercising on a daily basis is very important to live a healthy and happy life. But, in this busy life we don't get enough time for adequate workout. Keeping this hard fact of life in mind, a Vancouver based designer, Darryl Agawin has designed an attractive 3-piece workspace furniture, dubbed No Sweat!, that doubles as a gym equipment. This double duty furniture is perfect piece for those cramped apartments where an extra room for gyming and exercising is unavailable. Retrospectively, making use of No Sweat in your workspace, you can easily transform it into a workout zone so that you can take a physical and mental break from your busy schedule to do your regular exercises.
Agawin's No Sweat! furniture line combines his love for design with his love for fitness. The set is comprised of a chair, a desk and a lamp designed elegantly in eye-catching color combination of red, black and white. These basic components of a home office can be converted to gym equipment to carry out a fitness regime.
These can be converted into various kinds of gym equipment like weight bar, balance board, a step bench for various exercises. The set also accompanies the kettle bell and the skip rope, which although have no dual purpose but are useful as basic props for exercising. You can explore various exercises from all these basic structures and after you are done with the workout you can rearrange them to further use them as a home office furniture again.
Check out the video below to see the different exercises that can be performed with 'No, Sweat!' furniture.

Via: DesignTaxi