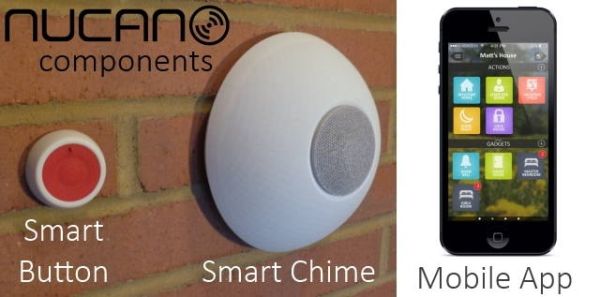 When it comes to home automation, you can find plenty of neat little gizmos and gadgets emerging in this particular market these days. But, did you ever think that your door chime or a door bell can play the role of your home automation gadget too. Well, Nucano's new product, christened Smart Door Chime leaves the simple door bell far behind and takes home automation to an entirely new level.

The main purpose of a simple door bell is just to make the homeowner aware that someone is at the door. As the technology advanced, cameras were integrated to the simple door chimes that made the homeowner see, exactly who is at the door. Nucano says that their Smart Door Chime is intended to do more than a simple door chime. Their product can establish a connection and control the other devices and gadgets, it is compatible with electronics ranging from thermostats, alarms, door locks, cameras and thousands of other household appliances.
According to Matt Cupal, co-founder of Nucano their Smart Door Chime is home intelligence hub, with a stand-out design and its ease of use makes it ideal for any kind of home. The users can easily synchronize this device with their Smartphones to get alerts and videos whenever the bell is rung. Unlike traditional door bells, this one provides temperature readings of the inside of a home, lets the users change the chime tune with their favorite music on their smartphone and also send an alarm to the users phone, in case of any trespassing.
Although this world's first Smart Door Chime is still a prototype and launched as a Kickstarter project, but if you are impressed with the device and want it for yourself, visit the KIckstarter page and donate certain amount to get it to production lines.
Check out the video for more information on Smart Door Chime.
Via: Ubergizmo