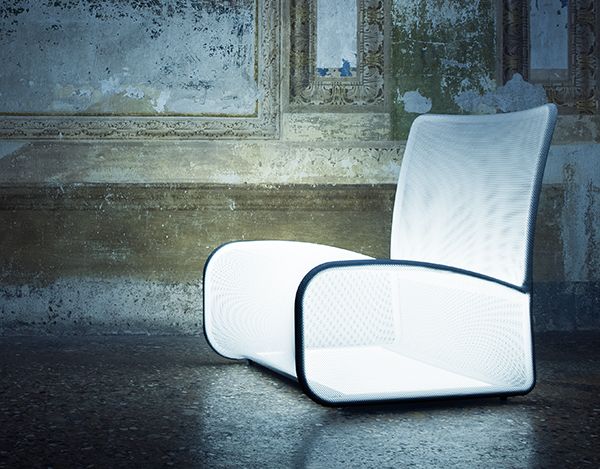 Taking inspiration from the performance of light company, Natevo, a trademark of Italian company Flou Spa, teamed up with a group of designers like Carlo Colombo, Pinuccio Borgonovo, and studio ThesiaProgetti to design a range of unique furniture articles including armchairs, chairs, tables, coffee tables, and accessories to give an entirely different meaning to light. All of these items have a glowing panel integrated within them to illuminate the surroundings and create a picturesque view. The Nuvola Di Luce (cloud of light) chair displayed above is a part of this collection. It is a comfortable seat that creates a dramatic atmosphere in any room it is placed.
We cannot display this gallery
This chair when lit up spreads a uniform subtle light giving a simple visual effect of the user sitting on a cloud of light floating in air. The Nuvola Di Luce aka Cloud of Light is made of stretch mesh and is available in two versions, one is illumined by virtue of an innate luminous panel located at the base of the chair while the other one has no such panel and is a simple seating furniture. You can get this lightweight and maneuverable chair in three colors i.e., white, black, and brown. Just like the other products of Natevo collection, the Cloud of Light is also available in two light options, warm or cool. This collection is especially made to satisfy the public who wishes to illuminate their living spaces with an enticing aura. The Natevo collection was unveiled at the iSalone during Salone Del Mobile 2013.