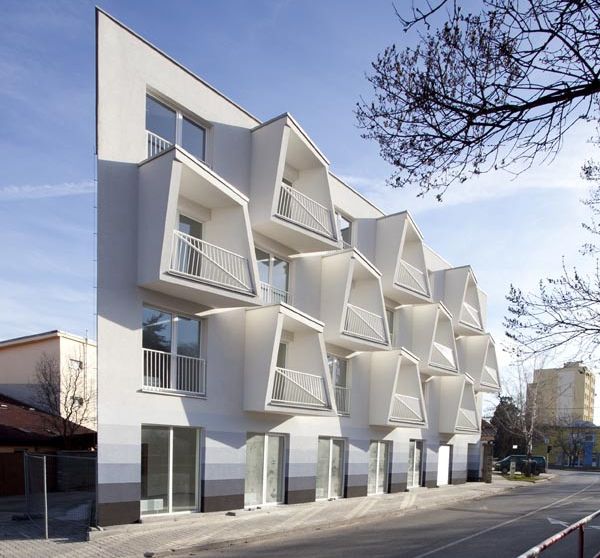 With an idea to create an iconic and original building, which can be an architectural design benchmark for the other buildings, Bratislava-based Nice Architects has built the North Star Apartment in the Senec town of Slovakia. The residential building designed on the concept of consuming maximum possible sunlight, has been built on a triangular site within a maze of residential and public buildings opposite a school garden and a local astronomical observatory. The North Star Apartment is a low-cost four story residential building comprising 9 flats and five small shops.
The North Star Apartment has a stair case and lift in the eastern corner and a corridor spans across the flats on each floor. Each flat in the building measure a little upwards of 50sqm, which is perfect home for a couple or bachelors. The main attraction of the North Star Apartment, besides its triangular design, is the windows and balconies, which face to the west and let in ample sunlight to the flats until sunset. The balconies also provide acoustic barrier against the busy street in front, adding immensely to the owner's privacy.
The North Star Apartment is constructed very deftly. The walls and partitions are made from bricks and balconies and ceilings are made from bricks and reinforced concrete. Ground floor of the building is made by gradient of black and white monochrome stripes.
Source: NiceArchitects Via: Inhabitat