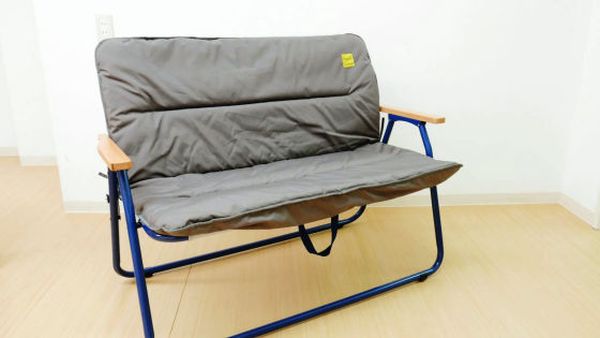 Wouldn't it be nice if you could get a sofa for both indoor as well as outdoor purposes? Well, Japanese furniture designer Going Furniture has created the One Hand Carry Sofa that can be used as both indoor and outdoor furniture. It is a compact foldable sofa which becomes only 5-inches thick on folding and can be carried to any area i.e. living room, garden or outdoor picnic or camping spots. You can relax on this comfortable sofa while reading, sipping your favorite drinks or while gazing at beautiful outdoor sights.
It is made up of aluminum alloy frame, polyester material for seating and wooden armrest. The aluminum frame makes it so light weight that a person can easily carry it using only one hand. When unfolded it measures 33x 44 x 21-inches with comfortable seating area and back rest on which two persons can sit comfortably.
On folding, the size becomes 44 x 30 x 5-inches for easy storage inside a closet or behind furniture gaps. Moreover, cleaning of this furniture also doesn't require much efforts, all you need to do is, remove its polyester cushion covering for washing whenever it need cleaning.
One Hand Carry Sofa provides great amount of flexibility to the user for easy handling without any complexity. The sofa is idyllic for small houses where living space is very less and also for comfy outdoor experience. You can purchase the sofa online for 9,980 Yen (approx. US $98.5).
Credit: Gigazine