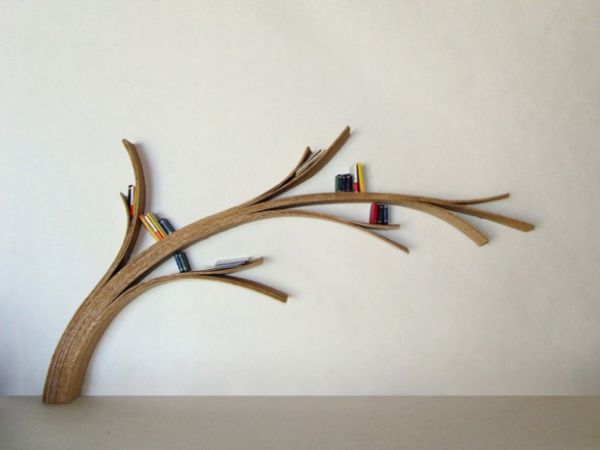 Jean-Damien Badoux, France based furniture designer and founder of Deslignes Editions, recently designed ORA collection which comprises of a set of wooden shelves that resemble branch of a tree. The contemporary design and natural finishing of the bent tree branch bookshelf shown in the picture is entirely handmade. The branch-like bookshelf is made of oak wood, and for shine wax is used. It will look perfect in a library, living room or a study room. If you don't want to keep books on it, then you can also use it to keep décor pieces. You can get one for your house to make it look more stylish and elegant.
Apart from designing a bookshelf that replicates a bent tree branch, Badoux has made two more similar looking shelves. One of them is a single shelf, which resembles one single branch of a tree hanging horizontally on the wall, whereas the other one mimics a thin branch with multiple buds on it standing upright. In the standing wooden shelf, glass is used to hold the books. The collection of this amazing work of art is on display at the Espace 55 in Annecy.
Designer Jean-Damien Badoux is known for creating furniture pieces which are inspired by nature. To maintain the original touch of nature, he likes to hand-carve all the designs on wooden furniture. The love with which he makes furniture is clearly visible in his work.
Via: JournalduDesign