A perfect home is incomplete without a complementing outdoor space. Whether yours is a luxury retreat with a pool or a more humble setting, trendy furniture can add to the decor and highlight the space to look up to date and inviting. Choosing the right pieces – either customized or contemporary, elevates your entire outdoor aesthetic, but how do you know what's the right furniture? To get a fair idea of what's hot and what's not, there are some things you need to keep in mind. Read on to find out which trends are setting the tone – Fascinating Outdoor Furniture Trends in 2019:
Bring The Inside Out with an Oversized Dining Table
Your garden or patio should be an extension of your home, so encourage outdoor dining with a large dining table that accommodates the family and your guests. Always be prepared for a garden party and say goodbye to the old days of squashing around a tiny outdoor table.
Choose sleek glass tops on rattan tables with matching chairs or wicker sets in fashion-forward black and chocolate brown tones.
Haven't got the space to go oversized? You'll find that extendable dining tables have had a stylish update and offer the best of both worlds.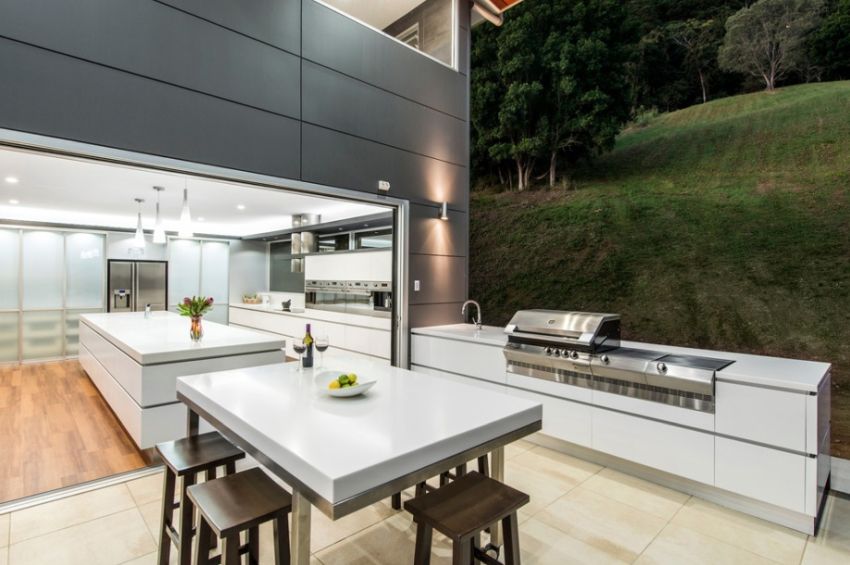 Chill Out on Low-Slung Sofas
In 2019, Japanese-inspired seating is taking over and people are relaxing on low-slung and modular sofas. Imagine long, lazy afternoons spent sinking into comfortable outdoor seating that's close to the ground and made extra cozy with plush cushions and luxurious soft furnishings.
Do you prefer versatility while decorating any space? Modular sofas are becoming ever so popular because of their ability to fit a range of yards and accommodate for the changing needs, depending on how you choose to entertain or shift a space around.
This is the element that embodies the merging of functionality and style in 2019's outdoor furniture, further driving the furniture industry forward with the adoption of new designs and contemporary furniture.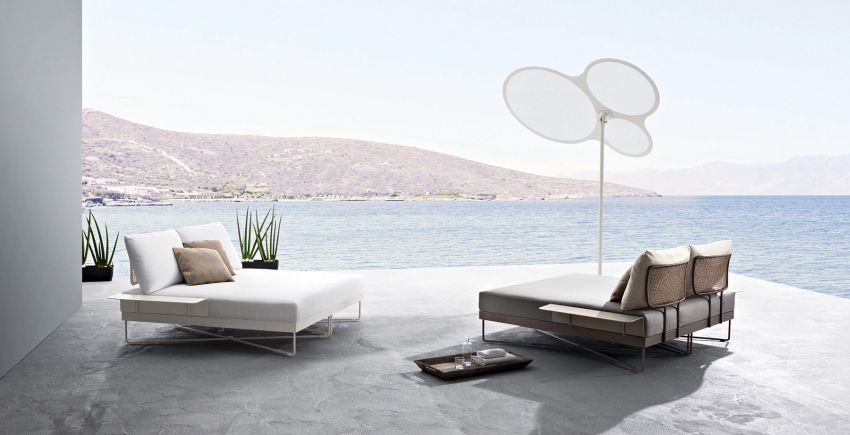 Add The Vintage Glory
Things from the past are being embraced big time in 2019. Even you can add retro-inspired style to your outdoor with vintage furniture, to give a nostalgic flair to your garden or patio.
You can use a single piece of pre-loved furniture to capture the retro vibe while creating a "wow" effect in your oasis. For instance, you can pick an old rocking chair as a focal point and bring a sense of antiquity to your outdoor sanctuary.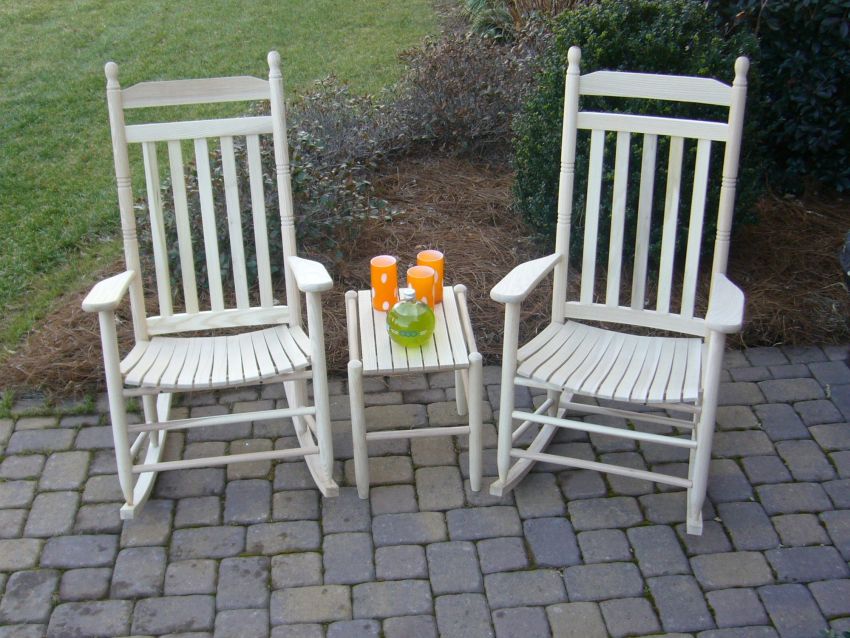 Classic Timber vs Industrial Metal
This year, timber and metal are getting their turn in the sunlight, offering a rough edge to the modern style that we can't get enough of. Timber tends to be durable and weather-resistant, while metals offer a cool aesthetic that looks amazing next to the natural greenery in your garden. The type of material you choose should depend on your sense of style and the amount of maintenance you're able to offer for your furniture.
One surprising trend you can expect this year is a mix of materials. We're seeing striking combinations of timber, metal, rope, wicker, and marble, as well as the juxtaposition of contemporary and aged surfaces.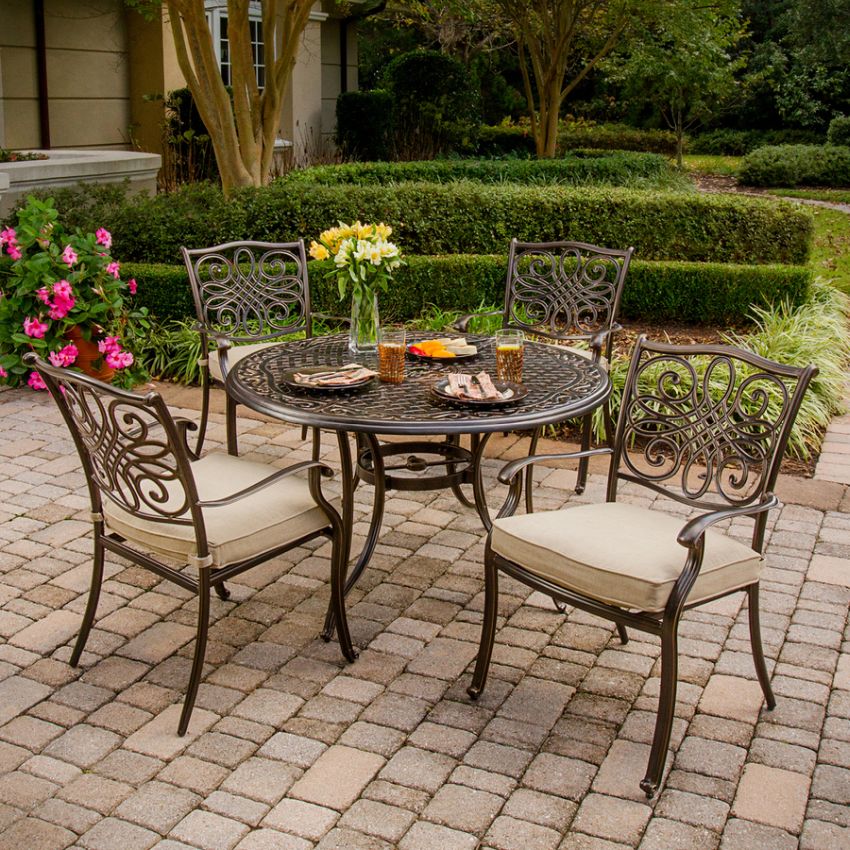 Wicker (still) Rules All
Wicker is one material that's dominating gardens around the world, whether yours is a luxury retreat with a pool or a more humble environment. While it's a lightweight and weather-resistant material, it also combines smooth curves and contemporary designs that update any outdoor space.
From tables to sun loungers, chairs and outdoor storage, wicker radiates a natural look, despite being made with synthetic fibers. You'll usually get years out of your wicker furniture without too much maintenance, and it'll look sleek well into the future, making it a firm choice for trendy outdoor furniture in 2019.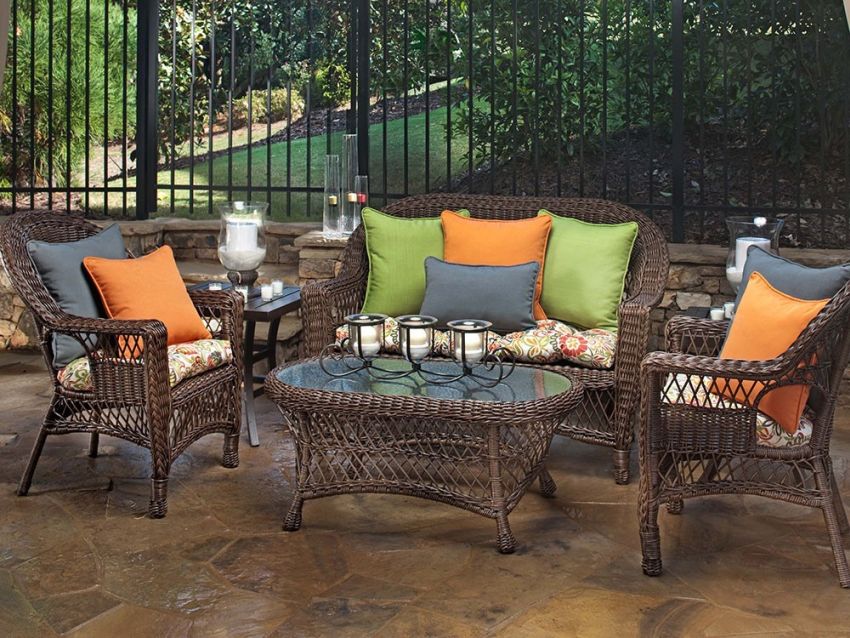 Bonus Tips
Add Color with Scatter Cushions
Neutral tones are timeless and offer an elegant base for your outdoor environment, making it easy to update your space with each passing season. Keep the large elements of your outdoor furniture – such as the sofa and dining table in muted colors, but explore pops of color with accessories.
Clashing tones and mismatched cushions in varying sizes add new dimensions to your seating area. Opt for your favorite tones or take a tip from Pantone, who release their "Colour of the Year" each year, to guide the fashion, interior design, and graphic design industries. 2019's winning color is called "Living Coral". It's an energetic coral hue with a golden undertone and a soft edge.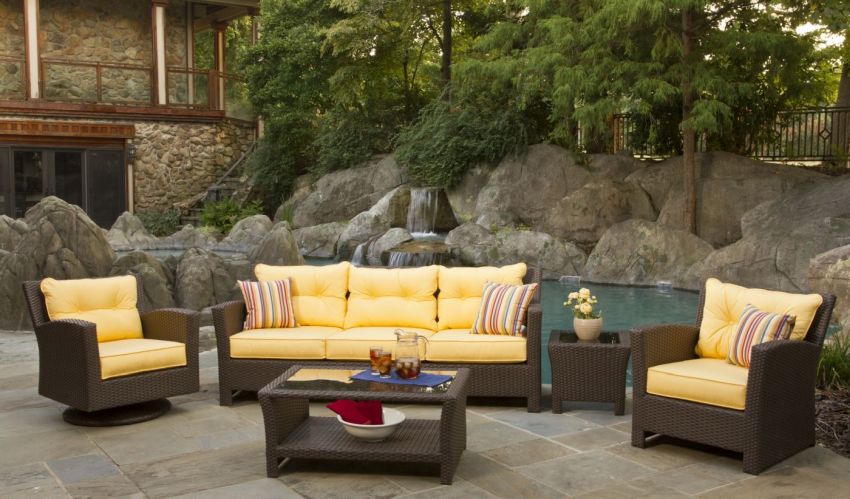 Get That Glow with a Firepit
A firepit is an ultimate addition to your outdoor furniture in 2019, giving you more excuses to relax in your garden late into the night. Since interior decor trends are taking over the outdoor space all across the globe, any fire element (from a firepit to a chimney) are very hot right now.
Make this your focal point and bring a cozy element that guests can huddle around. We're expecting flames to become the norm in gardens this year, particularly set in rustic cast iron or stone holders.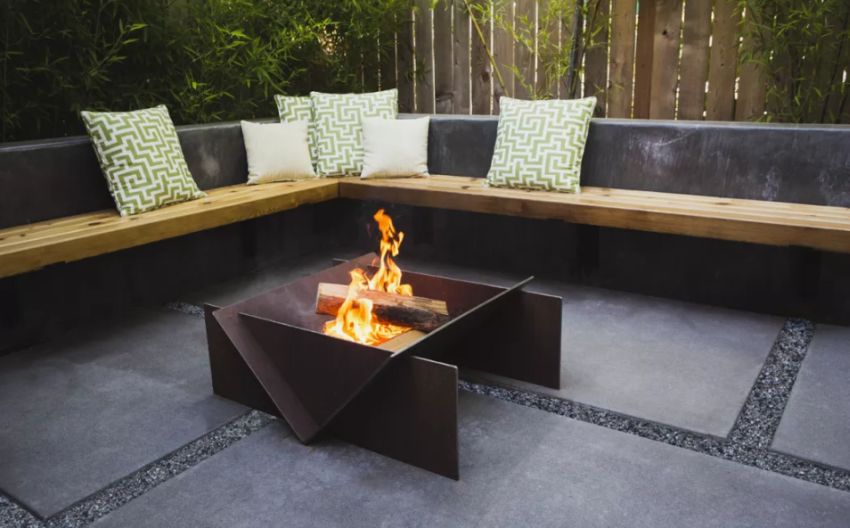 Border Elements with Strip Lighting
Incorporating lighting offers a feel-good feature that is simple to set up and highlight some of the best parts of your garden. Strip lighting is the grown-up version of fairy lights, providing a beautiful border under steps, benchtops or around pools.
Play around with lighting to add a twinkling or steady glow to pathways and along fences. While festoon lights are still high in the outdoor lighting ranks, we're expecting more straight lines when it comes to accent lighting this year. Either way, this is one easy way to create an ambiance and complement your other outdoor elements.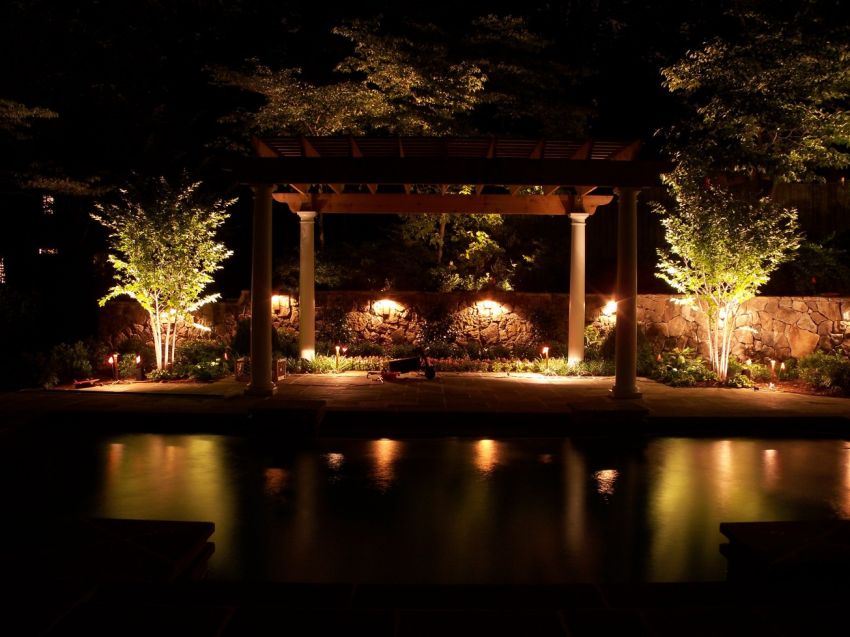 With these inspiring outdoor furniture/design trends, you can simply create an outdoor sanctuary exuding peacefulness, comfort, and relaxation without going overboard with decorations.