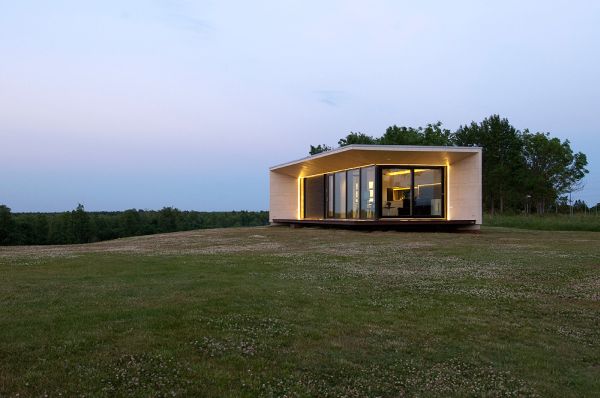 We are having a roll with pre-fabricated structures. Yesterday, it was about a tourist complex in Easter Island, and now we have once again come across the familiar scope of a pre-fabricated housing unit. The conception in question is named as the Passion House, and is designed by the collaborative effort of Passion Group, Architect 11, and architect Eero Endjärv. In terms of design, the residence follows the neo Nordic school of architecture, with modernist style playing its part alongside energy efficient features. All of these attributes are pronounced through comfortable spatial zones pre-installed with dedicated furniture and appliances.
Structurally, the entire 40 sq m unit of a Passion House only takes two days to 'set-up'. Already coming equipped with a sturdy concrete foundation, the installation time entails finding a suitable gravel spot upon which the house is to be based.
The high standards of energy efficiency are defined by the utilization of various features – like, the external skin with its concrete composition is touted to be able to resist wind, rain and snowfall. The cantilevered roof also over-extends to act as an effective shading device from various angles of the sun. However, the Passion House really shines in its insulation credentials, with the structural frame being made of glulam, while the walls have rockwool insulation and the internal walls are made of cross-laminated-timber panels.
Spatial efficiency is also a definite part of the Passion House scope, with sliding doors creating more area, along with 'pull-out' furniture items including sofas and Murphy beds. And, for user preference, the units come in two models – one with a main bedroom (without sauna), and another with a bigger sauna (instead of a large bedroom).
Via: PassionHouses