Pedro Barrail, Paraguay- based designer and architect of Cristina Grajales Gallery, designed exquisite furniture collection 'Welcome to the Jungle' including cabinets, tables, stools and chairs. Although every furniture piece carries a unique character, but we liked El Castor and Levantate y Anda Bar stool designs the most due to their innovative way of reflecting the behavior of wild animals.
Both stool features beautiful tribal tattoo patterns by ancient Pai Tavytera tribe, representing wildlife of forest. These stools were handmade by the designer with help of indigenous craftsmanship of tribal people. Firstly, the wooden pieces were crafted into fine geometric shapes and then assembled in shaped of a stool. Later the wood was burned with a hot tool to imprint fancy designs on its legs, as well as, flat and semi-circular portion.
El Castor stool has bent legs resembling a wild animal that's ready to pounce on its prey, further its magnificent native design adds unique character to the furniture piece. On the other hand, Levantate y Anda Bar stool comes with straight bar-like legs. It wooden layout boasts whimsical patterns and graphics of Paraguay's native lifestyle.
This exceptional fire engraved art of tattoo to create sculptural objects has incorporated cultural conducts of urban and rural centers in South America and beyond. Due to different wildlife motifs etched on wooden pieces, these exquisite wooden stools become idyllic for stylizing any contemporary and traditional home with a touch of solitary country patterns.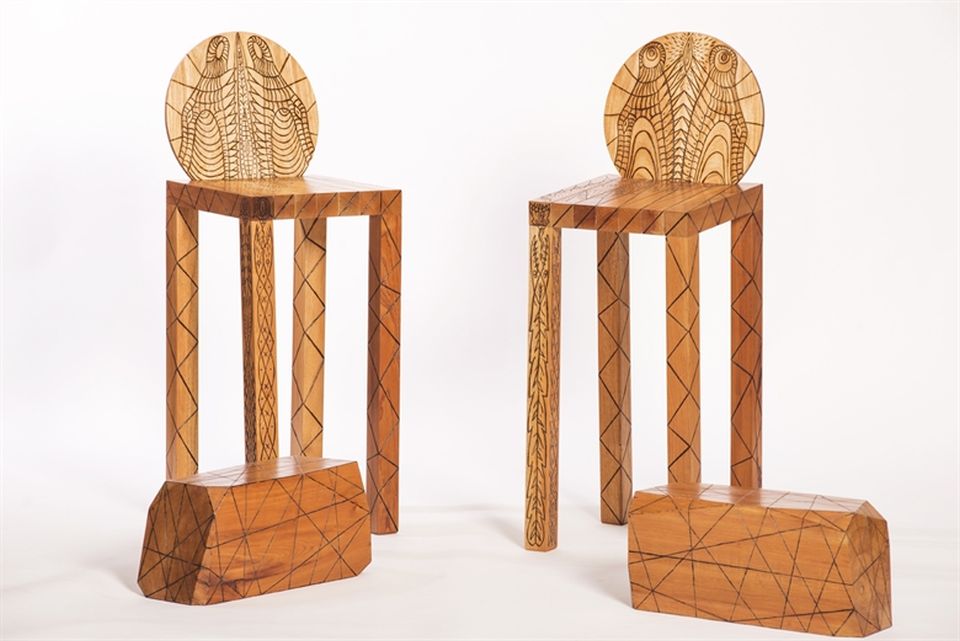 Source: CristinaGrajales