Summer is beating down hard, making it imperative to grasp every opportunity to cool down your body. It's manageable when you are at home or driving your car, but what about the times when the luxury of air-conditioned chill is not your privilege? A personal air conditioner will be your savior when you're panting for cool air in the summer heat.
A personal air conditioner is meant to blow cool air in a very small area and it is in no way a replacement for your conventional air cooler or air conditioner. It works when you are in desperate need of cold air in peak summers while being in the sections of your home that are devoid of your cooler's air circulation. Such easy-to-carry air conditioners are of great use when you're traveling or are working on your home office table.
Best Personal Air Coolers You can Buy on Amazon
A mini air cooler or conditioner comes in handy when you want instant cooling on your desk or while you are meditating in your yoga room. When buying one, you need to consider its operation, serving time, cooling features and build quality. For your help, here is a list of some of the best portable air conditioners you can buy online on Amazon.
evaCHILL Portable Air Conditioner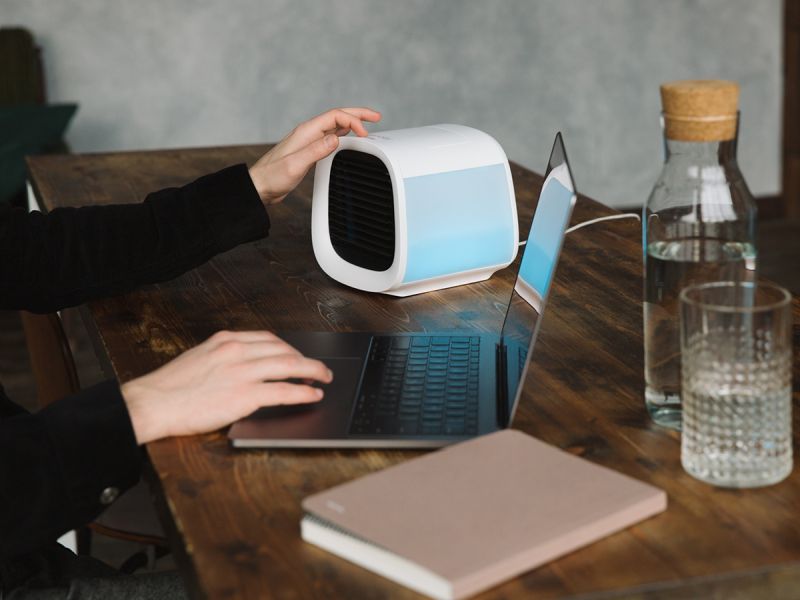 On top of our list is the evaCHILL portable air conditioner and cooler by Evapolar. It looks good and provides fast cooling anytime, anywhere. It has the added advantage of functioning as a night light with its built-in LED lights. Once filled with water or a mixture of ice and water, it can operate for 8 hours without needing a refill.
Other Features
Can be powered by a power bank, laptop port or wall outlet
Adjustable fan speed
Uses fully biodegradable evaporative pads
Handy handle
Buy: $84
Desktop Air Conditioner Fan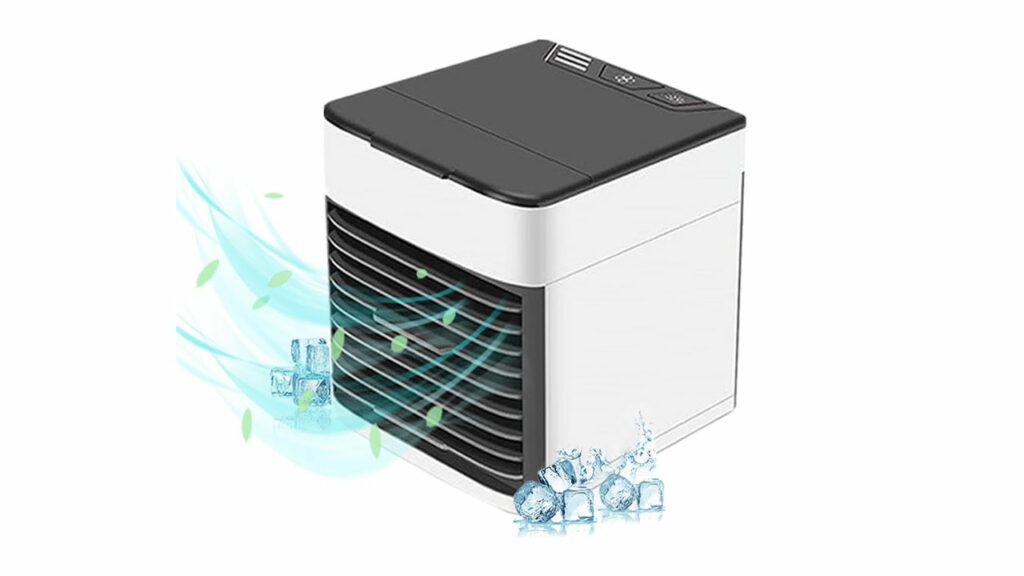 If you are looking for a sleek and small air cooling solution for your home office desk, then this portable evaporative air cooler in white and black is a great option for you. It combines the power of a fan and water to absorb heat. This personal air cooler is perfect for indoor and outdoor useage.
Other Features
USB interface
Comes with a washable filter
Three-speed cooling
Button control
Buy: $50
Also Read: How to Choose the Right Air Conditioner (Definitive Guide)
FANCOLE Mini Air Conditioner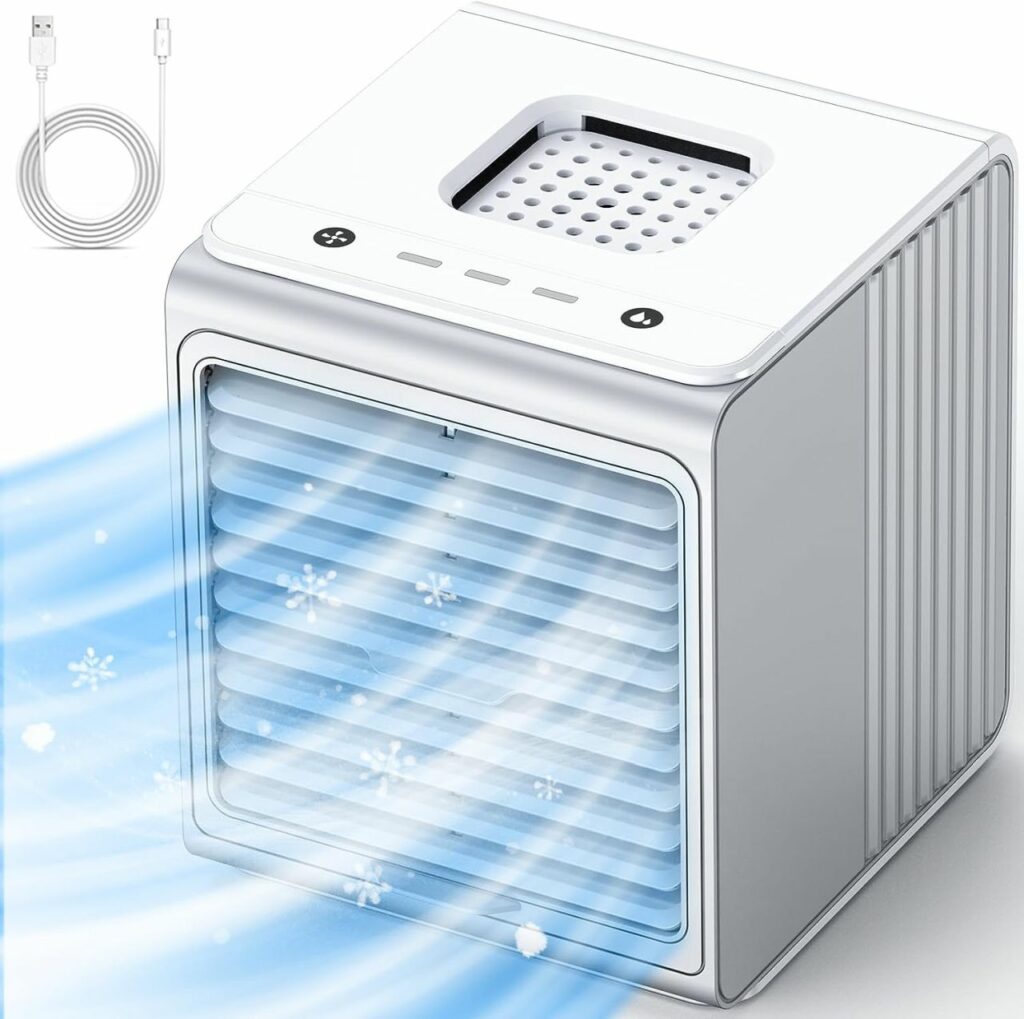 This mini air cooler wins over other options in this list due to its compact design. It combines an air conditioner, air humidifier, and fan into one unit. Powered by a 2000mAh rechargeable battery, it works continuously for 3-5 hours. It is equipped with a 265ml water tank at the top that allows for easy refilling. Measuring 5.9D x 6.3W x 6.9H inches and weighing about 2.23 pounds, it easily fits into any space and can be carried away easily.
Other Features
Button controls
USB Type-C
55dB noise level
Low water indicator
Display auto off
Adjustable air outlet
Buy: $50
CRRXIN Personal Air Cooler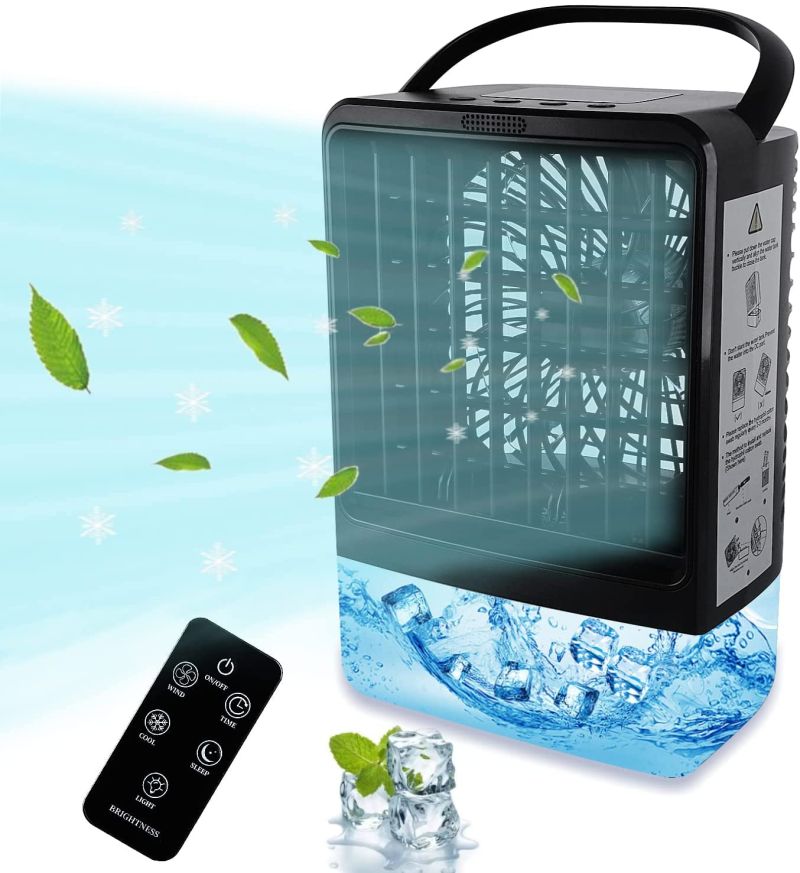 This rechargeable air cooler can be used as a desk fan and can also be taken outdoors. It is equipped with a 4000mAh battery and LED lights. There is an LED screen with buttons on the unit to choose between different modes. The wind flow can also be adjusted by remote control and it also has a timer.
Other Features
Three wind speeds
400ml water tank
Auto shutoff to prevent cold
Comes with a remote
Buy: $26
FLOWBREEZE Freestanding Air Cooler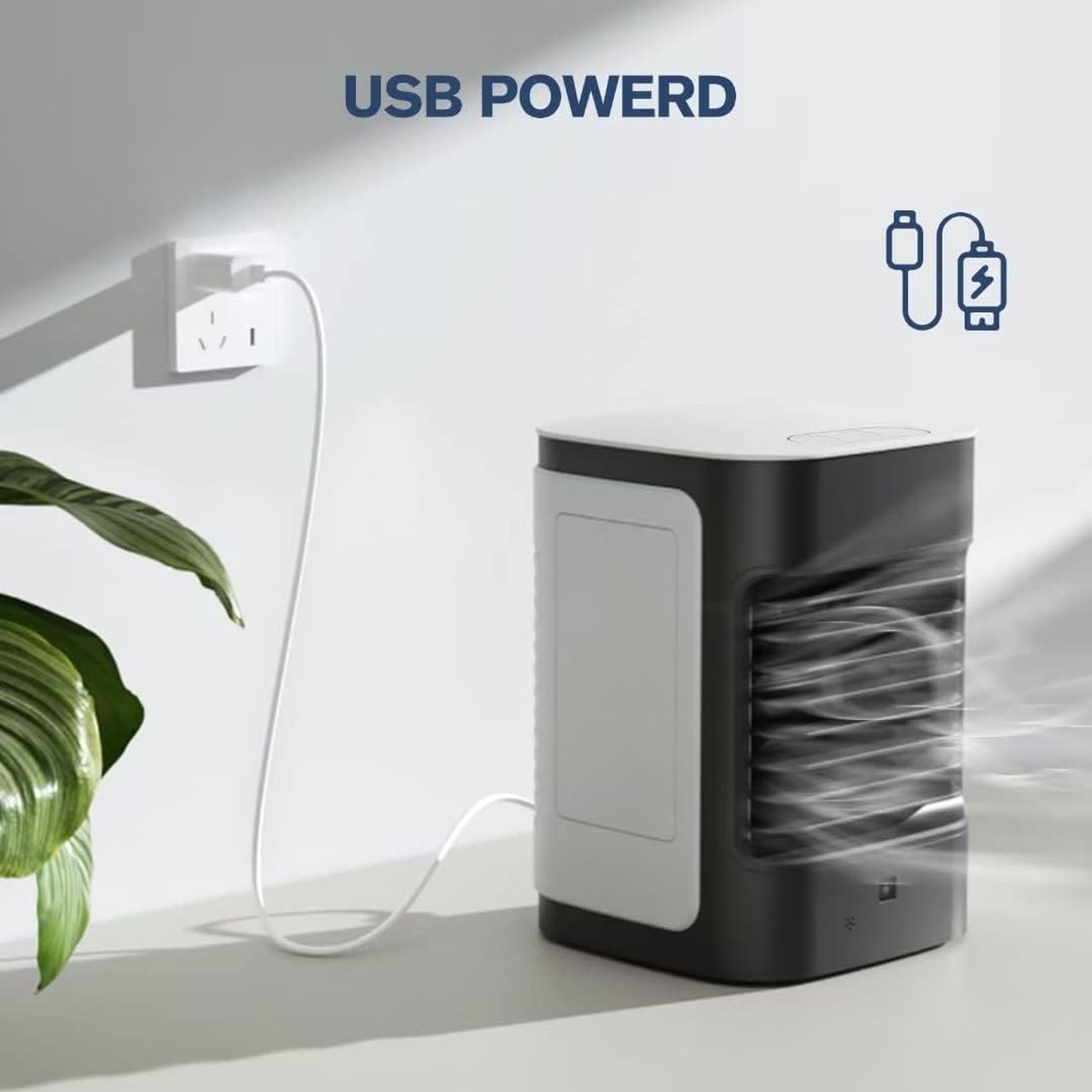 This is one of the best freestanding air coolers you can buy from Amazon. It takes up very little space and has a water tank on its top for ease of use. The portable AC combines ventilation, cooling, humidification, and air purification in one unit. There are three speed modes: low, middle, and high. The fan automatically oscillates horizontally at 100 degrees and the blowing direction can also be manually adjusted within the range of 25 degrees.
Other Features
USB powered
230ml water tank
7 light colors
43-49dB noise level
Touch control panel
Buy: $40