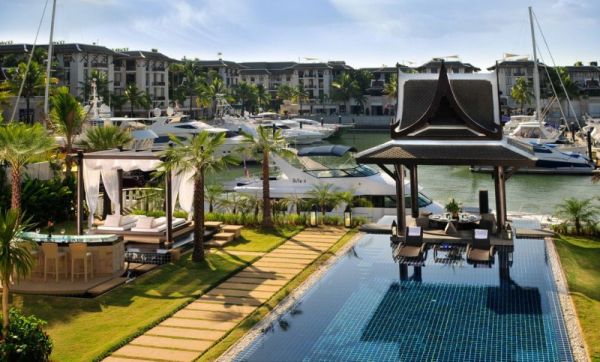 These are the times we wish our bank accounts were supplemented by a few more greenbacks. Why – do you ask? Well, we have stumbled across the 'Royal Villas', an exclusive club of six waterfront estates, and the only villas in Phuket with their very own private yacht berths! The villas themselves exhibit a range of circulation spaces including a bedroom with grandiose views, a living room with gorgeous glass facades and a modernistic bathroom with minimalist flavor. All of these interior spaces are complemented by a lush landscape draped with exotic palm trees and a 'flowing water' mechanism punctuated by an elegant seating arrangement (see above image).
However, the 'piece de resistance' of the whole opulent scope is obviously the private yacht berth. According to sources, this berth can hold vessels of up to 25 meters (82 feet) length. And, moreover, it is not only about the waterfront zone, but also entails the 'elite' services that come along with it. In this regard, all of the berths will be provisioned and maintained by Royal Phuket Marina's professional crew services. In other words, all you need to do is step into your private yacht directly from your villa, and embark on a remarkable voyage of exploring and enjoying all the islands and islets Phuket has to offer. Of course, nobody claimed awesomeness comes cheap. Thus for the ultimate experience of both the villa and the waterfront, you have splurge around a whopping $6.38 million.
All images are courtesy of Sotheby's International Realter.
Via: HomeDsgn