We live in a time when people have more trustworthy choices to choose from to avoid the ill effects of contaminated water on their health. As a result, many homeowners are equipping their homes with standard water filters that eliminate every pathogen, chemical, and organic contaminant that may be flowing in their water supplies.
Why do you need a good water filter?
In the United States, the quality of your home water supply is regulated and monitored by the Environmental Protection Agency (EPA). But EPA monitors only 90 contaminants and there are many (like microplastics, byproducts of plastics, agricultural pesticides residues etc.) unregulated drinking water contaminants that may make their way into your home water supply.
Therefore, every household requires clean, good quality, pure water, and a reliable water filter to get rid of any contamination. But selecting the best from a range of home water filtration units, that is best suited for your budget and kitchen layout, can make you feel overwhelmed. We have compiled this detailed guide to help you make an informed buying decision.
How to choose the best filter for your home
There are an umpteen number of water filtration systems available in the market today, each with its own filtering mechanisms, performance, features, price range, storage capacity, cost of replacement filters, pros, and cons. Certain filters are better suited for some households than others, while others are more suitable for renters than homeowners.
There are factors to consider before buying and installing a water filtration system in your home. In choosing a suitable water filter, you must consider:
Water consumption level
A large family will require large volumes of drinking water every day, and to meet their needs, they need a water filter system with high filtration rate. If you have a large family, you'll need something that filters water fast so that you never have to wait in line to use your water.
Estimated budget
When picking out a water filter, you should consider how much you're willing to spend. Some filters are more expensive than others, and you need to find something within your budget that does the job.
Degree of contamination
The more contaminated your water is, the more thorough your chosen filtration method should be. Thus, identify the source of water to decipher the contaminants that need to be filtered so you can pick the correct option.
Nature of contaminant
Water filters differ not only in appearance but also in the kind of contaminants they filter. Some specifically remove chemical contaminants and impurities, while others can also remove microorganisms and bacteria.
Your needs
Some people desire clean water with added flavors. Such homeowners will need to get water filters that add flavors to the water for purification.
Ease of use and installation
Some water filters are more sophisticated than others and require a little plumbing expertise. Renters with little or no technical know-how may find such a filtration system difficult to install and run.
Service and maintenance
The filters cartridges – carbon, semi-permeable membranes – used in various water filters need maintenance and replacement at regular intervals. Therefore, when choosing a filter, you should consider how frequently the purifier will need filter replacement and what will be the maintenance cost.
Different types of water filters: Which filter should you buy?
The water filter you get must be suited to your needs, the contaminants you're trying to remove, and your budget. Having that in mind, here are three major types of water filters you can consider; Pitcher Water Filters, Countertop Water Filters, and Under Sink Filters.
Pitcher Water Filter
Today, pitchers are one of the easiest filters to use, having features like flip-flop lids and easy locking tops. Some brands of water filters also have precision pour buttons. A pitcher water filter is portable enough to be used during morning exercise and compact enough to fit into a refrigerator.
Being highly simplified, water pitchers are convenient to use and remove contaminants like chloride, lead, microplastics, and other debris that may slip into the household water supply. These gravity-based water filters can hold about 10 to 25 cups of water, depending on the size and brand.
How to use it
Manually place the filter into the water reservoir. This must be done with clean hands to prevent contamination of the filter cartridge.
Add cold water to the pitcher and discard the first three pitchers of filtered water.
Replace the water filters after every 40 gallons (or 151 liters) of filtered water or every 2 months.
Best pitcher water filters
Brita Standard Metro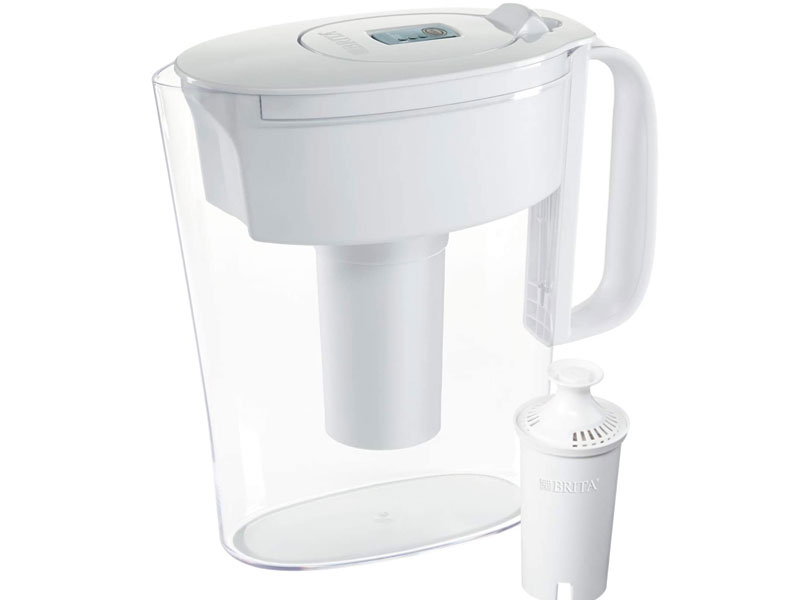 It is a slim and inexpensive water pitcher. Made from BPA-free material, the Metro pitcher water filter holds 5 cups of water and it is a great alternative to single-use plastic water bottles leaving you with safe and great tasting water.
Buy: $16
Stream Cascade Pitcher Filter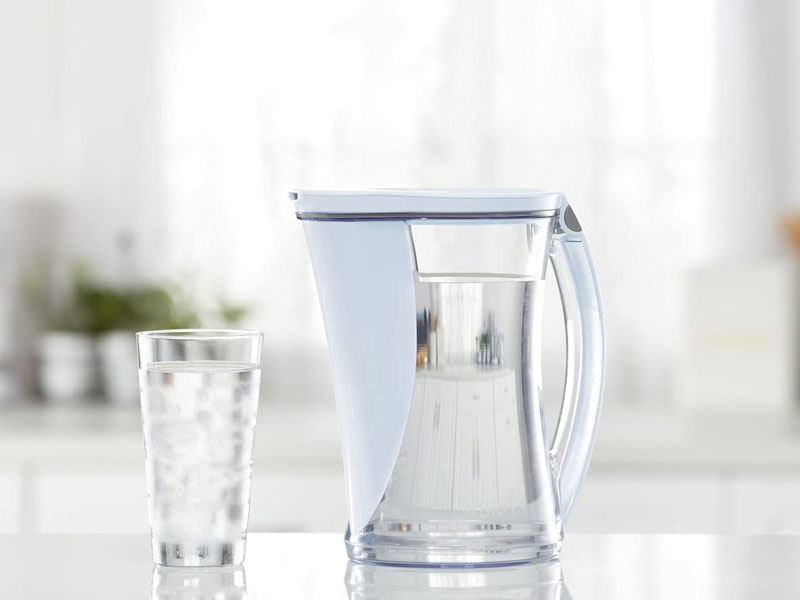 This is a slightly larger pitcher that customers love for its convenience of use in small families. The Cascade water pitcher filter can hold up to 12 cups of water instantly on every pour, so you don't have to wait for the water to filter.
Buy: $35
Benefits of pitcher water filters
Totally portable, convenient water filter
Requires no technical know-how to use
Removes high amounts of contaminant particles
Very affordable and budget-friendly
Easy to clean and maintain
Disadvantages of pitcher water filters
Slow filtration
One stage filtration. Pitcher water filters have only one filter cartridge
Limited jug size
Limited lifespan
Difficulty in filtering lead, a very harmful contaminant in water
Countertop Water Filter
A countertop filter is typically placed on the kitchen counter. They are temporarily connected to the kitchen faucet. This way, these faucet filters provide water directly at the point of need. A countertop water filter effectively removes color, odor, and impurities from water by using a filtering membrane-like activated carbon or ion exchange resin.
How to use it
Once the countertop filter is hooked up to your kitchen faucet, it can begin to serve its users.
Installation of the filter is at the faucet, adjacent to the sink. It requires very little skill and can be done by anyone.
Best countertop water filter
iSpring CKC1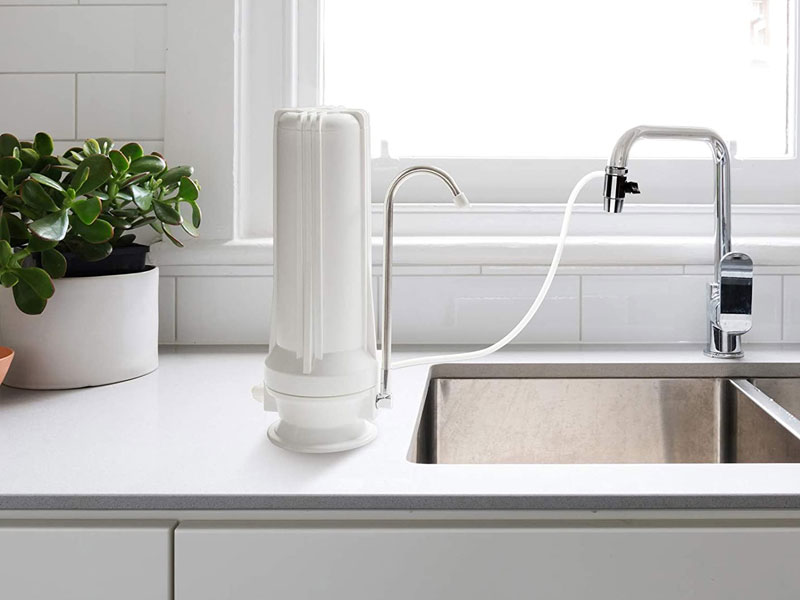 An affordable countertop water filtration system, the iSpring CKC1 is efficient at removing chlorine from tap water. It also effectively rids tap water of sand, pesticides, sediments, odors and makes the water tasty to drink. The filter cartridge is made using shell carbon with compact fabrication for maximum possible filtration.
Buy: $39
APEX Countertop Water Filter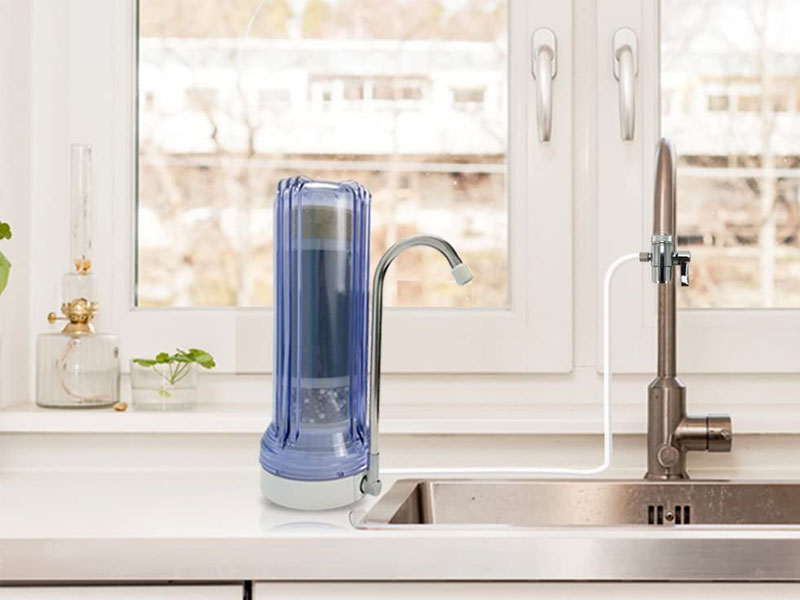 The Apex is a nice-looking countertop filter that is easy to install. It is designed to filter 99.9 percent of contaminants thanks to its replaceable filters which are made from activated carbon and ion exchange resin and are capable of filtering approximately 3,000 gallons of water before needing replacement.
Buy: $81
Benefits of countertop water filters
Relatively easy to install, no plumbing or tech skill required
Portable and economical. Suitable for renters
Filters and supplies a large quantity of water
Fast filtration rate
Easy to use and maintain
Disadvantages of using countertop water filter
Occupy space on the countertop
Single-stage filtration. Countertop water filters have one cartridge.
May waste small amounts of water
Not aesthetically pleasing
Small water storage. Most countertop water filters can hold only 1 gallon of water
Under Sink Water Filter
As the name implies, under sink filters are installed under the kitchen sink. They filter water directly from the water pipe of your kitchen cabinet. Under sink filters are usually small, occupying only a little space. As a result, they provide easy access to clean water at the particular point of use.
Under-sink water filters have good purification power; they filter tap water and rid it of nearly all types of impurities like chlorine, lead, dust particles, and microplastics.
Types of under sink filters
There are several types of under sink water filters, classified according to the methods of use;
Reverse Osmosis: The best under sink water filters utilize reverse osmosis for water purification. Using this mechanism, the contaminants present in the water are removed by passing through a semi-permeable membrane. In the process, over a hundred contaminants (debris, chemicals, metals, salts) in water are eliminated. An under sink RO filter applying reverse osmosis requires more cabinet space and skilled installation techniques.
The RO unit connected to water supply under the sink allows the water to pass through three to five filters to achieve the desired purity. The water filtered is stored in a tank under the sink itself, which is then allowed to dispense through a separately installed faucet on the countertop.
Ultrafiltration: This method involves passing impure water through a hollow fiber membrane. Ultrafiltration is a less specialized technique than reverse osmosis. It does not remove as many impurities and contaminants as the RO-based under sink water filter.
Best reverse osmosis water filters
iSpring RCC7AK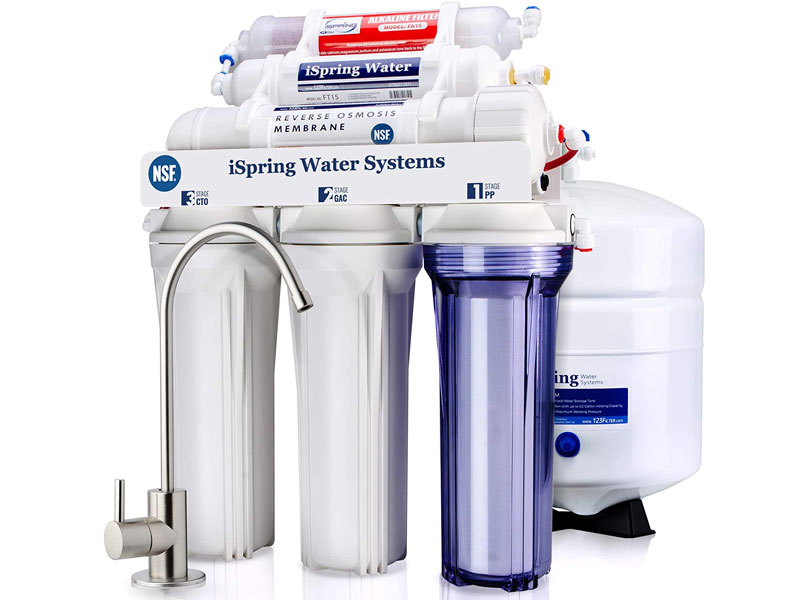 Build around precise reserve osmosis technology, the iSpring RVV7AK is a six-stage layered under sink filtration system that can remove 98 percent of soluble contaminants. The easy to install filter system fits perfectly under a standard kitchen sink.
Buy: $219
APEC ROES-PH75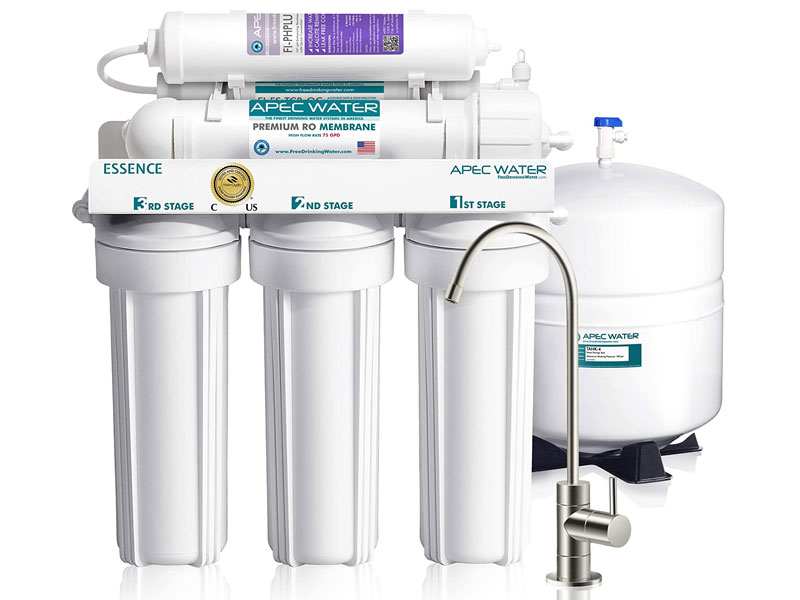 The affordable and easy to install APEC ROES-PH75 is another popular reverse osmosis under sink filter with six-stage water filtration system. An interesting thing about the APEX RO is its ability to add beneficial minerals back to the water after filtration.
Buy: $230
Benefits of under sink water filter
Convenient to use, eliminates the need for refilling
It's faster water filtration process
Multi-stage filtration. There is more than one filter cartridge.
Removes the greatest number of contaminants and impurities
Filters a large quantity of water before needing replacement
Highly durable and leaves no clutter on the countertop
Disadvantages of under sink water filter
Expensive to purchase
Technical to install
High cost of maintenance.
Replacement filters are expensive
Water flow pressure is slightly low
Which water filter removes the most contaminants?
Reverse osmosis water filters are the most effective when it comes to removing maximum contaminants possible using multi-stage filtration of water. Setting up these filters is slightly tedious, but they do provide the purist water in comparison to the quicker choices like the pitcher or countertop filters.
Verdict
A small family with an average demand for filtered water will enjoy using a water filter pitcher or a countertop water filter. In contrast, a large family requires an under sink water filter. Not just for its ample supply of filtered water, but also because it remains hidden from sight.