Plants have become an essential part of our homes. They are an easy and amazing way to bring natural essence to the interior space. Some plants can infuse the living space with an earthy fragrance and even improve air quality.
Nowadays, indoor plants are supposedly one of the most popular interior design elements. Every homeowner wants to have plants at home but it can be difficult to find enough space for them, especially if you live in a rented apartment.
Planter bookends can be the answer to this particular situation. They serve as a functional yet decorative option to fulfill your inclination for plants. We have compiled a list of some of the best planter bookends you can buy online, read on.
Geometric Skull Concrete Bookend
This skull-shaped planter is suitable for small indoor plants. It is made of raw concrete and is kept unsealed to preserve the raw look and feel of concrete. The planter measures 5H x 5.5W X 6D inches and will add an industrial touch to space. It is available in different colors.
Price: $41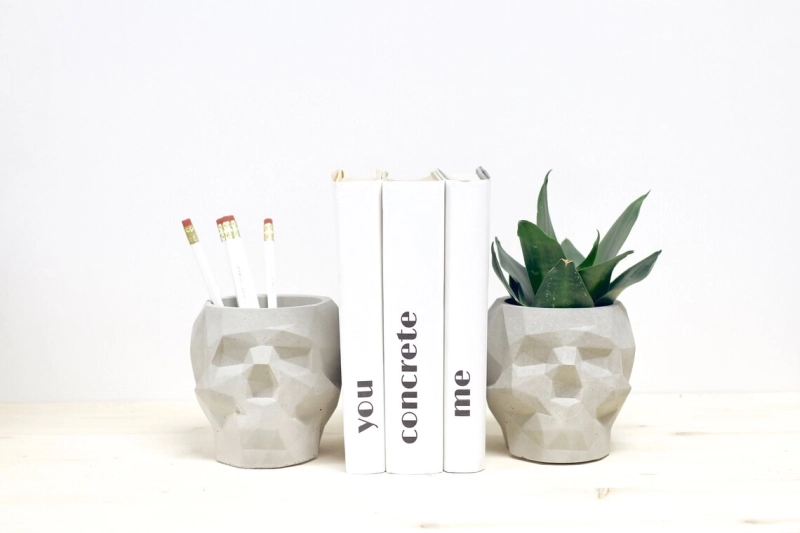 Stak Ceramics Editor Planter Bookend
Beautifully functional and space saving, this planter brings life to bookshelves at home or in office. Measuring 6.5H x 6W x 6.5H inches, each bookend is made of a white earthenware clay and is finished with a glossy sage colored glaze.
Price: $54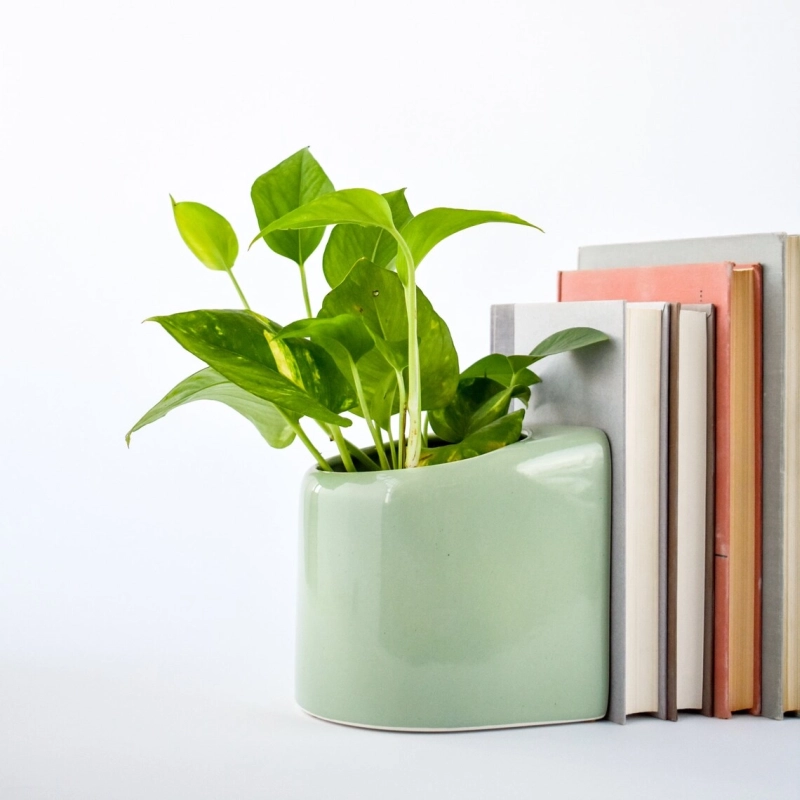 Wooden Bookend with Glass Vase
If you looking for a flower vase that also serves as a bookend, this may be the perfect option for you. It is made of wood and glass while there is a black powder coated metal base for stability. There is also an option to engrave some text on one of its edge. It measures 18H x 12D x 20W cm.
Price: $50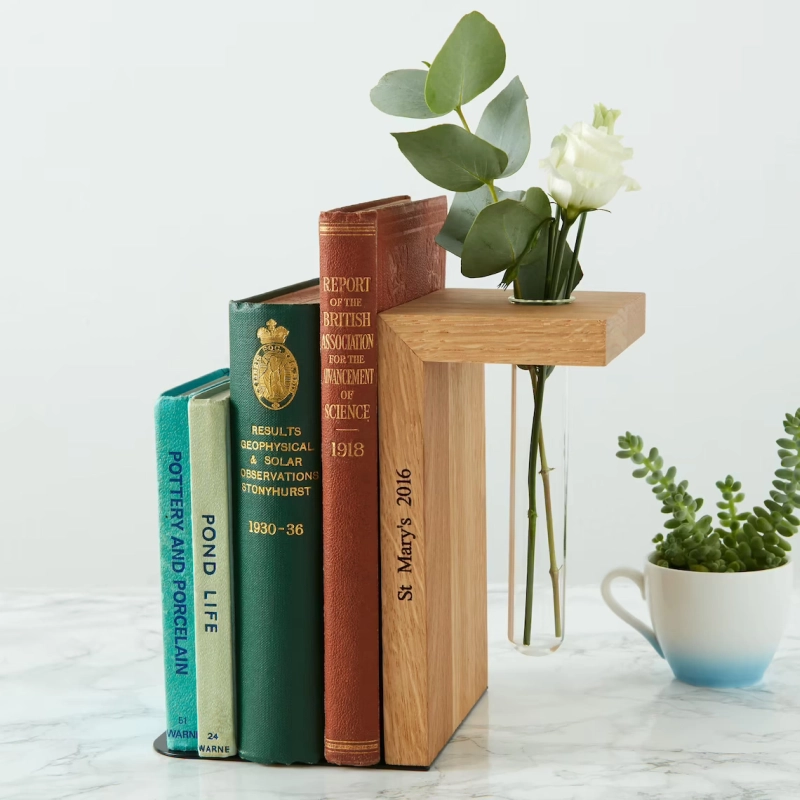 Concrete Bookend Planter
This uniquely shaped planter is perfect to showcase beautiful indoor succulent plants at home. You will be able to show nature alongside your books and feel proud. The planter measures 3H x 4.33W x 3.14D inches and will support small to mid-sized books.
Price: $40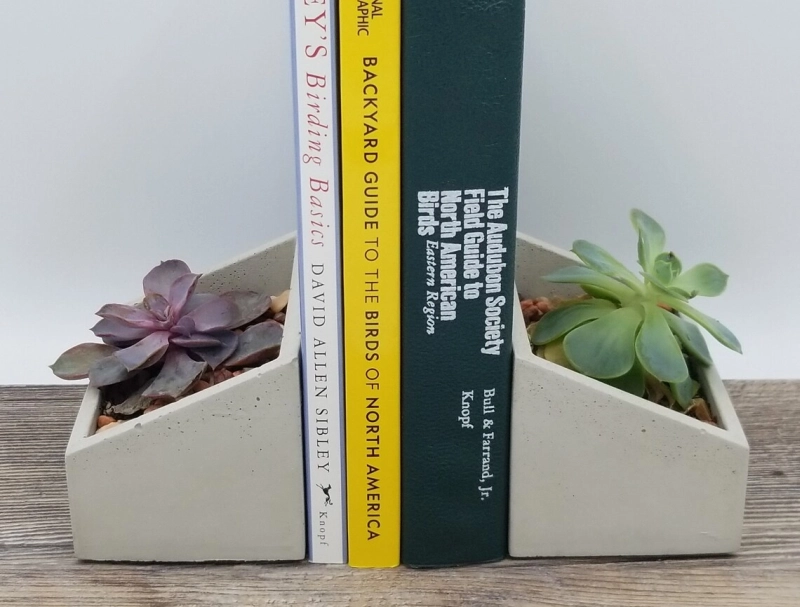 Stained Glass Bookend Terrarium
This unique bookend is useful to keep books upright and organized on a shelf. You can decorate it with pebbles, moss, air plants, succulents, or any other thing that suits your decor. It is available in three sizes and colors to match different needs.
Price: $92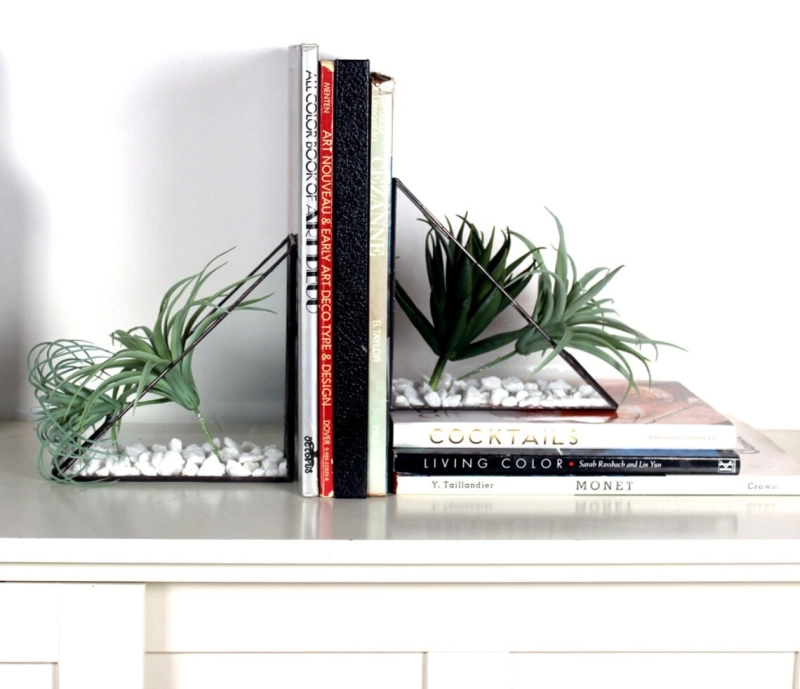 Plant Pot Bookend
This is the simplest option to create a living plant pot bookend that holds your favorite books. It is a waterproof unit that appears to be a traditional style planter, cut in half. It will be a cool gift for plant loving bibliophiles.
Price: $32