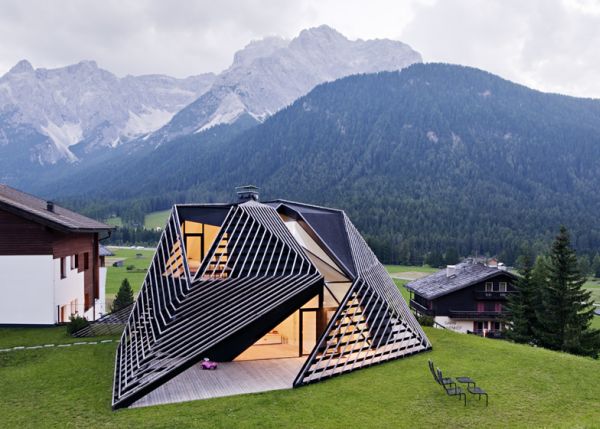 Looking like a post-modernist web laid over a conventional holiday-apartment building, Plasma Studio has surely created a fusion of tradition and technology. This aforementioned slatted structure named as the Paramount Alma, deftly fulfills the criteria of an expanded circulation space and a new family residence (for the project's lead architect Ulla Hell) to an existing block situated in the South Tyrol village of Sesto, Italy. According to the architects, this interesting form makes use of an under utilized roof that connects the reception space at the ground level and an architectural office via the completely refurbished 'spine'. The Paramount Alma is also crowned at the top by an angular bearing that alludes to the avant-garde essence of the final design.
The Paramount Alma expansion was contrived by using parametric software that allowed an angular shape to fold over its original cuboid form. The resultant multi-faceted structure houses two separate levels, with the lower floor utilizing the slope of the hill to open out into an adjacent garden, while being supported (at one end) by the top floor of the original building.
Finally coming to the user-oriented features of the post-modernist expansion, the spatial zones include bedrooms that open into a glass-lit corridor. These spaces are complemented by an open-plan living, kitchen and dining area, all of which are situated on the top floor. Additionally, there is a balcony that provides paradisiacal views to the forests and hills. The connection to the lower floors are achieved by both internal and external staircases, while the structure also has access to a 'core' circulation area that conveniently leads to the original apartments.
Via: PlasmaStudio