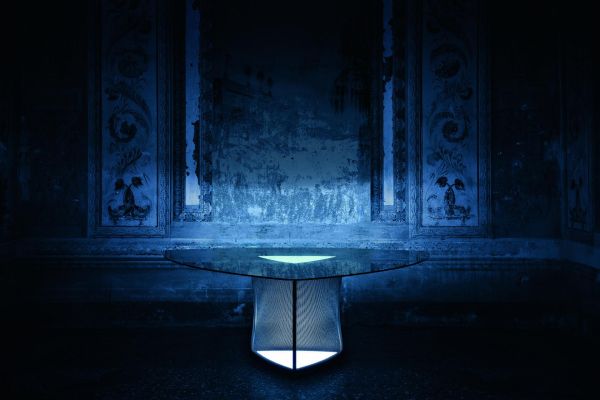 The transparency of glass plays its part alongside the luminescence of light in the wondrous conception of Plettro Table (of Natevo collection) by Italian studio Fluo Spa. Showcasing an exquisite triangular structure, the elegantly designed table integrates LEDs at its floor level and below the top. The illumination generated from these lights gets reflected along the glistening glass bearing of the furniture, thus resulting in a subtle 'glow' effect. This lighting scope is utilized to highlight the objects kept on the table. For example, according to the designers, even a bottle of water can be turned into a credible home decor piece with the ethereal glow of the strategically positioned LEDs.
The novelty of the lighting aesthetics is however is not just limited to the glimmering transparency of the glass top. The support base of the Plettro Table is uniquely crafted from a tubular steel pedestal, which comes in various finishes like white, black and even natural elastic fiber. The perforated nature of this steel pedestal helps in the diffusing the glow of the LED from the base, thus creating a contrasting play of light and shadow.
Finally, coming to the commercial side of affairs, there are different combinations of glass tops and pedestals available in the market. According to the definitive list made by Naveto's home site  –
The glass shelf is available in variants black, white, bronze and natural. You can match the plan and the pedestal in different combinations:  plan black – black pedestal; white top – white pedestal; floor bronzed – pedestal natural;  natural plane – black pedestal;  natural plane – white pedestal floor; Natural – Natural pedestal.  All the furniture items in the range of Natevo offer two options of light, a warmer and a cooler.
Price: € 3,400
Via: Natevo