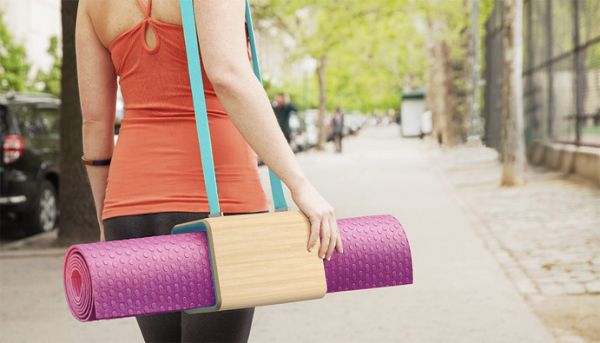 People who attend yoga class have to carry a mat along with them for yoga exercises and postures. But these mats are uneasy to carry in hand while walking on streets. To solve the problem, North Carolina-based product designer Alejandra Lazarini has created a flexible solution in form of Poise, a yoga mat with carrier. One can easily carry Poise yoga mat on the shoulder with its carrier just like a tote bag with its detachable strap, which doubles as a stretching band for exercises.
The dimensions of the mat is 9 x 7.3 x 5.3-inches which is sufficient enough for all yoga postures and stretching exercises. Plywood is used to make the  outer shell of the mat carrier, foam is used in its inner side to support and secure a rolled up mat inside it. The strap is made of nylon and has two detachable ends, the strap turns into a stretchable band which you can use during stretching yoga exercises. The wooden carrier can also be used as a yoga block to provide different height orientations during yoga poses.
After your yoga class you can fold your mat, place the rolled mat into its wooden carrier and attach its strap on its carrier to easily carry it like a sling bag. This yoga mat with its carrier will definitely provide an easy solution for your daily yoga routine. Poise is currently on Quirky, its price is not revealed yet.