Everybody drinks alcoholic beverages to celebrate and socialize, but bragging about being drunk is really kind of silly, as when a person is really drunk, he/she becomes lazy to move a bit to get the next drink. For such lazy besotted people, Indiana-based Derek Hoy has designed Cooler Cannon, a portable beverage cooler that tosses up canned drinks to you with the press of a button. This means you can use the companion iPhone app to signal it to throw a beer straight into your hands. This smartphone-controlled icebox was introduced back in 2013 at Kickstarter, but wasn't able to raise funds. Over again, its designer is planning to crowdfund the project again, so if you want this beer-can-throwing cooler, back the campaign to make it successful this time.
This beverage cooler can accommodate 18 cans, and can throw a single beer up to eight feet away. You just need to load the cooler with 12oz cans, add ice to the designated section, and it will be ready to toss your next beverage. With this automatic beer can-tossing cooler, you will be able to get you drink without moving a ,muscle. It works like Petcube Bites that treat your pets on-their-demand, automatically or just on your command.
It features a pass-through lid to dispense the beer can without opening the entire lid which further helps in keeping the contents colder for longer. In just two seconds, the beverage cooler reloads the next can to make it ready for the next throw.
Furthermore, there are also two wheels and a handle for easy transportation. Just like other traditional beverage-chilling iceboxes, it is useful to keep your drinks chilled at a backyard party or a trip to a beach or park with additional feature of tossing up drinks, making it more convenient for users. The Cooler Cannon is expected to be available for pre-orders for the projected price of $195.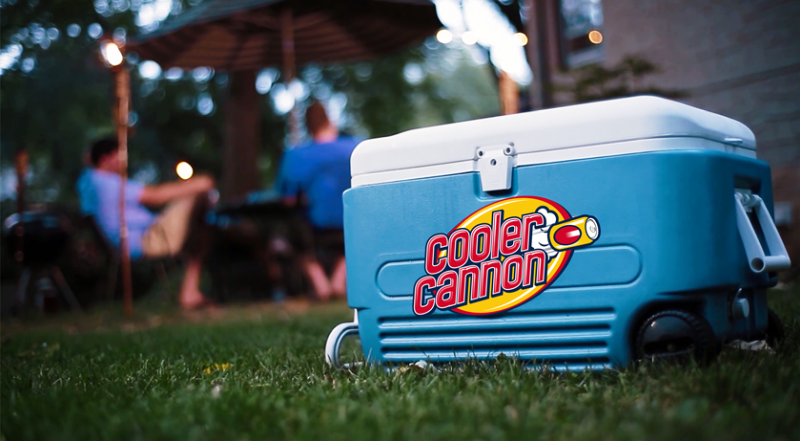 Via: Maxim