Laundry is a time-consuming task that can't be overlooked or thought little of. Whether to save time, space, or money, every family insists on buying a washing machine that cuts the hassle. No doubt, they ease up our washing chore but demand more space and money. A portable washing machine is what becomes handy in such situations. It is a cost and space efficient option, ideal for apartment living and frequently traveling families without any trips to a hardware store.
What is a Portable Washing Machine and How it Works?
It is basically a small-sized clothes washing machine that hooks up to a sink for filling and draining water, allowing you to wash clothes in a small space. They are designed to be moved easily and stored in a closet. They are, mainly, of two types – electricity-powered and the human-powered portable washers, which are basically meant for campers. They can also be categorized on the basis of the location of the loading door and built-in hookup connection for water and sink.
A portable washer works just like a standard full-sized washing machine. The only difference is it doesn't require a permanent water connection.
How to Use a Portable Washing Machine
Due to the small size, portable washers are fairly easy and convenient to install and use. You just need to hook them up to a faucet, plug the machine into the power outlet, and you're ready to go! They can be plugged to a hose from your sink to fill and drain water easily. Remember to make space and other arrangements for draining the waste water.
Nowadays, you can even find combos of washing machines and dryers, which take up less space.
Things to Know Before Buying Portable Washing Machines
Apart from the ease of movability, portable washing machines are useful for people not having enough space to accommodate a full-size washing machine. There are a few things you should know before buying a portable washing machine. It is better to look for a lightweight model that also includes wheels for easy maneuvering in the house.
A faucet adapter allows you to connect the machine to kitchen or bathroom sink and thus is a very important feature. You should also pay attention to spin speed as it decides the dryness and amount of wrinkles on your clothes. The higher the spin speed, the drier your clothes will come out with more wrinkles. Also, check for load capacity, wash cycles, water levels, noise level, energy efficiency, and other preset settings in the machine.
How to Clean a Portable Washing Machine
Over time, every washing machine requires a deep cleaning. Soap residues and mold starts building up inside the machine, making it look dirtier and smell bad. It is recommended to clean your portable washing machines once every 2-3months.
Run a cycle of white vinegar and hot water mixture in the machine first, followed by another cycle with baking soda to neutralize remaining vinegar.
Advantages/Disadvantages of Portable Washing Machines
Advantages:
One of the obvious advantages is small size and less weight, making these machines portable. They take up less floor space and are pretty convenient to use.
Portable washers usually come ready to use and require minimal setup and installation.
They usually cost much lesser than conventional ones.
Disadvantages:
It is obvious to have less load capacity when the size of your washing machine is small.
Another obvious thing is lower performance.
Most portable washers don't come with dryer option.
How Much Does a Portable Washing Machine Cost?
A standard portable washing machine costs around $100, which is lower than a standard washing machine. Furthermore, you can find a number of modern technology-driven models by stretching your budget a little.
★ Top 5 Portable Washing Machines to Buy in 2018 ★
Haier HLP21N Pulsator Portable Washer
Weighing just 43 lbs, the Haier HLP21N top-loading portable washer features a stainless steel wash basket. It comes with a faucet adaptor for filling/draining water and a 1-cubic-foot stainless-steel tub for loading up to 6lbs of clothes at one time. With three preset wash cycles and three water levels, it creates a perfect load every time. The clear lid makes it easy to keep a check on wash cycles.
There are casters to move it around your home. Furthermore, there's an electronic control panel for easy operation. It produces a mere loudness of 2 sones. This portable washing machine doesn't save memory settings.
Price: $279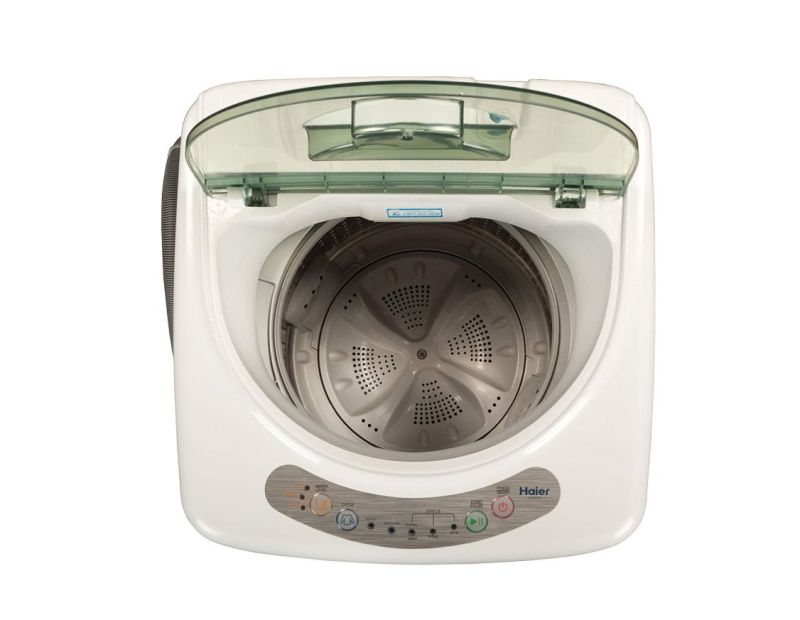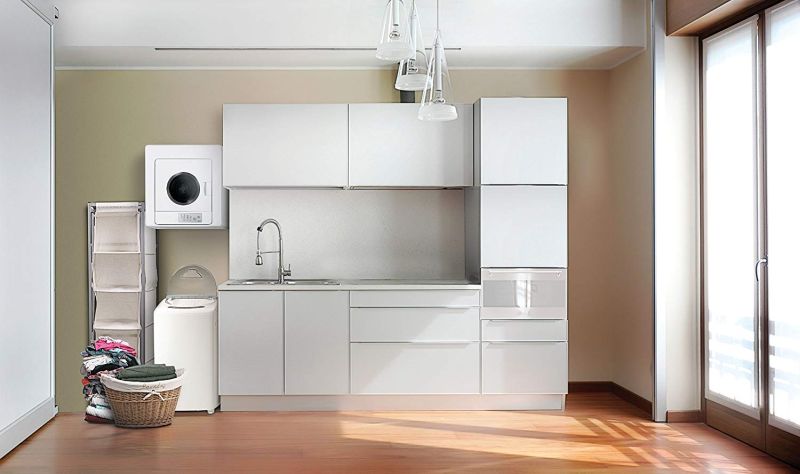 Giantex Twin-Tub Portable Washing Machine
This twin-tub washing machine is ideal for laundry in compact spaces. It has a load capacity of 10 lbs for washing tub and 6 lbs for the spinning tub. It comes with a gravity drain. You need to place the machine higher than the sink. A removable filter inside the washing tub stores dirt and other particles. There's also a built-in timer, with about 15 minutes of washing time and 5 minutes of maximum time for spinning clothes.
Price: $110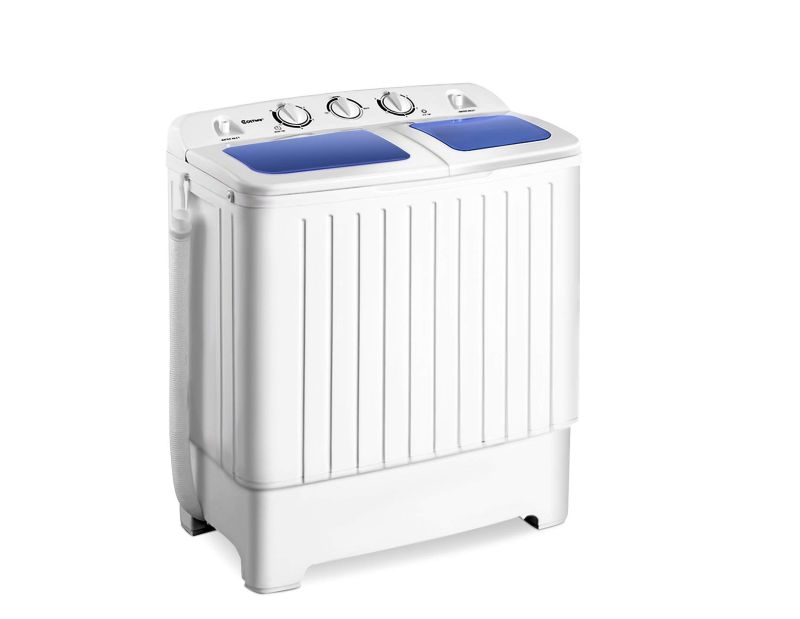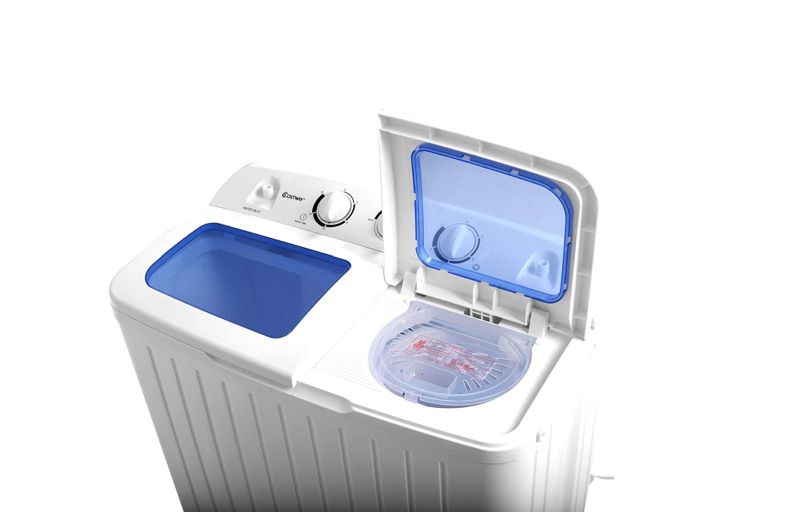 SUPER DEAL Twin-Tub Portable Washing Machine
This portable washing machine is a perfect solution if you want to do laundry in a compact environment. The washer tub accommodates up to 8 lbs of load and the spin tub can handle about 5 lbs of load, allowing you to wash five to six shirts at a time. The machine has water intake valves that can be attached to the faucet.
There's also a translucent tub container window to watch your clothes. The washer timer runs for up to 15 minutes while the spin timer runs for up to five minutes each load. It features a drainage tube for draining out dirty water.
Price: $92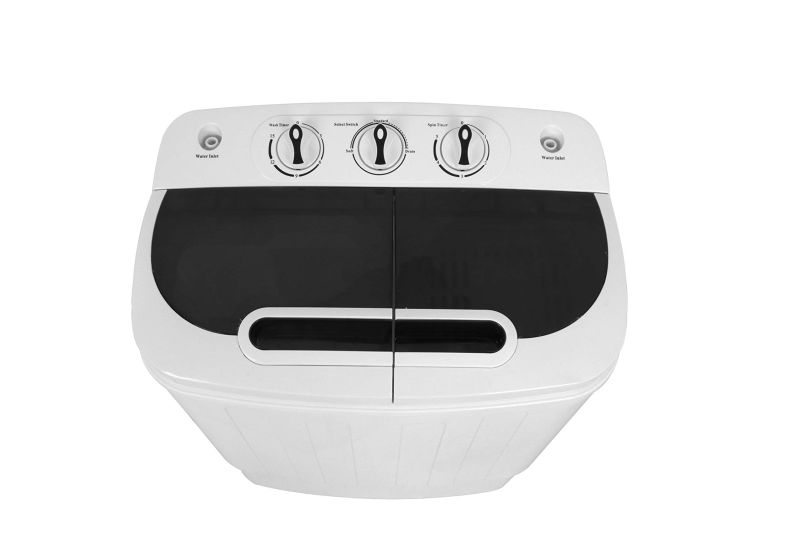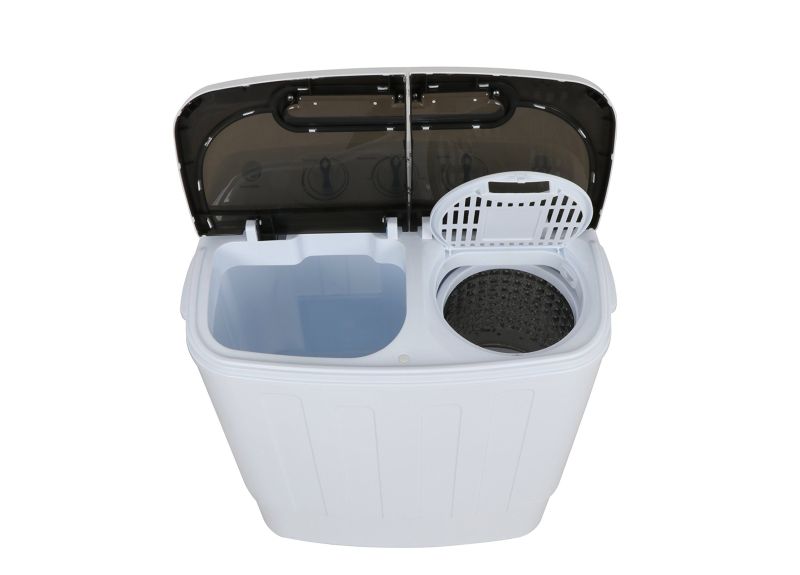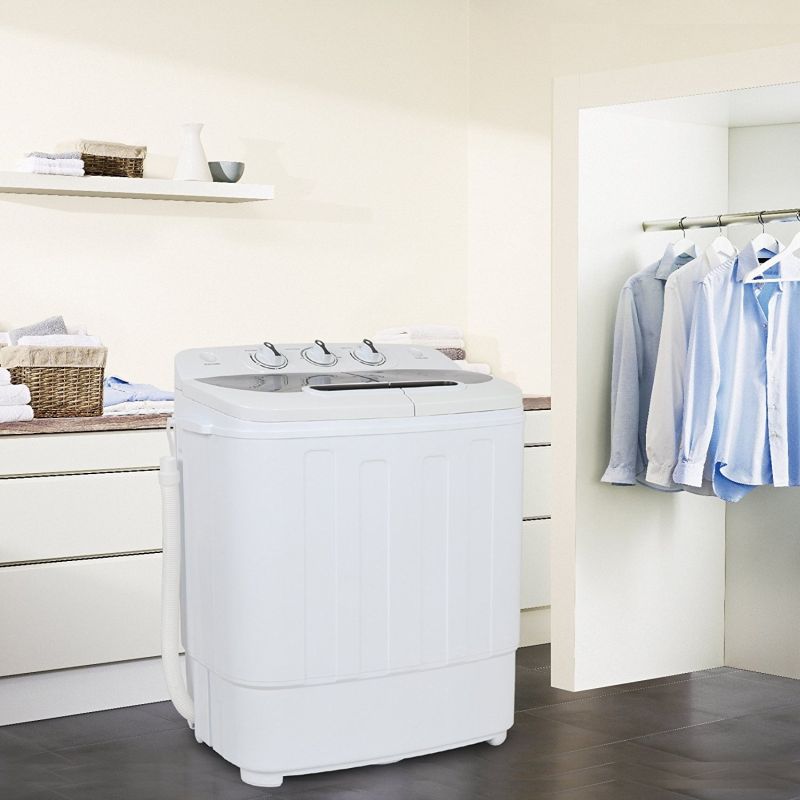 Magic Chef Portable Washer
This 0.9 cu ft, top-loading portable washer is ideal for small loads and cramped spaces. It features a see-through window, electronic controls with LED display and stainless steel inner tub. There are five built-in wash cycles to ensure optimal cleaning and fabric care. A water supply hose and adapter are also included for convenience. This model uses an electric drain pump to drain water.
Each unit has wheels, making it easier to roll over to a sink to connect and drain in. On the inside of the washer tub, there's a filter to collect lint during washing cycles. The most interesting feature is the automatic shut-off of water after the cycle.
Price: $195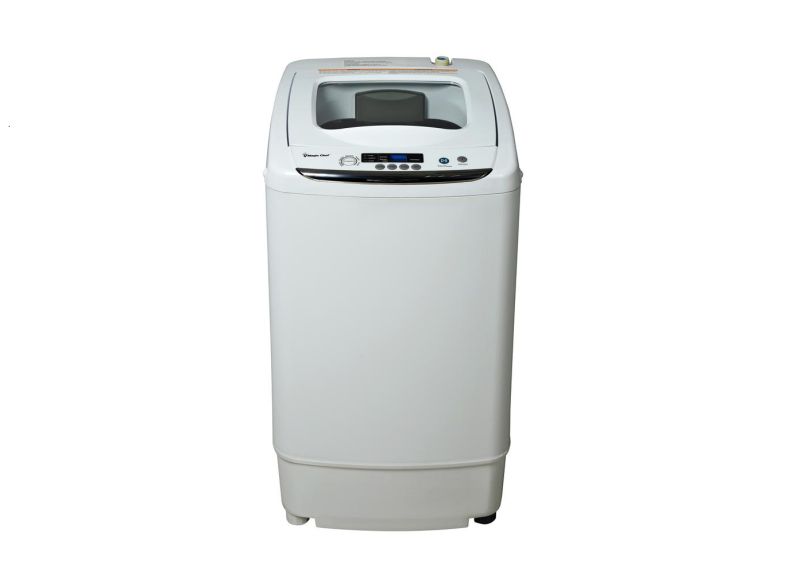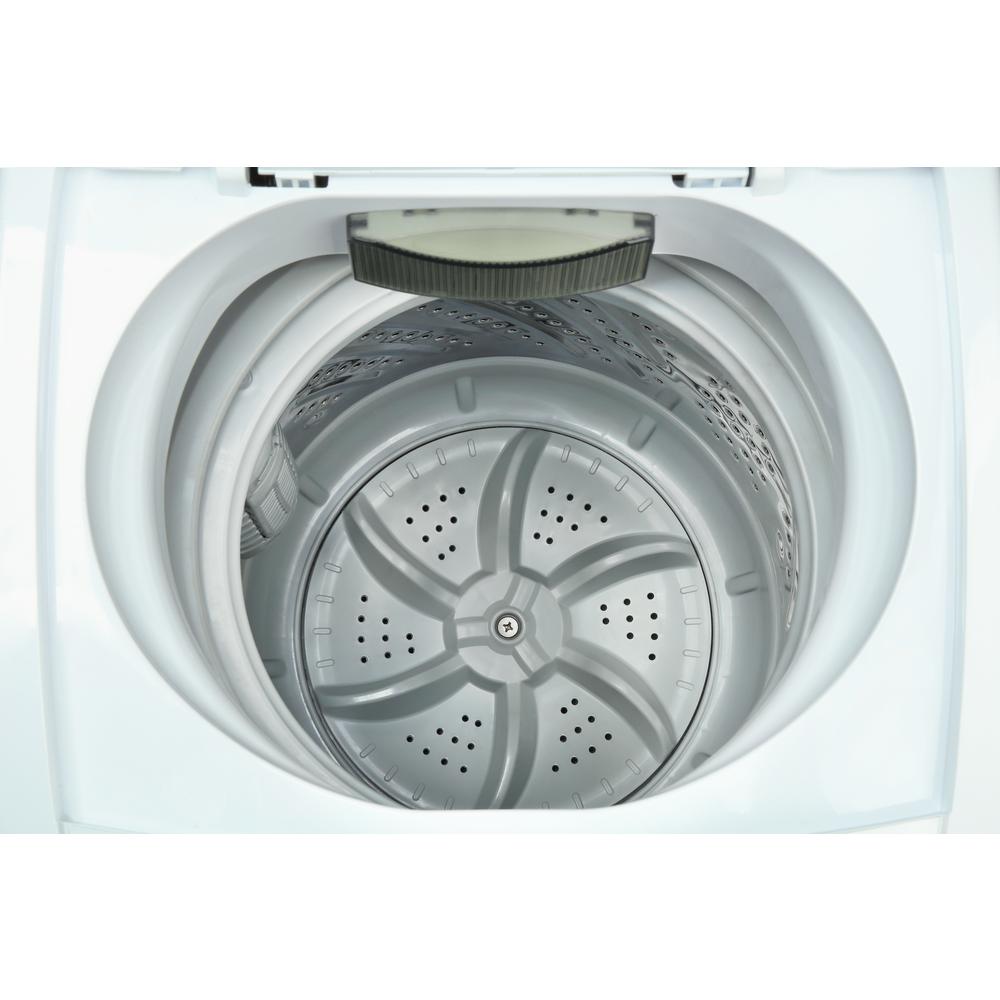 DELLA Portable Washer
Designed for small loads and limited-space areas, the Della portable washing is equipped with a variety of convenience features, including an electrical drain pump, timer controls, and clear lid. You can adjust the wash and spin time with the built-in timer. From towels and pants to a bed sheet, it can wash all types of clothes. It has a wash capacity of up to 9 lbs and spin capacity of about 4.4 lbs.
Price: $90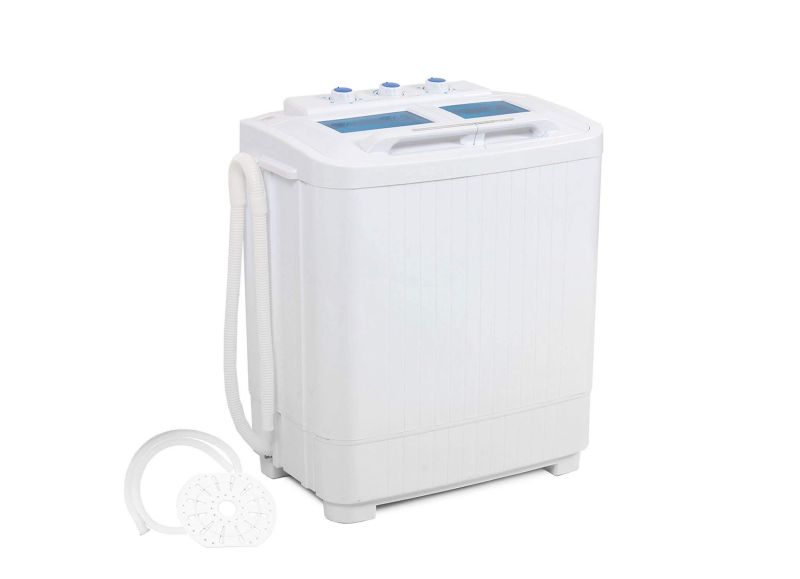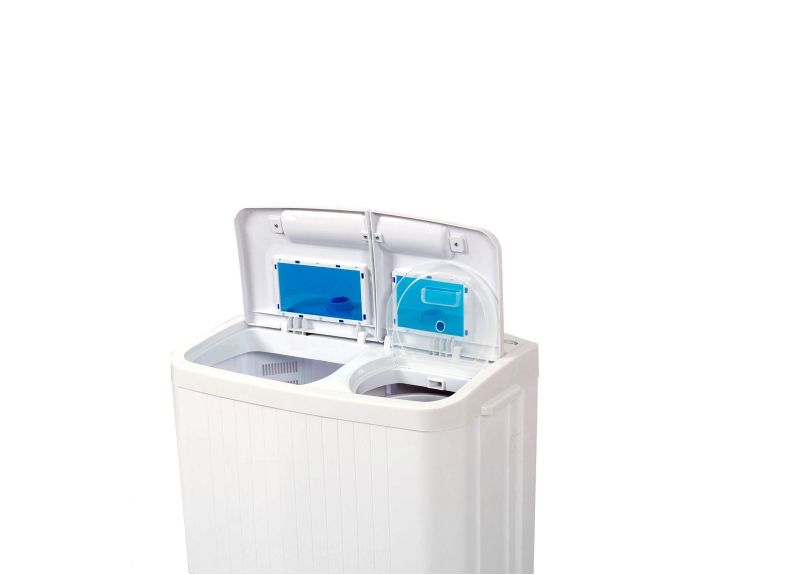 | | | | | | | |
| --- | --- | --- | --- | --- | --- | --- |
| Sr. No | Product | Size | Weight | Washer Load Capacity | Spin Tub Load Capacity | Price |
| 1 | Haier HLP21N Pulsator Portable Washer | 7-1/4 x 17-3/5 x 30 inch | 43 lbs | 6 lbs | N/A | $279 |
| 2 | Giantex Twin-Tub Portable Washing Machine | 24.8L × 15D × 28.5H inch | 29.3 lbs | 11 lbs | 6.6 lbs | $110 |
| 3 | SUPER DEAL Twin-Tub Portable Washer | 23L x 13.5W x 26H inch | 26.5 lbs | 8 lbs | 5 lbs | $92 |
| 4 | Magic Chef Portable Washer | 31.5H x 18.1D x 17.7W inch | 44 lbs | 5.5 lbs | N/A | $195 |
| 5 | DELLA Portable Washer | 28-1/4H x 14-1/2L x 24W inch | 33 lbs | 8.8 lbs | 4.4 lbs | $90 |