Water damage to your home clearly leads you to big expenses due to extra repairing and maintenance costs. To solve the problem, EcoNet Controls of Clearwater Florida (a manufacturer of Unique Home Automation Devices & Solutions) has come up with automatic EBV105-UMK water shutoff valve. It is the upgraded version of the company's popular shutoff controller, but now available with Universal Mounting Kit (UMK).
Z-Wave certified EBV105-UMK water controller is easy to install, as it can fix onto any existing levered ball valve without the need of additional plumbing tools. The complete package comes with valve controller/motor, AC Adapter, Universal Mounting Kit and installation guide. To be precise, the total installation time is just 5-10 minutes.
Open/close cycle of this automatic valve takes 90 degree turn within mere 10 seconds. It can even be controlled manually in case of power loss. Plus, a blue LED light on the valve serves as an indicator of current status and condition.
This automatic valve is even integrated with sensors to automatically prevent water damage to residential or commercial property. As soon as water leakage is detected, it can immediately send 'water leakage' notification to the property owner's smartphone so that appropriate measures can be taken for preventing water damage and expensive insurance claims.
The unit can also pair up as a standard Z-Wave Switch that's compatible with many home automation systems such as Honeywell, Homeseer, SmartThings, ADT and Control4. This way the system can be connected and monitored by other smart home devices as well, providing convenient solution to the homeowners. You can purchase EBV105-UMK water valve for $135 from the company's official website.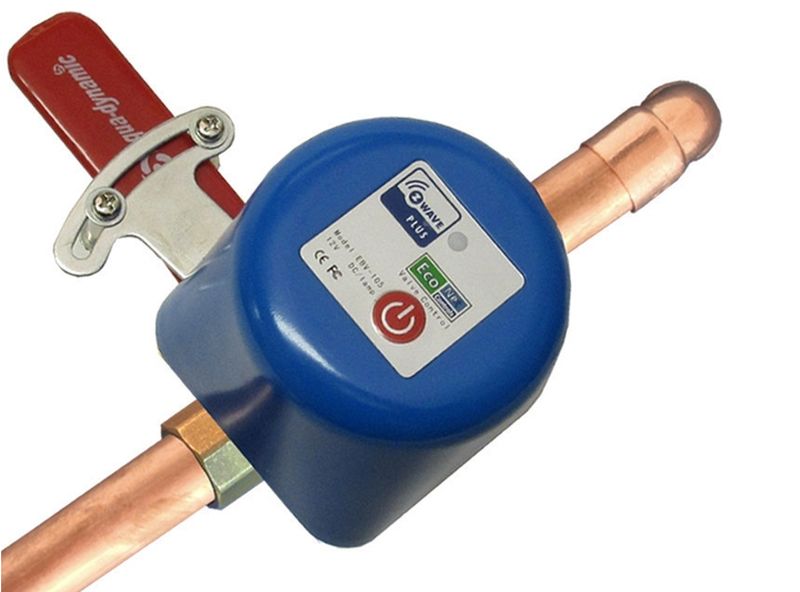 Via: EcoNetControls